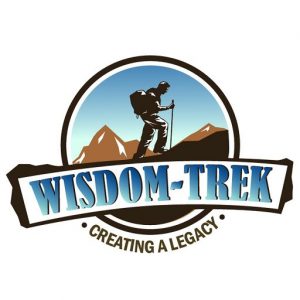 Wisdom-Trek / Creating a Legacy
Welcome to Day 1213 of our Wisdom-Trek, and thank you for joining me.
This is Guthrie Chamberlain, Your Guide to Wisdom
An Anxiety-Free Life – Ask Gramps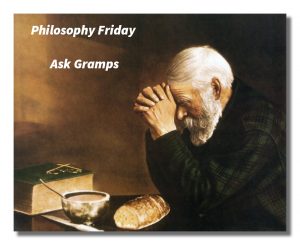 Wisdom – the final frontier to true knowledge. Welcome to Wisdom-Trek where our mission is to create a legacy of wisdom, to seek out discernment and insights, and to boldly grow where few have chosen to grow before.
Hello, my friend, I am Guthrie Chamberlain, your captain on our journey to increase wisdom and create a living legacy. Thank you for joining us today as we explore wisdom on our 2nd millennium of podcasts. This is Day 1213 of our trek, and it is time for our Philosophy Friday series. Each Friday, we ponder some of the basic truths and mysteries of life and how they can impact us in creating our living legacy.
As we continue on this trek called life, sometimes we have questions about life, so our Friday trek is a time when we can "Ask Gramps." Gramps will answer questions that you would like to ask your dad or granddad, but for whatever reason, this is not possible. No matter how old we are, I know that all of us would like the opportunity to ask Dad or Gramps questions about life in many areas.
We may mix it up a bit on our Friday episodes, but we will strive to keep them down to earth and enjoyable. If you have any questions that you would like to ask Gramps, please email them to guthrie@wisdom-trek.com.
So the question for this week is…
"Hey Gramps, I am having some bouts of anxiety and would like to be able to overcome it. Do you have some wisdom tips to help me battle these gremlins?"
An Anxiety-Free Life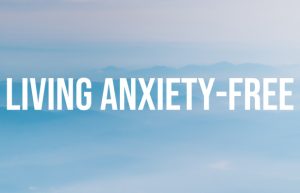 Can you imagine having absolutely no worries? Think about how much freer and happier you would be. Unless you happen to enjoy drama in your life, which some people do, you would be ecstatic without worry. This makes me think about what heaven may be like. It certainly does not sound like our life on earth, since we all go through what seems like continual periods of worry and anxiety. Even though I don't struggle with a significant amount of anxiety, no one is completely exempt from anxiety. So these bits of wisdom also apply to me.
Sadly, life on this troubled planet is full of things that can tempt us to worry, and if we head down that temptation trail, we will soon be falling headlong into the pit and be mired in the slough of despondency. With all that we face during any particular day, it may seem almost irresponsible not to worry. Do you find yourself unconsciously thinking that if you don't worry, bad things will happen to you? When you succumb to this mindset, you may think that things will spin out of your illusory control and that you will suffer terrible consequences for your lack of concern and attention. Is that mindset true, though? Has worrying about something ever really helped? A wise tidbit can be learned from Thomas Jefferson in a letter that he wrote to John Adam, "How much pain have cost us the evils which have never happened." This is so true, and yet we fret.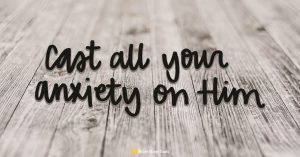 Mr. Barrow, a character in a story by Mark Twain, offers some helpful wisdom, "Drag your thoughts away from your troubles, by the ears, by the heels, or any other way, so you manage it; it's the healthiest thing a body can do." To take this analogy from Mark Twain and put it in the context of Scripture, let me read Psalms 55:22, "Give your burdens to the Lord, and he will take care of you. He will not permit the godly to slip and fall." 
The key is that we have to leave them with the Lord. So often, we pick our burdens right back up and toss them on our backs. Every time you are tempted to pick them back up again, remind yourself that you cannot carry them, that will only make you miserable and defeated. God is willing and able to handle what you cannot handle and were never designed to handle. If you are allowing anxiety to weigh you down, like a huge bag of rocks on your back, then you must free yourself and allow the burden to roll off you into the pit. You do not need to allow worry and anxiety to control you. Instead, let God transform you into a new person by changing the way you think.
Worry is useless and unnecessary. Give your burden to the Lord and trust that He can take care of them. He can handle much better than you can. I encourage you to read Matthew 6:19-34 to learn what Jesus had to say about worry and anxiety. 1 Peter 5:7 says, "Give all your worries and cares to God, for he cares about you."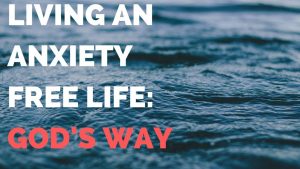 That is a wrap for today's question. Join us again next Friday for another question on our "Ask Gramps" episode. Our next trek is Mediation Monday, where we will help you reflect on what is most important in life. So encourage your friends and family to join us and then come along on Monday for another day of our Wisdom-Trek, Creating a Legacy.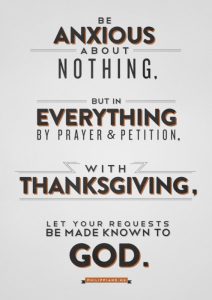 If you would like to listen to any of the past 1212 daily treks or read the associated journals, they are all available at Wisdom-Trek.com.  I encourage you to subscribe to Wisdom-Trek on your favorite podcast player so each day will be downloaded to you automatically.
If you would like to listen to any of the past 1212 daily treks or read the associated journals, they are all available at Wisdom-Trek.com. I encourage you to subscribe to Wisdom-Trek on your favorite podcast player so each day will be downloaded to you automatically.
Thank you for allowing me to be your guide, mentor, and most of all, your friend as I serve you through this Wisdom-Trek podcast and journal.
As we take this trek together, let us always:
Live Abundantly (Fully)
Love Unconditionally
Listen Intentionally
Learn Continuously
Lend to others Generously
Lead with Integrity
Leave a Living Legacy Each Day
I am Guthrie Chamberlain reminding you to Keep Moving Forward, Enjoy Your Journey, and Create a Great Day Everyday! See you on Monday!