Welcome to Day 1532 of our Wisdom-Trek, and thank you for joining me.
This is Guthrie Chamberlain, Your Guide to Wisdom
The Farm Inspection – Humor Unplugged
Wisdom – the final frontier to true knowledge.  Welcome to Wisdom-Trek! Where our mission is to create a legacy of wisdom, to seek out discernment and insights, to boldly grow where few have chosen to grow before. Hello, my friend; I am Guthrie Chamberlain, your Captain on our journey to increase Wisdom and Create a Living Legacy.  Thank you for joining us today as we explore wisdom on our 2nd millennium of podcasts. This is Day 1532 of our Trek, and time for a 3-minute mini-trek called Humor Unplugged.  Our Thursday podcast will provide a short and clean funny story to help you lighten up and live a rich and satisfying life.  Something to cheer you and give a bit a levity in your life.  We are told in  Proverbs 15:30  A cheerful look brings joy to the heart; good news makes for good health.  We are also encouraged in Proverbs 17:22  A cheerful heart is good medicine, but a broken spirit saps a person's strength.  Consider this your vitamin supplement of cheer for today.  So let's jump right in with today's funny which is titled:
The Farm Inspection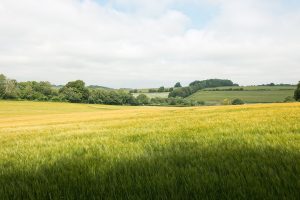 You know how regulations seem to be increasing every day; many times, the officers' power will go to their heads.  Agent Smith, a DEA officer, stopped at the Jones farm yesterday and said to farmer Jones, "I need to inspect your farm for illegal growing drugs." Farmer Jones cocked his head a bit and said, "Okay, but don't go in that field over yonder."
DEA Agent Jones DEA verbally exploded, saying, "Mister, I have the authority of the federal government with me!"
Reaching into his rear pants pocket, arrogant Agent Smith removed his badge and shoved it in my face. "See this badge?! This badge means I am allowed to go wherever I wish – on ANY land! No questions asked or answers given! Have I made myself clear?"
Farmer Smith slowly nodded politely, apologized, and went about his chores. A short time later, Farmer Smith heard loud screams, looked up, and saw the DEA Agent Smith running for his life, being chased by Farmer Smith's big old mean bull in the field. With every step, the bull was gaining ground on the officer. Agent Smith was clearly terrified.
Farmer Jones threw down my tools, ran to the fence, and yelled at the top of my lungs, "Your badge, show him your BADGE!!"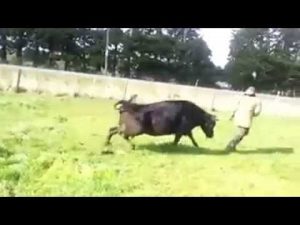 I hope that brought a smile to your face today.  If it did pass your smile onto some else, we all could use a kind smile each day.  Our Thursday thought is, "The cow is nothing but a machine which makes grass fit for us people to eat.

Here is our verse for today:
Hebrews 10:3-5
But instead, those sacrifices actually reminded them of their sins year after year. For it is not possible for the blood of bulls and goats to take away sins. That is why, when Christ came into the world, he said to God,
"You did not want animal sacrifices or sin offerings.
But you have given me a body to offer.
Just as you enjoy these nuggets of humor, please encourage your friends and family to join us and then come along tomorrow for another day of 'Wisdom-Trek, Creating a Legacy.'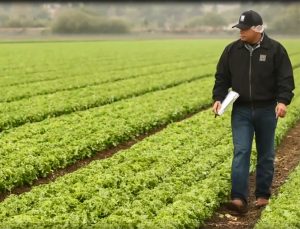 If you would like to listen to any of our past 1531 treks or read the Wisdom Journal, they are all available at Wisdom-Trek.com.   I encourage you to subscribe to Wisdom-Trek on your favorite podcast player so that each day will be downloaded to you automatically.
Thank you for allowing me to be your guide, mentor, and most importantly, I am your friend as I serve you through this Wisdom-Trek podcast and journal each day.
As we take this Trek of life together, let us always:
Live Abundantly (Fully)
Love Unconditionally
Listen Intentionally
Learn Continuously
Lend to others Generously
Lead with Integrity
Leave a Living Legacy Each Day
I am Guthrie Chamberlain….reminding you to 'Keep Moving Forward,' 'Enjoy your Journey,' and 'Create a Great Day…Everyday'! See you tomorrow for Futuristic Friday!