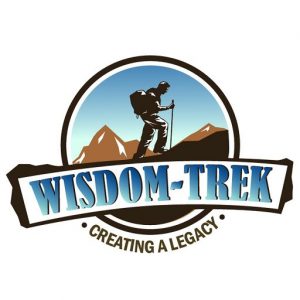 Wisdom-Trek / Creating a Legacy
Welcome to Day 1196 of our Wisdom-Trek, and thank you for joining me.
I am Guthrie Chamberlain, Your Guide to Wisdom
What Does a Disciple Do? – Worldview Wednesday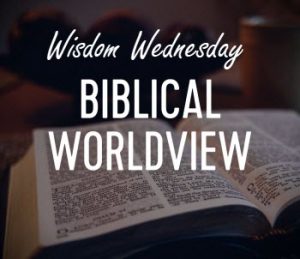 Wisdom – the final frontier to true knowledge. Welcome to Wisdom-Trek where our mission is to create a legacy of wisdom, to seek out discernment and insights, and to boldly grow where few have chosen to grow before.
Hello, my friend, I am Guthrie Chamberlain, your captain on our journey to increase wisdom and create a living legacy. Thank you for joining us today as we explore wisdom on our 2nd millennium of podcasts. This is Day 1196 of our Trek, and it is Worldview Wednesday. Creating a Biblical Worldview is important to have a proper perspective on today's current events.
To establish a Biblical worldview, you must also have a proper understanding of God and His word. On our Worldview Wednesday episodes we are in a series in which we are covering another detailed review of a book from one of today's most prominent Hebrew Scholars Dr. Micheal S. Heiser. We are taking a deep dive and will share Dr. Heiser's insights into the question, which is also the title of his book "What Does God Want?"
What Does a Disciple Do?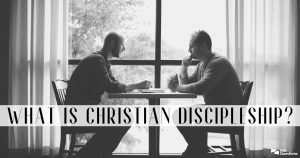 It might surprise you, but Jesus didn't command his disciples to do that many things. His vision for loving God and others wasn't complicated. But the things he did command them to do are profound and life-changing when put into practice. We'll start with the most important point of being a disciple.
Disciples love God, their neighbors, and each other. We already know how Jesus summed up a life dedicated to God. The greatest commands are listed in Matthew [22:36]-40:
"'Teacher, which is the most important commandment in the law of Moses?
Jesus replied, 'You must love the Lord your God with all your heart, all your soul, and all your mind. This is the first and greatest commandment.  A second is equally important: Love your neighbor as yourself. The entire law and all the demands of the prophets are based on these two commandments.'"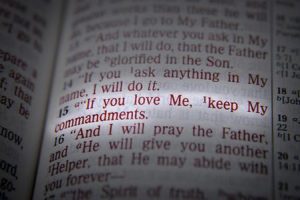 Jesus did these things. He told his disciples in John 14:31, "But I will do what the Father requires of me, so that the world will know that I love the Father. Come, let's be going."
How did Jesus show he loved God, his Father? He obeyed God. He fulfilled God's plan for him. He also told them in John 15:9, "I have loved you even as the Father has loved me. Remain in my love." Jesus asked his disciples to do the same, as his comments on the two greatest commandments make clear.
Jesus went further by using himself as an example. He told his disciples to love each other as he had loved them. When they did that, they'd be obeying him and pleasing God. He said to them in John 15:13-17, "'There is no greater love than to lay down one's life for one's friends. You are my friends if you do what I command. I no longer call you slaves, because a master doesn't confide in his slaves. Now you are my friends, since I have told you everything the Father told me.  You didn't choose me. I chose you. I appointed you to go and produce lasting fruit, so that the Father will give you whatever you ask for, using my name. This is my command: Love each other.'"
Love for God and love for each other are, according to Jesus, the fundamental, indispensable marks of his disciples. Jesus did not see these two commands as in any way contradictory. They were not in tension. They were two sides of the same coin. They were inseparable.
But how do we love people? The highest expression is giving one's life for another. This is what Jesus did for us, as described in Romans 5:7-8, "Now, most people would not be willing to die for an upright person, though someone might perhaps be willing to die for a person who is especially good. But God showed his great love for us by sending Christ to die for us while we were still sinners."
Short of this ultimate expression, I can't think of a better description than 1 Corinthians 13:4-7. It pretty much says all that needs to be said. Here are the characteristics of love from that passage:
"Love is patient and kind. Love is not jealous or boastful or proud or rude. It does not demand its own way. It is not irritable, and it keeps no record of being wronged. It does not rejoice about injustice but rejoices whenever the truth wins out. Love never gives up, never loses faith, is always hopeful, and endures through every circumstance."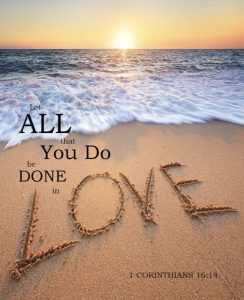 You'll typically see attributes these on cards at Valentine's Day or romantic swag. That's fine—we ought to love our spouse or that person we hope might become our spouse. But 1 Corinthians 13:4-7 isn't really about romance. This is the way we should treat people in general. Whether they recognize it as love is irrelevant. God will see and know.
Some of those statements need to be read in context of other statements in the list. For example, "love never loses faith" must be balanced with "love rejoices whenever truth wins out." We cannot isolate "love never loses faith" to conclude love believes false or evil teaching. In like manner, "love is always hopeful" doesn't refer to hoping for evil against someone. But in general, the list is easy to understand—and a daily challenge to live out.
One more point before moving on. It's crucial to realize that basically everything that follows in what discipleship means extends from this first command of Jesus in John 13:34-35, "'So now I am giving you a new commandment: Love each other. Just as I have loved you, you should love each other. Your love for one another will prove to the world that you are my disciples.'"
Loving each other—loving people—is the central point of orientation for the other things disciples do (pray, fast, give, fellowship, etc.). All these other things which we will explore next week are expressions of this fundamental command.
That will conclude our lesson for this week from Dr. Heiser's book "What Does God Want?" Next Worldview Wednesday, we will discover how "Disciples Take Care of Each Other." I believe you will find each Worldview Wednesday an interesting topic to consider as we build our Biblical worldview.
Tomorrow we will continue with our 3-minute humor nugget that will provide you with a bit of cheer and help you to lighten up and live a rich and satisfying life. So encourage your friends and family to join us and then come along with us tomorrow for another day of our Wisdom-Trek, Creating a Legacy.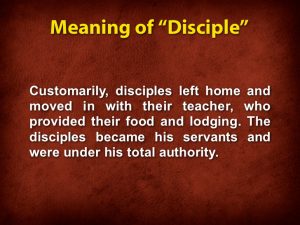 If you would like to listen to any of our past 1195 treks or read the Wisdom Journal, they are available at Wisdom-Trek.com. I encourage you to subscribe to Wisdom-Trek on your favorite podcast player so that each day's trek will be downloaded automatically.
Thank you so much for allowing me to be your guide, mentor, and most of all, your friend as I serve you through the Wisdom-Trek podcast and journal.
As we take this trek together, let us always:
Live Abundantly (Fully)
Love Unconditionally
Listen Intentionally
Learn Continuously
Lend to others Generously
Lead with Integrity
Leave a Living Legacy Each Day
I am Guthrie Chamberlain reminding you to Keep Moving Forward, Enjoy Your Journey, and Create a Great Day Everyday! See you tomorrow!