Welcome to Day 1614 of our Wisdom-Trek, and thank you for joining me.
This is Guthrie Chamberlain, Your Guide to Wisdom
Change Begins With Caring – Daily Wisdom
Welcome to Wisdom-Trek with Gramps! Wisdom is the final frontier in gaining true knowledge. Our mission is to create a legacy of wisdom, seek out discernment and insights, and boldly grow where few have chosen to grow before.
Hello, my friend; this is Gramps. Thanks for coming along on our trek to increase wisdom and create a living legacy. Proverbs 16:16 says, "How much better to get wisdom than gold, and sound judgment than silver!" Today is Day 1614 of our trek, and it's time for another nugget of wisdom, which includes an inspirational quote along with some wise words from Gramps for today's trek.` If you apply the words you hear today, over time, it will help you become more healthy, wealthy, and wise as you continue your daily trek of life. So let's jump right in with today's nugget.
Today's quote is from Margaret J. Wheatley, and it is,​ "All change, even very large and powerful change, begins when a few people start talking with one another about something they care about."
Change Begins With Caring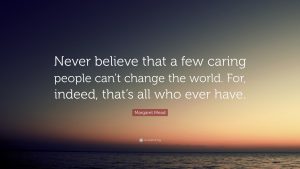 To start a change in your personal life and the world you impact, you must care enough to follow through with the change. Even massive changes in the world begin when just a few individuals get together and share what they care about. Through this tiny seed of care, passion, and faith, significant changes have their nucleus. It does not require a lot of resources, time, or effort to begin that change process in your life and the world you impact, just a tiny spark of desire can make the change…
Just like a tiny spark can set an entire forest on fire or the smallest flame can shine in the darkness, so it is with making changes in our world. It is the consistent small steps over time that will allow nations to rise or fall. It is the consistent small steps over time that enable great success, or failure. It is also the small, consistent steps over time that will build God's kingdom on earth.
Over the past 2,000 years, from a handful of loyal disciples, the church of Christ has grown into a body of untold millions. This growth will continue until the day when Jesus Christ will return to establish the new Eden where heaven and earth combine. That is the change that we are seeking, and it only requires that you have the faith of a mustard seed that grows into a mighty tree. It only requires that you have the faith of a small measure of yeast to impact the whole batch of dough.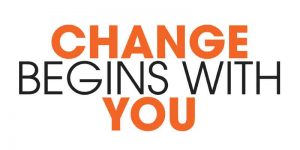 Jesus also used this illustration: "The Kingdom of Heaven is like the yeast a woman used in making bread. Even though she put only a little yeast in three measures of flour, it permeated every part of the dough."
Then Jesus said, "What is the Kingdom of God like? How can I illustrate it?  It is like a tiny mustard seed that a man planted in a garden; it grows and becomes a tree, and the birds make nests in its branches."
As you ponder this nugget of wisdom for yourself, I would ask you to please encourage your friends and family to join us and then come along on Monday for another day of our Wisdom-Trek, Creating a Legacy.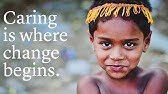 If you would like to listen to any of our past 1613 treks or read the Wisdom Journal, they are all available at Wisdom-Trek.com. I encourage you to subscribe to Wisdom-Trek on your favorite podcast player so that each day will be downloaded to you automatically.
Thank you so much for allowing me to be your guide, mentor, and, most of all, your friend as I serve you through the Wisdom-Trek podcast and journal.
As we take this trek together, let us always:
Live Abundantly (Fully)
Love Unconditionally
Listen Intentionally
Learn Continuously
Lend to others Generously
Lead with Integrity
Leave a Living Legacy Each Day
I am Guthrie Chamberlain reminding you to Keep Moving Forward, Enjoy Your Journey, and Create a Great Day Everyday! See you on Monday for more daily wisdom!