Welcome to Day 1664 of our Wisdom-Trek, and thank you for joining me.
This is Guthrie Chamberlain, Your Guide to Wisdom
A Cowboy's Guide to Life – Daily Wisdom
Welcome to Wisdom-Trek with Gramps. Wisdom is the final frontier in gaining true knowledge. We are on a daily trek to create a legacy of wisdom, seek out discernment and insights, and boldly grow where few have chosen to grow before.
Hello, my friend; this is Gramps. Thanks for coming along on today's trek as we increase wisdom and create a living legacy. Proverbs 16:16 says, "How much better to get wisdom than gold, and sound judgment than silver!" We are on Day 1664 of our trek, and it's time to explore another nugget of wisdom, which includes an inspirational quote along with some wise words from Gramps for today's trek. If you apply the words you hear today, over time, it will help you become more healthy, wealthy, and wise as you continue your daily trek of life. So let's jump right in with today's nugget.
Today's quote is from Barefoot the Cowboy, and it is, "I have 15 bits of wisdom which will help you in life a heaping amount."
A Cowboy's Guide to Life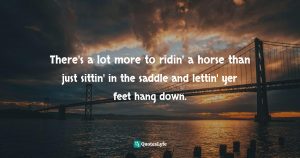 Don't interfere with something that ain't botherin' you none.
Timing has a lot to do with the outcome of a rain dance.
The easiest way to eat crow is while it's still warm.  The colder it gets, the harder it is to swaller.
If you find yourself in a hole, the first thing to do is stop diggin'.
If it don't seem like it's worth the effort, it probably ain't.
The biggest troublemaker you'll probably ever have to deal with watches you shave his face in the mirror every morning.
Never ask a barber if you need a haircut.
If you get to thinkin' you're a person of some influence, try orderin' somebody else's dog around.
Don't worry about bitin' off more'n you can chew; your mouth is probably a whole lot bigger'n you think.
Generally, you ain't learnin' nothin' when your mouth's a-jawin'.
If you're ridin' ahead of the herd, take a look back every now and then to make sure it's still there with ya.
Good judgment comes from experience, and a lotta that comes from bad judgment.
Lettin' the cat outta the bag is a whole lot easier than puttin' it back.
The quickest way to double your money is to fold it over and put it back in your pocket.
Never miss a good chance to shut up.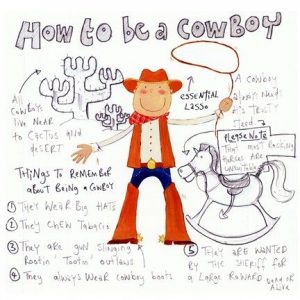 The words of the wise are like cattle prods—painful but helpful. Their collected sayings are like a nail-studded stick with which a shepherd drives the sheep.
As you ponder this nugget of wisdom for yourself, please encourage your friends and family to join us and then come along tomorrow for another day of Wisdom-Trek, Creating a Legacy.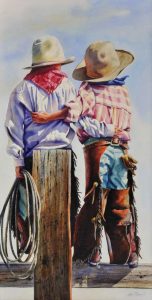 If you would like to listen to any of our past 1663 treks or read the Wisdom Journal, they are available at Wisdom-Trek.com. I encourage you to subscribe to Wisdom-Trek on your favorite podcast player so that each day's trek will be downloaded automatically. If you have not done so, please consider giving us a five-star rating so that others will also join us in mining our nuggets of wisdom.
Thank you for allowing me to be your guide, mentor, and most importantly, I am your friend as I serve you through the Wisdom-Trek podcast and journal each day.
As we take this trek together, let us always:
Live Abundantly (Fully)
Love Unconditionally
Listen Intentionally
Learn Continuously
Lend to others Generously
Lead with Integrity
Leave a Living Legacy Each Day
I am Guthrie Chamberlain reminding you to Keep Moving Forward, Enjoy Your Journey, and Create a Great Day Everyday! See you tomorrow for more daily wisdom!