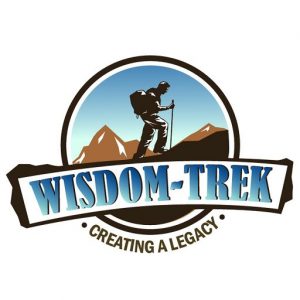 Wisdom-Trek / Creating a Legacy
Welcome to Day 988 of our Wisdom-Trek, and thank you for joining me.
This is Guthrie Chamberlain, Your Guide to Wisdom
The Enneagram System – Type Number Eight – The Challenger – Ask Gramps

Thank you for joining us for our five days per week wisdom and legacy building podcast. We are broadcasting from our studio at The Big House in Marietta, Ohio. This is Day 988 of our trek, and it is time for our Philosophy Friday series. Each Friday we will ponder some of the basic truths and mysteries of life and how they can impact us in creating our living legacy.
As we continue on this trek called life, sometimes we have questions about life, so our Friday trek is a time when we can "Ask Gramps." Gramps will answer questions that you would like to ask your dad or granddad, but for whatever reason are unable to. No matter how old we are, I know that all of us would like the opportunity to ask Dad or Gramps questions about life in many areas.
Today is the fifteenth episode in our series delving into what makes each of us respond differently to life situations and circumstances. Understanding ourselves and how others may interpret life through their paradigm will allow us to interact with each other with more love and compassion.   This empathy can be achieved by utilizing a profound tool called "The Enneagram." If you have missed any of our past thirteen Friday series, I would recommend going back and listening to them or reading the Wisdom Journals.
As a review, the tool that we refer to as the Enneagram (Any-a-Gram) is a circle with nine interconnected points (Ennea refers to 9, and Gram refers to a drawing). Check out today's or a prior week's Wisdom Journal for a representation of it. I have also included a copy of "The Enneagram At-A-Glance," which was compiled by Suzanne H. Eller in today's Wisdom Journal. If you would like a PDF copy, click on the link in today's Wisdom Journal located on our website Wisdom-Trek.com.
I would also recommend the book The Road Back to You written by Ian Morgan Cron and Suzanne Stabile.  It is an excellent book about an enneagram journey to self-discovery from a Christian perspective.
In the first seven episodes, we explored how The Enneagram System works and then presented an overview of all nine personality types. So far we have taken a deep dive into "The Reformer," "The Helper," "The Achiever," "The Individualist," "The Investigator," "The Loyalist," and "The Enthusiast." This week we will explore type Number Eight "The Challenger."  Next week we will focus on the final type number Nine "The Peacemaker."
Since we are exploring the Enneagram in detail, I would also recommend reading the Wisdom Journal for each Friday to see the diagrams presented each week. As helpful as the Enneagram is, keep in mind, it is still only a tool, and cannot replace or usurp the precepts that are found in God's Word. All decisions and actions that we make in life must be in harmony with God's precepts.
So the questions for the next several months will be…
"Hey, Gramps, why do people act and react to situations and circumstances in life differently?  How can I gain wisdom to better understand myself and others so that I can love, serve, and minister to them on a deeper level?"
 The Enneagram System – Type Number Eight – The Challenger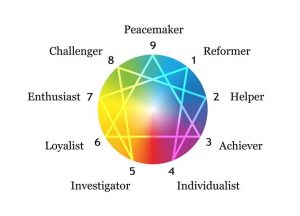 8 – THE CHALLENGER
Enneagram Type Eight
The Powerful, Dominating Type: Self-Confident, Decisive, Willful, and Confrontational
· Type Eight in Brief
Eights are self-confident, strong, and assertive. Protective, resourceful, straight-talking, and decisive, but can also be ego-centric and domineering. Eights feel they must control their environment, especially people, sometimes becoming confrontational and intimidating. Eights typically have problems with their tempers and with allowing themselves to be vulnerable. At their best: self-mastering, they use their strength to improve others' lives, becoming heroic, magnanimous, and inspiring.
Basic Fear: Of being harmed or controlled by others
Basic Desire: To protect themselves (to be in control of their own life and destiny)
Enneagram Eight with a Seven-Wing: "The Maverick"
Enneagram Eight with a Nine-Wing: "The Bear"
Key Motivations: Want to be self-reliant, to prove their strength and resist weakness, to be important in their world, to dominate the environment, and to stay in control of their situation.
The Meaning of the Arrows (in brief)
When moving in their Direction of Disintegration (stress), self-confident Eights suddenly become secretive and fearful like an unhealthy Five. However, when moving in their Direction of Integration (growth), lustful, controlling Eights become more open-hearted and caring, like healthy Twos.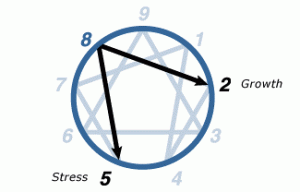 · Type Eight Overview
We have named personality type Eight "The Challenger" because of all the types, Eights enjoy taking on challenges themselves as well as giving others opportunities that challenge them to exceed themselves in some way. Eights are charismatic and have the physical and psychological capacities to persuade others to follow them into all kinds of endeavors—from starting a company to rebuilding a city, to running a household, to waging war, to making peace.
Eights have enormous willpower and vitality, and they feel most alive when they are exercising these capacities in the world. They use their abundant energy to effect changes in their environment—to "leave their mark" on it—but also to keep the environment, and especially other people, from hurting them and those they care about. At an early age, Eights understand that this requires strength, will, persistence, and endurance—qualities that they develop in themselves and that they look for in others.
Here is our first example. Thayer is a stockbroker who has worked intensively on understanding her type Eight personality. She recounts a childhood incident in which she could clearly see the development of this pattern.
"Much of my tenacity and toughness comes from my Dad. He always told me not to 'let anybody push you around.' It was not okay to cry. I learned to master my weaker side early on. At the tender age of eight, a huge horse ran away with me. When an adult caught the horse, I resolutely dismounted without a tear. I could tell my father was proud."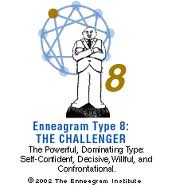 Eights do not want to be controlled or to allow others to have power over them (their Basic Fear), whether the power is psychological, sexual, social, or financial. Much of their behavior is involved with making sure that they retain and increase whatever power they have for as long as possible. An Eight may be a general or a gardener, a small businessman or a mogul, the mother of a family or the superior of a religious community. No matter, being "in charge" and leaving their imprint on their sphere is uniquely characteristic of them.
Eights are the true "rugged individualists" of the Enneagram. More than any other type, they stand alone. They want to be independent and resist being indebted to anyone. They often refuse to "give in" to social convention, and they can defy fear, shame, and concern about the consequences of their actions. Although they are usually aware of what people think of them, they do not let the opinions of others sway them. They go about their business with a steely determination that can be awe-inspiring, even intimidating to others.
Although, to some extent, Eights fear physical harm, far more important is their fear of being disempowered or controlled in some way. Eights are extraordinarily tough and can absorb a great deal of physical punishment without complaint—a double-edged blessing since they often take their health and stamina for granted and overlook the health and well-being of others as well. Yet they are desperately afraid of being hurt emotionally and will use their physical strength to protect their feelings and keep others at a safe emotional distance. Beneath the tough façade is a vulnerability, although it has been covered over by a layer of emotional armor.
Thus, Eights are often extremely industrious, but at the price of losing emotional contact with many of the people in their lives. Those close to them may become increasingly dissatisfied with this state of affairs, which confounds Eights. A common example for Eights would sound like this…"I don't understand what my family is complaining about. I bust my hump to provide for them. Why are they disappointed with me?"
When this happens, Eights feel misunderstood and may distance themselves further. In fact, beneath their imposing exterior, Eights often feel hurt and rejected, although this is something they seldom talk about because they have trouble admitting their vulnerability to themselves, let alone to anyone else. Because they fear that they will be rejected (i.e., divorced, humiliated, criticized, fired, or harmed in some way), Eights attempt to defend themselves by rejecting others first. The result is that average Eights become blocked in their ability to connect with people or to love since love gives the other power over them, reawakening their Basic Fear.
The more Eights build up their egos in order to protect themselves, the more sensitive they become to any real or imaginary slight to their self-respect, authority, or preeminence. The more they attempt to make themselves impervious to hurt or pain (whether physical or emotional), the more they "shut down" emotionally to become hardened and rock-like.
When Eights are emotionally healthy, however, they have a resourceful, "can-do" attitude as well as a steady inner drive. They take the initiative and make things happen with a great passion for life. They are honorable and authoritative—natural leaders who have a solid, commanding presence. Their grounded-ness gives them abundant "common sense" as well as the ability to be decisive. Eights are willing to "take the heat," knowing that any decision cannot please everyone. But as much as possible, they want to look after the interests of the people in their charge without playing favorites. They use their talents and fortitude to construct a better world for everyone in their lives.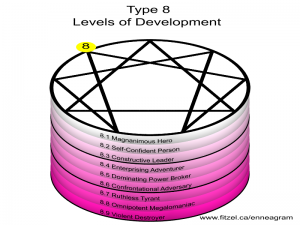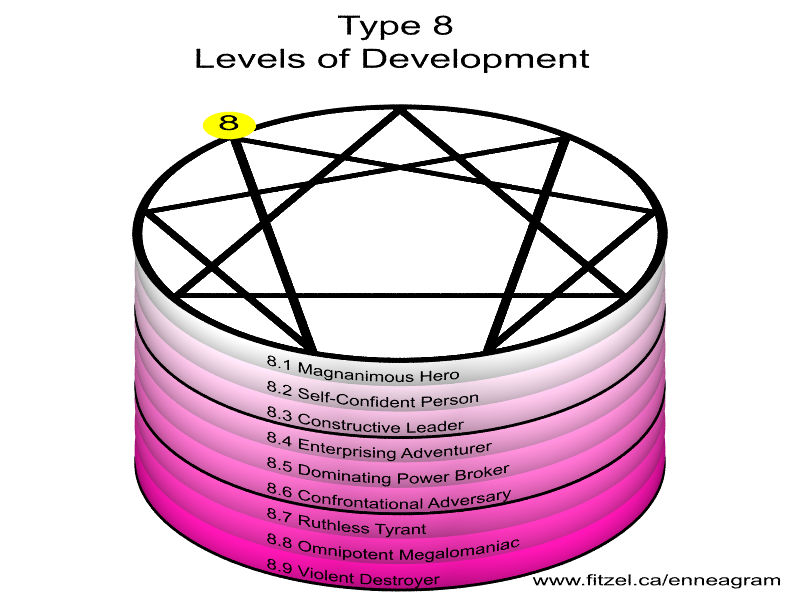 · Type Eight —Levels of Development
Healthy Levels
Level 1 (At Their Best): Assimilate experiences in depth, making them deeply grateful and appreciative for what they have. Become awed by the simple wonders of life: joyous and ecstatic. Intimations of spiritual reality, of the boundless goodness of life.
Level 2: Highly responsive, excitable, and enthusiastic about sensation and experience. Most extroverted type: stimuli bring immediate responses—they find everything invigorating. Lively, vivacious, eager, spontaneous, resilient, cheerful.
Level 3: Easily become accomplished achievers, generalists who do many different things well: multi-talented. Practical, productive, usually prolific, cross-fertilizing areas of interest.
Average Levels
Level 4: As restlessness increases, want to have more options and choices available to them. Become adventurous and "worldly wise," but less focused, constantly seeking new things and experiences: the sophisticated, connoisseur, and consumer. Money, variety, keeping up with the latest trends…are important.
Level 5: Unable to discriminate what they really need, become hyperactive, unable to say "no" to themselves, throwing self into constant activity. Uninhibited, doing and saying whatever comes to mind: storytelling, flamboyant exaggerations, witty wise-cracking, performing…Fear being bored: in perpetual motion, but do too many things—many ideas but little follow through.
Level 6: Get into conspicuous consumption and all forms of excess. Self-centered, materialistic, and greedy, never feeling that they have enough. Demanding and pushy, yet unsatisfied and jaded. Addictive, hardened, and insensitive.
Unhealthy Levels
Level 7: Desperate to quell their anxieties, can be impulsive and infantile: do not know when to stop. Addictions and excess take their toll: debauched, depraved, dissipated escapists, offensive and abusive.
Level 8: In flight from self, acting out impulses rather than dealing with anxiety or frustrations: go out of control into erratic mood swings and compulsive actions (manias).
Level 9: Finally, their energy and health are completely expended: become claustrophobic and panic-stricken. Often give up on themselves and life: deep depression and despair, self-destructive overdoses, impulsive suicide. Generally corresponds to Bipolar disorder and Histrionic personality disorder.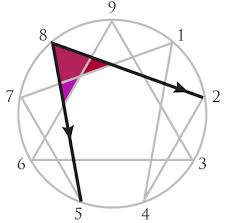 Personal Growth Recommendations for Enneagram Type Eight
It goes against the grain, but act with self-restraint. You show true power when you forbear from asserting your will with others, even when you could. Your real power lies in your ability to inspire and uplift people. You are at your best when you take charge and help everyone through a crisis. Few will take advantage of you when you are caring, and you will do more to secure the loyalty and devotion of others by showing the greatness of your heart than you ever could by displays of raw power.
It is difficult for Eights, but learn to yield to others, at least occasionally. Often, little is really at stake, and you can allow others to have their way without fear of sacrificing your power, or your real needs. The desire to dominate everyone all the time is a sign that your ego is beginning to inflate—a danger signal that more serious conflicts with others are inevitable.
Remember that the world is not against you. Many people in your life care about you and look up to you, but when you are in your fixation, you do not make this easy for them. Let in the affection that is available. Doing this will not make you weak, but will confirm the strength and support in yourself and your life. Also remember that by believing that others are against you and reacting against them, you tend to alienate them and confirm your own fears. Take stock of the people who truly are on your side, and let them know how important they are to you.
Eights typically want to be self-reliant and depend on no one. But, ironically, they depend on many people. For example, you may think that you are not dependent on your employees because they depend on you for their jobs. You could dismiss them at any time and hire other workers. Everyone is expendable in your little kingdom—except you. But the fact is that you are dependent on others to do their jobs too, especially if your business concerns grow beyond what you can manage alone. But if you alienate everyone associated with you, you will eventually be forced to employ the most obsequious and untrustworthy operatives. When you do, you will have reason to question their loyalty and to fear losing your position. The fact is that whether in your business world or your domestic life, your self-sufficiency is largely an illusion.
That will conclude our focus on personality type number Eight – The Challenger.  A word of encouragement from God's Word for those of you who are Enneagram type number Eight is found in Romans 12:15-17, "Be happy with those who are happy, and weep with those who weep.  Live in harmony with each other. Don't be too proud to enjoy the company of ordinary people. And don't think you know it all!   Never pay back evil with more evil. Do things in such a way that everyone can see you are honorable."
Join us again next Friday as we further explore the Enneagram on our Ask Gramps episode. We will specifically explore the final type Enneagram Number Nine – The Peacemaker in depth. The information that we explore will allow you to unlock who you are as we travel on our trek of life and discover more about yourself and others as you impact God's kingdom. I know you will find these insights interesting, practical, and profitable in living a rich and satisfying life.
Our next trek is Mediation Monday where we will help you reflect on what is most important in life. So encourage your friends and family to join us and then come along on Monday for another day of our Wisdom-Trek, Creating a Legacy.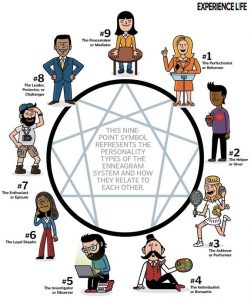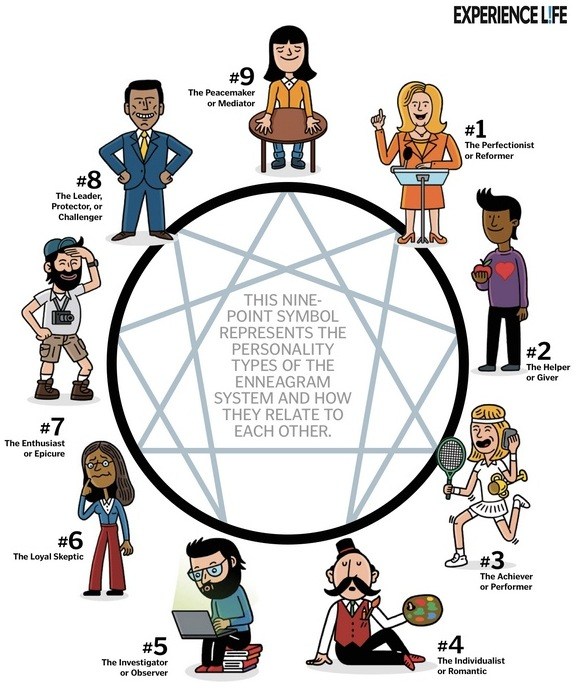 If you would like to listen to any of the past 987 daily treks or read the associated journals, they are all available at Wisdom-Trek.com. I encourage you to subscribe to Apple Podcast or Google Play so that each day's trek will be downloaded automatically.
Thank you for allowing me to be your guide, mentor, and most of all your friend as I serve you through the Wisdom-Trek podcast and journal.
As we take this trek together, let us always:
Live Abundantly (Fully)
Love Unconditionally
Listen Intentionally
Learn Continuously
Lend to others Generously
Lead with Integrity
Leave a Living Legacy Each Day
I am Guthrie Chamberlain reminding you to Keep Moving Forward, Enjoy Your Journey, and Create a Great Day Everyday! See you on Monday!