Listen to the Wisdom-Trek episode for today (0:19:58)
Get Updates About Wisdom-Trek
Podcast: Play in new window | Download
Subscribe: Apple Podcasts | Android | Email | Google Podcasts | Stitcher | Spotify | RSS | More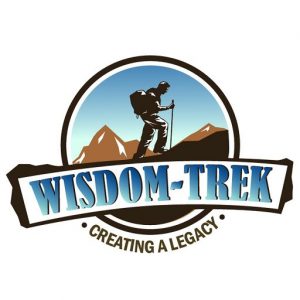 Wisdom-Trek / Creating a Legacy
Welcome to Day 973 of our Wisdom-Trek, and thank you for joining me.
This is Guthrie Chamberlain, Your Guide to Wisdom
The Enneagram System – Type Number Five – The Investigator – Ask Gramps

Thank you for joining us for our five days per week wisdom and legacy building podcast. We are broadcasting from our studio at The Big House in Marietta, Ohio. This is Day 973 of our trek, and it is time for our Philosophy Friday series. Each Friday we will ponder some of the basic truths and mysteries of life and how they can impact us in creating our living legacy.
As we continue on this trek called life, sometimes we have questions about life, so our Friday trek is a time when we can "Ask Gramps." Gramps will answer questions that you would like to ask your dad or granddad, but for whatever reason are unable to. No matter how old we are, I know that all of us would like the opportunity to ask Dad or Gramps questions about life in many areas.
Today is the twelfth episode in our series delving into what makes each of us respond differently to life situations and circumstances. Understanding ourselves and how others may interpret life through their paradigm will allow us to interact with each other with more love and compassion. This empathy can be achieved by utilizing a profound tool called "The Enneagram."
If you have missed any of our past eleven Friday series, I would recommend going back and listening to them or reading the Wisdom Journals. As a review, the tool that we refer to as the Enneagram (Any-a-Gram) is a circle with nine interconnected points (Ennea refers to 9 and Gram refers to a drawing). Check out today's or a prior week's Wisdom Journal for a representation of it.
I have also included a copy of "The Enneagram At-A-Glance," which was compiled by Suzanne H. Eller in today's Wisdom Journal. If you would like a PDF copy, click on the link in today's Wisdom Journal located on our website Wisdom-Trek.com.
I would also recommend the book The Road Back to You written by Ian Morgan Cron and Suzanne Stabile. It is an excellent book about an enneagram journey to self-discovery from a Christian perspective.
In the first seven episodes, we explored how The Enneagram System works and then presented an overview of all nine personality types. So far we have taken a deep dive into "The Reformer," "The Helper," "The Achiever," and "The Individualist." This week we will explore type Number Five "The Investigator." Next week we will focus on type Number Six "The Loyalist."
Since we are exploring the Enneagram in detail, I would also recommend reading the Wisdom Journal for each Friday to see the diagrams presented each week. As helpful as the Enneagram is, keep in mind, it is still only a tool and cannot replace or usurp the precepts that are found in God's word. All decisions and actions that we make in life must be in harmony with God's precepts.
So the questions for the next several months will be…
"Hey, Gramps, why do people act and react to situations and circumstances in life differently?  How can I gain wisdom to better understand myself and others so that I can love, serve, and minister to them on a deeper level?"
 The Enneagram System – Type Number Five – The Investigator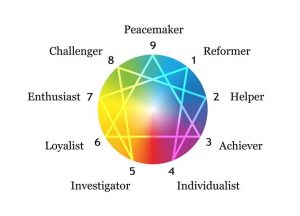 5 – THE INVESTIGATOR
Enneagram Type Five
The Intense, Cerebral Type: Perceptive, Innovative, Secretive, and Isolated


· Type Five in Brief

Fives are alert, insightful, and curious. They are able to concentrate and focus on developing complex ideas and skills. Independent, innovative, and inventive, they can also become preoccupied with their thoughts and imaginary constructs. They become detached, yet high-strung and intense. They typically have problems with eccentricity, nihilism, and isolation. At their best: visionary pioneers, often ahead of their time, and able to see the world in an entirely new way.

Basic Fear: Being useless, helpless, or incapable

Basic Desire: To be capable and competent

Enneagram Five with a Four-Wing: "The Iconoclast"

Enneagram Five with a Six-Wing: "The Problem Solver"

Key Motivations: Want to possess knowledge, to understand the environment, to have everything figured out as a way of defending the self from threats from the environment.

The Meaning of the Arrows (in brief)

When moving in their Direction of Disintegration (stress), detached Fives suddenly become hyperactive and scattered like an unhealthy Seven. However, when moving in their Direction of Integration (growth), the avaricious, detached Fives become more self-confident and decisive, like healthy Eights.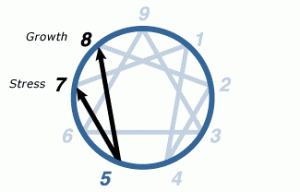 · Type Five Overview
We have named personality type Five The Investigator because, more than any other type, Fives want to find out why things are the way they are. They want to understand how the world works, whether it is the cosmos, the microscopic world, the animal, vegetable, or mineral kingdoms—or the inner world of their imaginations. They are always searching, asking questions, and delving into things in depth. They do not accept received opinions and doctrines, feeling a strong need to test the truth of most assumptions for themselves.
As an example, John, a graphic artist, describes this approach to life.
"Being a Five means always needing to learn, to take in information about the world. A day without learning is like a day without 'sunshine.' As a Five, I want to have an understanding of life. I like having a theoretical explanation about why things happen as they do. This understanding makes me feel in charge and in control. I most often learn from a distance as an observer and not a participant. Sometimes, it seems that understanding life is as good as living it. It is a difficult journey to learn that life must be lived and not just studied."
Behind Fives' relentless pursuit of knowledge are deep insecurities about their ability to function successfully in the world. Fives feel that they do not have an ability to do things as well as others. But rather than engage directly with activities that might bolster their confidence, Fives "take a step back" into their minds where they feel more capable. Their belief is that from the safety of their minds they will eventually figure out how to do things—and one day rejoin the world.
Fives invest a lot of time observing and contemplating—listening to the sounds of wind or of a synthesizer or taking notes on the activities in an anthill in their backyard. As they immerse themselves in their observations, they begin to internalize their knowledge and gain a feeling of self-confidence. They can then go out and play a piece on the synthesizer or tell people what they know about ants. They may also stumble across exciting new information or make new creative combinations (playing a piece of music based on recordings of wind and water). When they get verification of their observations and hypotheses or see that others understand their work, it is a confirmation of their competency, and this fulfills their Basic Desire. ("You know what you are talking about.")
Knowledge, understanding, and insight are thus highly valued by Fives because their identities are built around "having ideas" and being people who have something unusual and insightful to say. For this reason, Fives are not interested in exploring what is already familiar and well-established; rather, their attention is drawn to the unusual, the overlooked, the secret, the occult, the bizarre, the fantastic, the "unthinkable." Investigating "unknown territory"—knowing something that others do not know or creating something that no one has ever experienced—allows Fives to have a niche for themselves that no one else occupies. They believe that developing this niche is the best way that they can attain independence and confidence.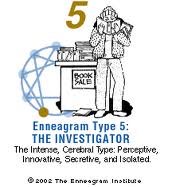 Thus, for their own security and self-esteem, Fives need to have at least one area in which they have a degree of expertise that will allow them to feel capable and connected with the world. Fives think, "I am going to find something that I can do really well, and then I will be able to meet the challenges of life. But I can't have other things distracting me or getting in the way."
They, therefore, develop an intense focus on whatever they can master and feel secure about. It may be the world of mathematics, or the world of rock and roll, or classical music, or car mechanics, or horror and science fiction, or a world entirely created in their imagination. Not all Fives are scholars or Ph.Ds. But, depending on their intelligence and the resources available to them, they focus intensely on mastering something that has captured their interest.
For better or worse, the areas that Fives explore do not depend on social validation; indeed, if others agree with their ideas too readily, Fives tend to fear that their ideas might be too conventional. History is full of famous Fives who overturned accepted ways of understanding or doing things (Darwin, Einstein, Nietzsche). Many more Fives, however, have become lost in the byzantine complexities of their own thought processes, becoming merely eccentric and socially isolated.
The intense focus of Fives can thus lead to remarkable discoveries and innovations, but when the personality is more fixated, it can also create self-defeating problems. This is because their focus of attention unwittingly serves to distract them from their most pressing practical problems. Whatever the sources of their anxieties may be—relationships, lack of physical strength, inability to gain employment, and so forth—average Fives tend not to deal with these issues.
Rather, they find something else to do that will make them feel more competent. The irony is that no matter what degree of mastery they develop in their area of expertise, this cannot solve their more basic insecurities about functioning in the world. For example, as a marine biologist, a Five could learn everything there is to know about a type of shellfish, but if her fear is that she is never going to be able to run her own household adequately, she will not have solved her underlying anxiety.
Dealing directly with physical matters can feel extremely daunting for Fives.
Here is another example. Henry is a life scientist working in a major medical research lab.
"Since I was a child, I have shied away from sports and strenuous physical activity whenever possible. I was never able to climb the ropes in gym class, stopped participating in sports as soon as it was feasible, and the smell of a gymnasium still makes me uncomfortable. At the same time, I have always had a very active mental life. I learned to read at the age of three, and in school, I was always one of the smartest kids in academic subjects."
Thus, much of their time gets invested "collecting" and developing ideas and skills they believe will make them feel confident and prepared. They want to retain everything that they have learned and "carry it around in their heads." The problem is that while they are engrossed in this process, they are not interacting with others or even increasing many other practical and social skills. They devote more and more time to collecting and attending to their collections, less to anything related to their real needs.
Thus, the challenge to Fives is to understand that they can pursue whatever questions or problems spark their imaginations and maintain relationships, take proper care of themselves, and do all of the things that are the hallmarks of a healthy life.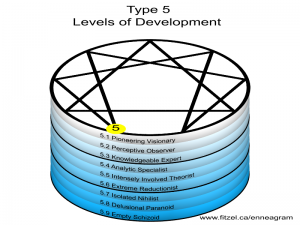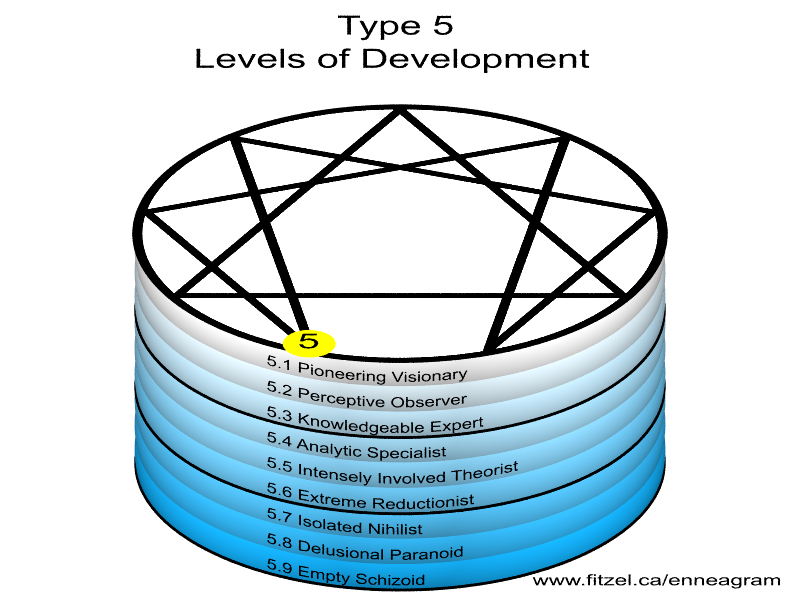 · Type Five —Levels of Development
Healthy Levels
Level 1 (At Their Best): Become visionaries, broadly comprehending the world while penetrating it profoundly. Open-minded, take things in whole, in their true context. Make pioneering discoveries and find entirely new ways of doing and perceiving things.
Level 2: Observe everything with extraordinary perceptiveness and insight. Most mentally alert, curious, searching intelligence: nothing escapes their notice. Foresight and prediction. Able to concentrate: become engrossed in what has caught their attention.
Level 3: Attain skillful mastery of whatever interests them. Excited by knowledge: often become expert in some field. Innovative and inventive, producing extremely valuable, original works. Highly independent, idiosyncratic, and whimsical.
Average Levels
Level 4: Begin conceptualizing and fine-tuning everything before acting—working things out in their minds: model building, preparing, practicing, and gathering more resources. Studious, acquiring technique. Become specialized, and often "intellectual," often challenging accepted ways of doing things.
Level 5: Increasingly detached as they become involved with complicated ideas or imaginary worlds. Become preoccupied with their visions and interpretations rather than reality. Are fascinated by off-beat, esoteric subjects, even those involving dark and disturbing elements. Detached from the practical world, a "disembodied mind," although high-strung and intense.
Level 6: Begin to take an antagonistic stance toward anything which would interfere with their inner world and personal vision. Become provocative and abrasive, with intentionally extreme and radical views. Cynical and argumentative.
Unhealthy Levels
Level 7: Become reclusive and isolated from reality, eccentric and nihilistic. Highly unstable and fearful of aggressions: they reject and repulse others and all social attachments.
Level 8: Get obsessed yet frightened by their threatening ideas, becoming horrified, delirious, and prey to gross distortions and phobias.
Level 9: Seeking oblivion, they may commit suicide or have a psychotic break with reality. Deranged, explosively self-destructive, with schizophrenic overtones. Generally corresponds to the Schizoid Avoidant and Schizotypal personality disorders.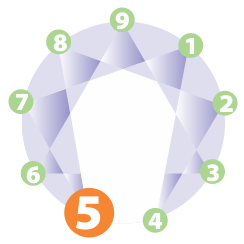 Personal Growth Recommendations for Enneagram Type Fives
Learn to notice when you're thinking and speculating takes you out of the immediacy of your experience. Your mental capacities can be an extraordinary gift, but only can also be a trap when you use them to retreat from contact with yourself and others. Stay connected with your physicality.
You tend to be extremely intense and so high-strung that you find it difficult to relax and unwind. Make an effort to learn to calm down in a healthy way, without drugs or alcohol. Exercising or using biofeedback techniques will help channel some of your tremendous nervous energy. Meditation, jogging, yoga, and dancing are especially helpful for your type.
You see many possibilities but often do not know how to choose among them or judge which is more or less important. When you are caught in your fixation, a sense of perspective can be missing, and with it the ability to make accurate assessments. At such time, it can be helpful to get the advice of someone whose judgment you trust while you are gaining perspective on your situation. Doing this can also help you trust someone else, a difficulty for your type.
Notice when you are getting intensely involved in projects that do not necessarily support your self-esteem, confidence, or life situation. It is possible to follow many different fascinating subjects, games, and pastimes, but they can become huge distractions from what you know you really need to do. Decisive action will bring more confidence than learning more facts or acquiring more unrelated skills.
That will conclude our focus on personality type Number Five – The Investigator. A word of encouragement to grow in all areas of your life for those of you who are Enneagram type Number Five from God's word found in 2 Peter 1:5-8 "In view of all this, make every effort to respond to God's promises. Supplement your faith with a generous provision of moral excellence, and moral excellence with knowledge, and knowledge with self-control, and self-control with patient endurance, and patient endurance with godliness, and godliness with brotherly affection, and brotherly affection with love for everyone. The more you grow like this, the more productive and useful you will be in your knowledge of our Lord Jesus Christ." 
Join us again next Friday as we further explore the Enneagram on our Ask Gramps episode. We will specifically explore the Enneagram Number Six – The Loyalist in depth. The information that we explore will allow you to unlock who you are as we travel on our trek of life and discover more about yourself and others as you impact God's kingdom.
I know you will find these insights interesting, practical, and profitable in living a rich and satisfying life. Our next trek is Mediation Monday when we will help you reflect on what is most important in life. So encourage your friends and family to join us and then come along on Monday for another day of our Wisdom-Trek, Creating a Legacy.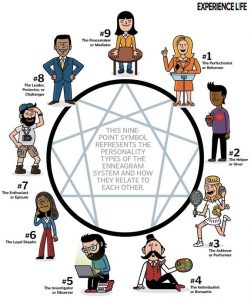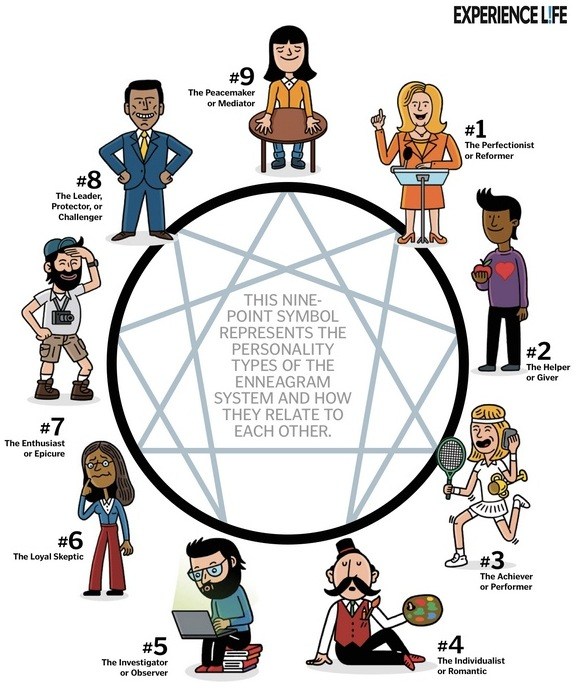 If you would like to listen to any of the past 972 daily treks or read the associated journals, they are all available at Wisdom-Trek.com. I encourage you to subscribe to Apple Podcast or Google Play so that each day's trek will be downloaded automatically.
Thank you for allowing me to be your guide, mentor, and most importantly, your friend as I serve you through the Wisdom-Trek podcast and journal.
As we take this trek together, let us always:
Live Abundantly (Fully)
Love Unconditionally
Listen Intentionally
Learn Continuously
Lend to others Generously
Lead with Integrity
Leave a Living Legacy Each Day
I am Guthrie Chamberlain reminding you to Keep Moving Forward, Enjoy Your Journey, and Create a Great Day Everyday! See you on Monday!