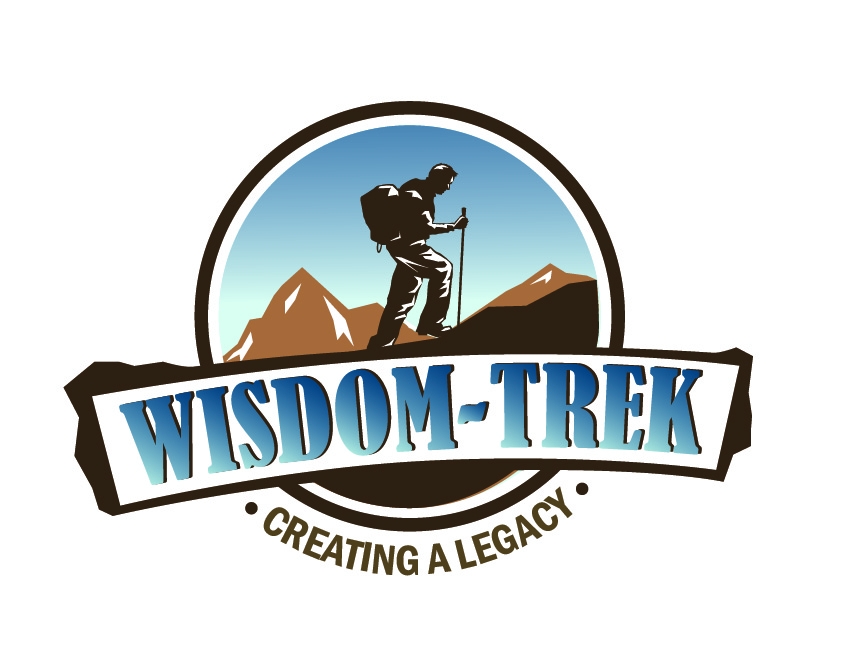 Wisdom-Trek / Creating a Legacy
Welcome to Day 6 of our Wisdom-Trek and thank you for joining me.  
This is Guthrie Chamberlain, Your Guide to Wisdom.
Today we continue to investigate the tools needed for a successful Wisdom-Trek.
Today we are recording our podcast/journal from our studio at Home 2 in Charlotte, North Carolina.  Springtime in the Carolina's is nice, and it is great to be able to get outside some.   In late May, Paula and I spent a beautiful day at the Biltmore Estate in Asheville, North Carolina.  If you are ever in that area, it is well worth the time to spend a day or two there.
Each day, when is it applicable, I will share stories and personal life experiences as we trek together. If you are interested in getting to know us better, and have not done so already, please check out our website Wisdom-Trek.com/About Wisdom-Trek.
Today, we are continuing to consider what tools or equipment we need in order to learn, gain wisdom, and enjoy our Wisdom-Trek.
On day 2 of our Trek, I challenged you to visualize your life as a wheel or bicycle tire, with love being the hub of that wheel and the remaining tools or attributes making up the spokes stemming from a perfectly round hub. So far we have inserted the spokes of joy, peace and patience.
I also used a second analogy of love being your backpack for our trek and each of the attributes as tools we need for success.  Whichever one you can visualize the best please utilize it. I also encourage you to work on strengthening these attributes in your life.
I have provided tools to assist in these areas, which can be found on the journal for day 2 or on our Free Resources webpage at Wisdom-Trek.com/resources.
If you have not taken the time to listen to the previous podcast episodes, I would encourage you to do so.  During the first two or three weeks of our podcast/journal the nuggets of wisdom that we consume will build on each other as we lay the foundation of living an abundant life while creating a living legacy.
The remaining spokes in our wheel (or my second analogy the tools in our backpack) are kindness, goodness, faithfulness, gentleness and self-control. These attributes are referred to in the Bible as the "Fruit of the Spirit," and as we cultivate this fruit it will grow in our lives as we build the foundation to create a legacy of wisdom,  seek out discernment and insights, and boldly grow where few have chosen to grow before. In doing so, we will establish the framework in our lives that will truly allow us to "Live Long and Prosper."
If we use the analogy of farming, a healthy and abundant harvest of any kind is dependent on proper nourishment.  In the same manner, if we expect positive results and habits in our lives, then we must cultivate our lives physically, emotionally, educationally, and spiritually.  Only then can we expect our lives to produce an abundance of good habits and traits.  
I encourage you to take the 9-Tools Self-Assessment to see which attributes in your life need a little more nourishment and cultivating without ignoring the existing strong points.
Today we will look at the tool/spoke (attribute) of kindness.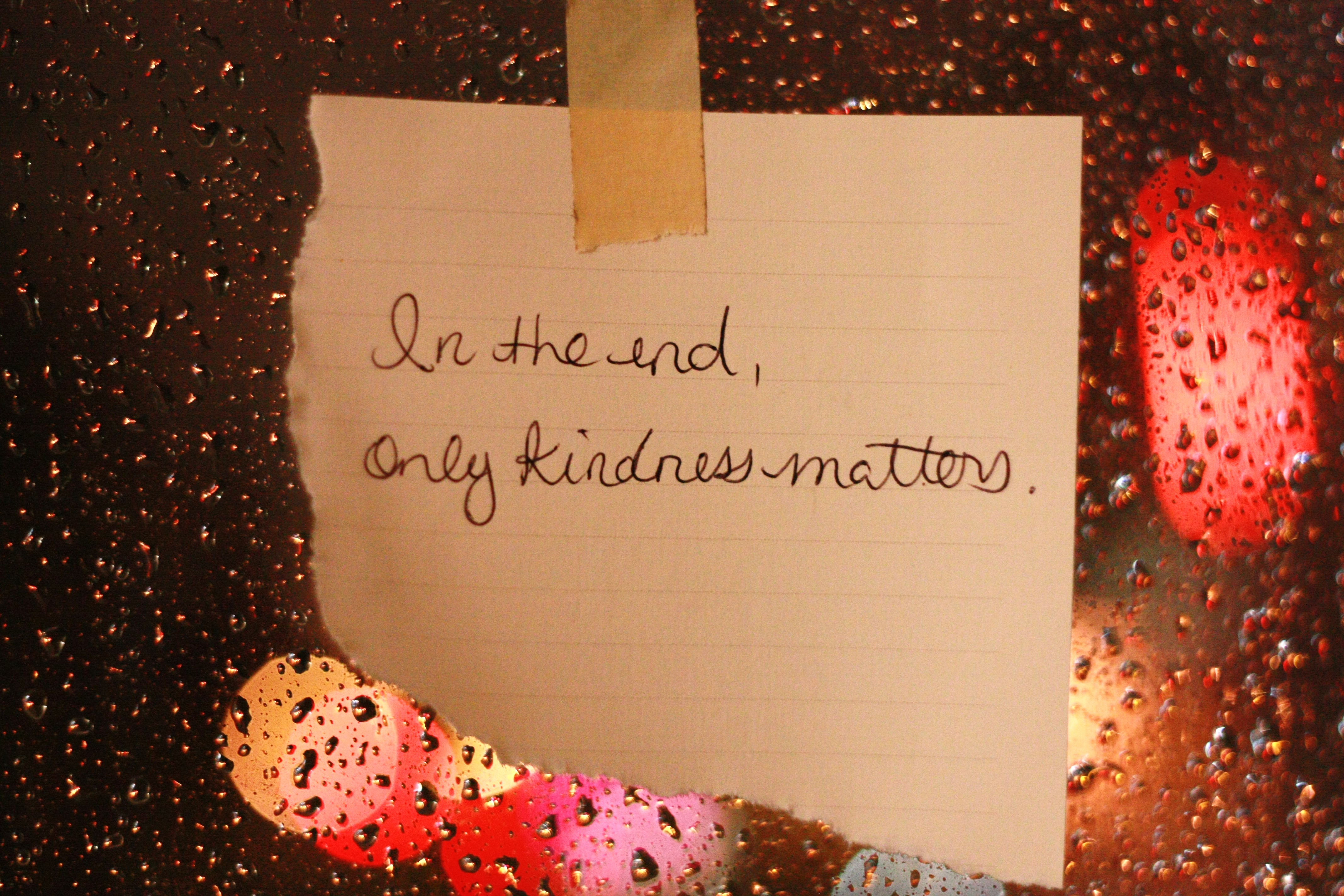 As we consider kindness, it can be one of the most powerful and life-changing attributes/tools that we possess. To be kind to another person does not cost us anything. It should be easy for us, and it can change the world for others.  We never know what another person may be going through and an act of kindness quite literally could be a matter of victory or defeat, even between life and death.
Kindness may be harder for some people who through genetics or environment have not learned the practice kindness, but kindness can become its own motive.
We are made kind by practicing acts of kindness.
Everyone has the capacity to be kind to everyone they meet.  As we learn and grown in wisdom we realize that the lack of kindness is a sign of a selfish (and unwise) person, just as the lack of any of these attributes/tools that we are reviewing is a sign of selfishness – at least to a certain degree.
Kindness is something that we have to consciously put on, just as if we were putting on clothing or a necklace. Even more than that, it needs to permeate who we are, so that we cannot remove it from ourselves.
This is so important that Proverbs 3:3-4 puts it this way, "Never let loyalty and kindness leave you! Tie them around your neck as a reminder. Write them deep within your heart.  Then you will find favor with both God and people, and you will earn a good reputation."
As we learn to become kind to others, we should not do so in order to gain favor with God and others, but that is a by-product or a benefit of a life lived practicing kindness. When others view you, do they think, "That is a kind person"?
As we seek to become wiser and to create a living legacy, kindness should radiate from our lives, an attribute that is part of everything that we do.  I know, sometimes we just don't feel like being kind.   I understand, I have times like that also. But that is not an excuse I can afford to live with.
Kindness is tenderness. Kindness is an expression of our love for others. I like to say, "Kindness puts the hiking boots on love." Instead of just verbally expressing love, kindness shows another person that you do love them and care for them because we are willing to take action.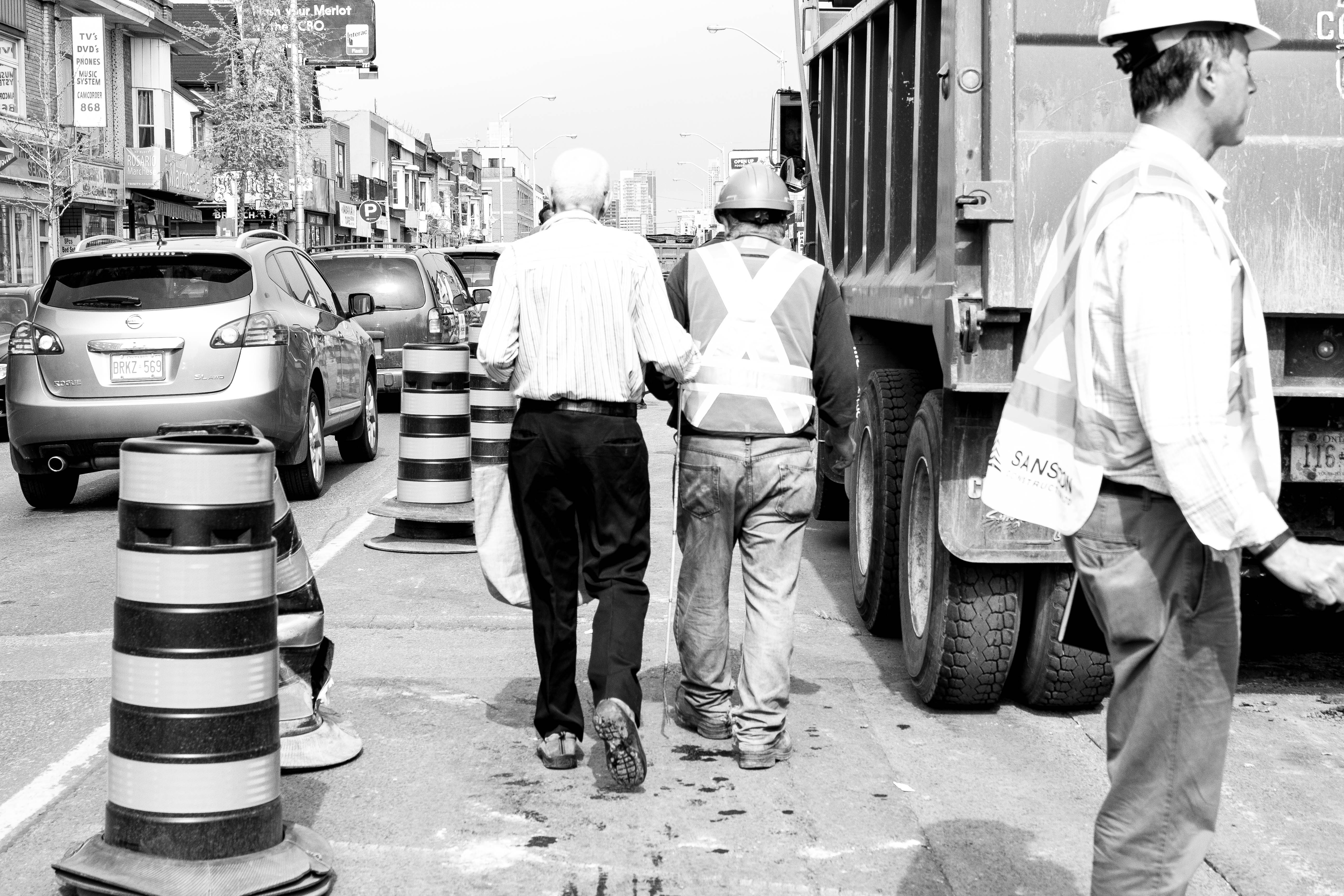 Even if you work or associate with others that are hard to be kind to, and I know full well there are those in this world that are like that, just think about it this way…
Kindness is the noblest of weapons to conquer with.
Kindness is the oil that takes the friction out of life.
Kindness is one of the most powerful tools that we have in our backpack, it is a crucial spoke within our wheel.
If you are kind, you can win over the most difficult of people.
You might think, or say that I don't have the many opportunities to show kindness on a large scale, but that is never true.  Remember:
There is no such thing as a small act of kindness.
Every act of kindness creates a ripple with no logical end.
A small act of kindness will not only impact one person's world, but indeed the entire world.
Kindness is a multiplier, the more times that it is passed on to others, the greater it grows.
So treat every person with kindness and respect, even those who are rude to you. Remember that you show compassion to others not because of who they are but because of who you are.
As a practical tip from Og Mandino suggests, "Beginning today, treat everyone you meet as if they were going to be dead by midnight. Extend to them all the care, kindness and understanding you can muster, and do it with no thought of any reward. Your life will never be the same again."
In my faith walk, I look at the source of me being a kind person and realize it stems from God as quoted from Psalm 145:7, "The Lord is righteous in everything he does; he is filled with kindness."
It is also in Ephesians 1:7-8, "God is so rich in kindness and grace that he purchased our freedom with the blood of his Son and forgave our sins. He has showered his kindness on us, along with all wisdom and understanding."
So along with kindness, God also showers on us wisdom and understanding.   They are all integrated together and cannot be separated.  Wherever there is a person, there is an opportunity for kindness. To gain kindness is to gain wisdom.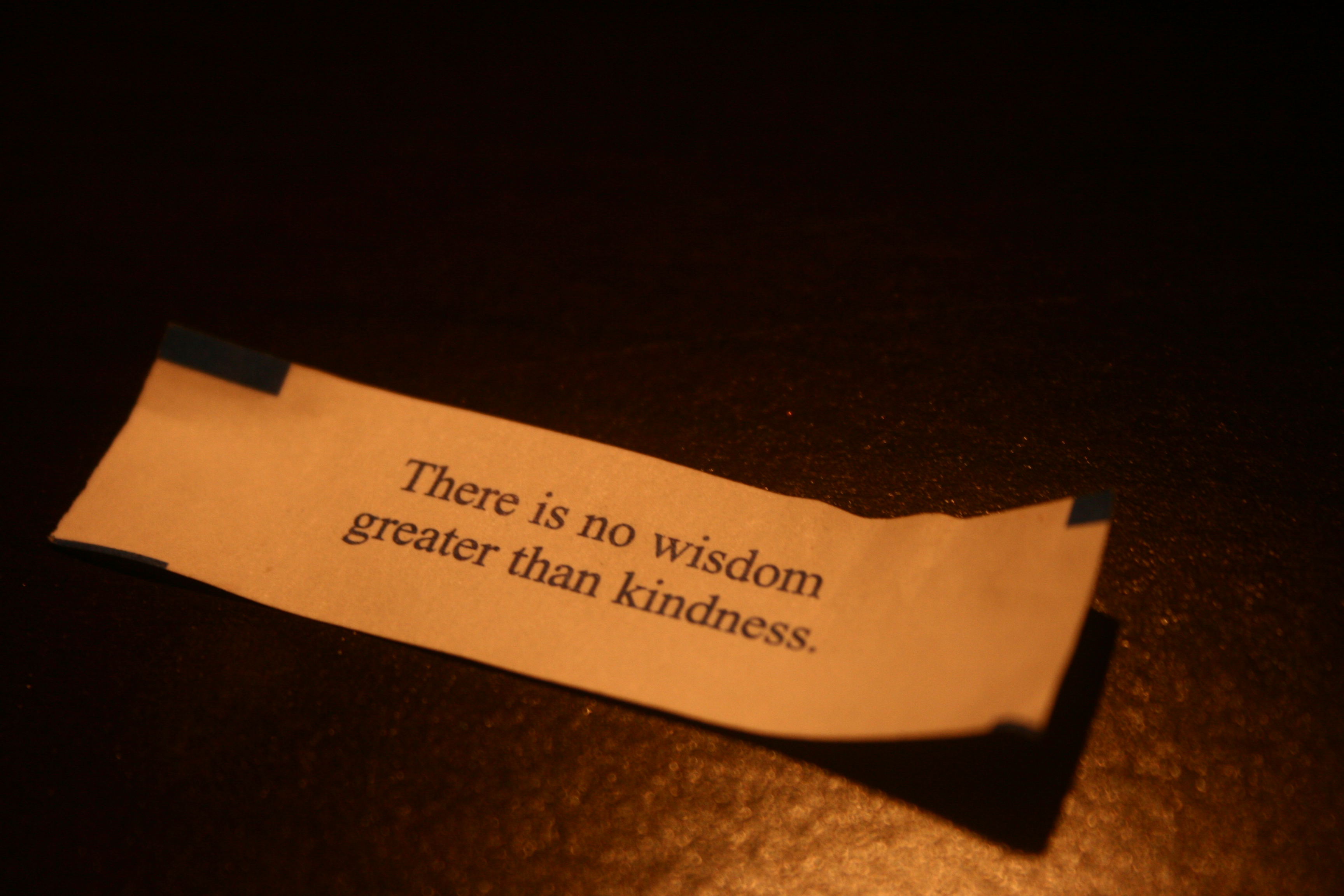 As with the other tools in our backpack, or spokes in our wheel, let us also not forget to be kind to ourselves.  I see so many people that don't treat themselves with kindness, so there is little hope that they will treat others kind.  There are times, that we need to get away, recharge and relax so that we have the capacity to pour ourselves into the lives of others. Let us not forget this important factor.
As we continue our trek, we need to take time and look around at the beauty of creation, and smell the flowers along the way. In order to leave each day's trek a little better than we found it, let us remember to plant the seeds of kindness, everywhere we go because… All the flowers, of all the tomorrows, are in the seeds of today.
Take one day at a time, for today is all we have.
Tomorrow we will move onto the fifth tool in our backpack or spoke in our wheel goodness, which sprouts from us being kind today.  As with all of the spokes/tools, these attributes are intertwined to allow us to live fully, grow in wisdom, and leave a living legacy.
I encourage you to leave a discussion topic, comment, suggestion, or question in the comment form on Wisdom-Trek.com/day6 or email me at guthrie@venturecg.com.
If you have not done so already, please take the time to visit iTunes or Stitcher and subscribe so that Wisdom-Trek will be available for you each day automatically.
Please leave us a rating on each episode, and spread the word to everyone you know to join us on our Wisdom-Trek. Thank you!
Check out Wisdom-Trek.com for the daily journal and free resources.
That will finish our podcast/journal for today. Tomorrow we will inspect the tool/attribute of goodness and how it can radically change our lives and the lives of everyone we meet. Please check into our "camp" tomorrow for another day on our Wisdom-Trek, Creating a Legacy.
As we take this Trek together let us always:
Live Abundantly (Fully)
Love Unconditionally
Listen Intentionally
Learn Continuously
Lend Generously
Lead with Integrity
Leave a Living Legacy Each Day
This is Guthrie Chamberlain reminding you to Keep Moving Forward, Enjoy the Journey, and Create a Great Day! See you tomorrow!