Listen to the Wisdom-Trek episode for today (0:05:39)
Get Updates About Wisdom-Trek
Podcast: Play in new window | Download
Subscribe: Apple Podcasts | Android | Email | Google Podcasts | Stitcher | Spotify | RSS | More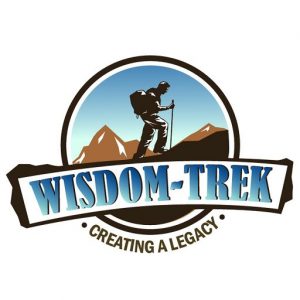 Wisdom-Trek / Creating a Legacy
Welcome to Day 1029 of our Wisdom-Trek, and thank you for joining me.
This is Guthrie Chamberlain, Your Guide to Wisdom
Begin Again…Anew – Meditation Monday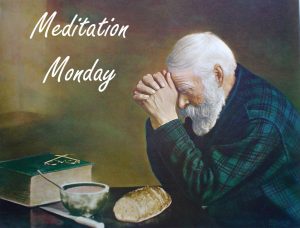 Wisdom – the final frontier to true knowledge. Welcome to Wisdom-Trek where our mission is to create a legacy of wisdom, to seek out discernment and insights, and to boldly grow where few have chosen to grow before.
Hello, my friend, I am Guthrie Chamberlain, your captain on our journey to increase wisdom and create a living legacy. Thank you for joining us today as we explore wisdom on our 2nd millennium of podcasts. This is Day 1029 of our trek, and it is time for Meditation Monday.
Taking time to relax, refocus, and re-prioritize our lives is crucial in order to create a living legacy. For you, it may just be time alone for quiet reflection. You may utilize structured meditation practices. In my life meditation includes reading and reflecting on God's Word and praying. It is a time, to renew my mind, refocus on what is most important, and make sure that I am nurturing my soul, mind, and body. As you come along with me on our trek each Meditation Monday, it is my hope and prayer that you too will experience a time for reflection and renewing of your mind. 
As we finish this year and look forward to next year with all of its hopes, dreams, and promises on our Meditation Monday I want us to reflect on…
Beginning Again…Anew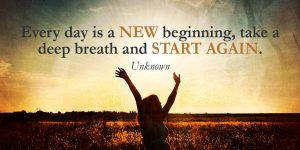 One of God's chosen prophets really got far off course from what God intended for him. That prophet was given another chance, as we all are shared in Jonah 3:1-3, "Then the Lord spoke to Jonah a second time: 'Get up and go to the great city of Nineveh, and deliver the message I have given you.' This time Jonah obeyed the Lord's command and went to Nineveh, a city so large that it took three days to see it all."
As far as following God was concerned, Jonah failed hopelessly. He defiantly did the opposite of what he knew he was supposed to do. But did God reject him? No. God allowed him to experience failure. Getting thrown overboard and being swallowed by a whale, or some sort of big fish, brought Jonah to his senses real quick. When he was ready to listen, "Then the Lord spoke to Jonah a second time."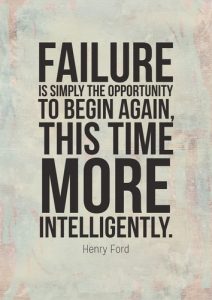 And so it is with us. No matter how difficult this past year has been for you—whether it is because of the choices you have made—or just completely out of your control, God is still calling you to do His will. No matter how many times we feel we've failed or blown it, God will continue to call us to himself. If you have made unwise choices or you feel life has been unkind to you, there is always hope. Regardless, it is much wiser to "listen up" quickly, so we don't have to get hit over the head with a "4 by 4", or be swallowed by a "whale of a problem." God is patiently waiting to get our attention.
So, if you feel you have failed, be encouraged. If life has thrown obstacles into your path that were completely outside of your control, be encouraged. Now is the time to give God a chance to make all things new. It may not be immediately, but He will "mend even a broken heart if you give him all the pieces." God calls us all to follow him, so why not respond to his call and, if you haven't already done so, ask him to come into your life as Lord and Savior? Even though life is hard at times and we are saddened and overwhelmed, through your lamenting remember Lamentations 3:22-23, "The faithful love of the Lord never ends! His mercies never cease. Great is his faithfulness; his mercies begin afresh each morning."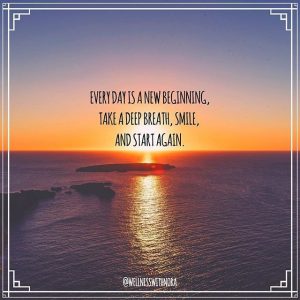 That is a wrap for today's meditation. Next week we will continue our trek on Meditation Monday as we take time to reflect on what is most important in creating our living legacy. On tomorrow's trek, we will explore another wisdom quote. This 3-minute wisdom supplement will assist you in becoming healthy, wealthy, and wise each day. Thank you for joining me on this trek called life. Encourage your friends and family to join us and then come along tomorrow for another day of our Wisdom-Trek, Creating a Legacy.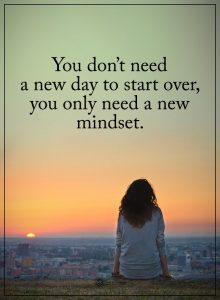 If you would like to listen to any of the past 1028 daily treks or read the daily journal, they are available at Wisdom-Trek.com. I encourage you to subscribe to Wisdom-Trek on your favorite podcast player so each day will be downloaded to you automatically.
Thank you for allowing me to be your guide, mentor, and most of all your friend as I serve you through the Wisdom-Trek podcast and journal.
As we take this trek together, let us always:
Live Abundantly (Fully)
Love Unconditionally
Listen Intentionally
Learn Continuously
Lend to others Generously
Lead with Integrity
Leave a Living Legacy Each Day
I am Guthrie Chamberlain reminding you to Keep Moving Forward, Enjoy Your Journey, and Create a Great Day Everyday! See you tomorrow!