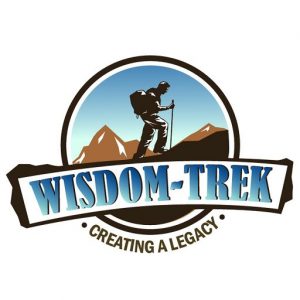 Wisdom-Trek / Creating a Legacy
Welcome to Day 1214 of our Wisdom-Trek, and thank you for joining me.
This is Guthrie Chamberlain, Your Guide to Wisdom
Rest for the Weary Soul – Meditation Monday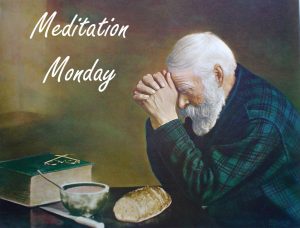 Wisdom – the final frontier to true knowledge. Welcome to Wisdom-Trek where our mission is to create a legacy of wisdom, to seek out discernment and insights, and to boldly grow where few have chosen to grow before.
Hello, my friend, I am Guthrie Chamberlain, your captain on our journey to increase wisdom and create a living legacy. Thank you for joining us today as we explore wisdom on our 2nd millennium of podcasts. This is Day 1214 of our trek, and it is time for Meditation Monday. Taking time to relax, refocus, and reprioritize our lives is crucial in order to create a living legacy.
For you, it may just be time alone for quiet reflection. You may utilize structured meditation practices. In my life, meditation includes reading and reflecting on God's Word and praying. It is a time, to renew my mind, refocus on what is most important, and make sure that I am nurturing my soul, mind, and body. As you come along with me on our trek each Meditation Monday, it is my hope and prayer that you too will experience a time for reflection and renewing of your mind.
 After fighting the hard-won battles of life, you may be too weary to continue on to reclaim what was lost. In today's meditation, let us consider…
Rest for the Weary Soul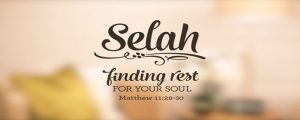 There is a brook that is mentioned in the book of 1 Samuel that you may not have heard of.  It is called Brook Besor. Don't feel bad if you've never heard of the place. Most haven't, but more need to. The Brook Besor story deserves shelf space in the library of those who are worn-out. It speaks tender words and needed rest to those who are weary of soul.
The story emerges from the ruins of a town called Ziklag. David and his six hundred soldiers return from the Philistine war front to find the city from which the army was from in utter devastation. A raiding band of Amalekites had swept down on the village, looted it, and taken all the women and children hostage. The sorrow of David's soldiers morphs into anger, not against the Amalekites, but against David. After all, hadn't he led them into battle? David is the commander of the army, and he left the women and children unprotected. Isn't David to blame? The soldiers think so and that he needs to die. So they start grabbing stones.
After the victory over the Philistines, returning home could be his worst hour. But David with wisdom from God makes it one of his best.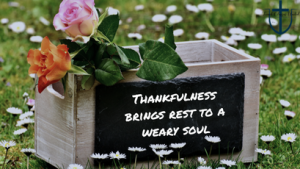 David redirects the men's anger toward the enemy. They set out in pursuit of the Amalekites. Keep the soldiers' weariness in mind. They still were covered by the trail dust of a long campaign and haven't entirely extinguished their anger at David. They don't know the Amalekites' hideout, and, if not for the sake of their loved ones, they might just give up and take the loss.
In this story, we learn that two hundred of the six hundred soldiers do. The army reaches a brook called Besor, and they dismount. Soldiers wade in the creek and splash water on their faces, sink tired toes in cool mud, and stretch out on the grass. Hearing David's command to move on in pursuit of the Amalekites, two hundred choose to rest. "You go on without us," they say.
How tired does a person have to be to abandon the hunt for his own family? The church may have its share of weary soldiers. Good people. Godly people. Only hours or years ago they marched with deep resolve. But now fatigue consumes them. They're exhausted. So beat-up and worn down that they can't summon the strength to save their own flesh and blood. Maybe old age has sucked their oxygen. Maybe it was a deflating string of defeats. Divorce can leave you at the brook. Addiction can as well. Whatever the reason, the church has its share of people who just want to sit and rest.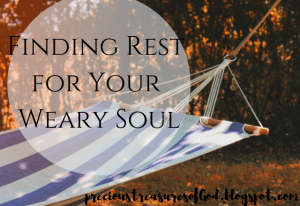 The church must decide. What do we do with the Brook Besor people? Berate them? Shame them? Give them a rest but measure the minutes? Or do we do what David did? David let them stay.
David and the remaining four hundred soldiers marched on and resumed the chase. David and his men swooped down upon the Amalekites like hawks on rats. Every Israelite woman and child is rescued. Every Amalekite either bites the dust or hits the trail, leaving their precious plunder behind. David goes from scapegoat to hero, and the whooping and hollering of the soldiers begins.
What about the two hundred men who had rested and chose not to fight? You might feel the way some of David's men felt as recorded in 1 Samuel 30:22, "But some evil troublemakers among David's men said, 'They didn't go with us, so they can't have any of the plunder we recovered. Give them their wives and children, and tell them to be gone.'"
The explosive emotions are stirred, and David needs to put out the explosive before it blows up. Here's how he defuses it. But David said in 1 Samuel 30:23-24, "No, my brothers! Don't be selfish with what the Lord has given us. He has kept us safe and helped us defeat the band of raiders that attacked us. Who will listen when you talk like this? We share and share alike—those who go to battle and those who guard the equipment."
Note David's words: they "guarded the equipment," as if this had been their job. They hadn't asked to guard equipment; they wanted to rest. But David dignifies their decision to stay.
David did many mighty deeds in his life. He did many foolish deeds in his life. But perhaps the noblest was this rarely discussed deed…He honored the weary soldiers at Brook Besor.
Perhaps someday somebody will read what David did and name their church the Congregation at Brook Besor. Isn't that what the church is intended to be? A place for soldiers to recover their strength.
If you are listed among them, here is what you need to know. It's okay to rest. Jesus is your David, and He allows you to rest your weary soul at His Brook Besor. He fights when you cannot. He goes where you cannot. He's not angry if you rest. Did he not invite us in Mark 6:31, "Then Jesus said, 'Let's go off by ourselves to a quiet place and rest awhile.' He said this because there were so many people coming and going that Jesus and his apostles didn't even have time to eat."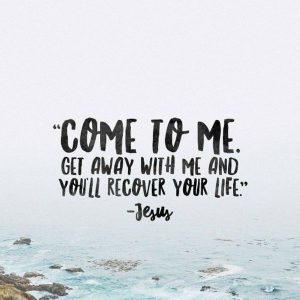 Jesus provides us with His Brook Besor, a place of quite rest. Brook Besor also cautions against arrogance. David knew the victory was a gift. Let's remember the same. Salvation comes like the Egyptian in the desert that showed David and His army where the Amalekites were camped. He was a delightful surprise on the path. Like salvation, unearned and undeserved. Who are the strong to criticize the tired?
Are you weary? Take time to catch your breath. We as God's church need your strength.
Are you strong? Reserve passing judgment on the tired. Odds are, you'll need to plop down yourself. And when you do, Brook Besor is a good story to know.
Take time to meditate on this today.
That is a wrap for today's meditation. Next week, we will continue our trek on Meditation Monday as we take time to reflect on what is most important in creating our living legacy. On tomorrow's trek, we will explore another wisdom quote. This 3-minute wisdom supplement will assist you in becoming healthy, wealthy, and wise each day. Thank you for joining me on this trek called life. Encourage your friends and family to join us and then come along tomorrow for another day of our Wisdom-Trek, Creating a Legacy.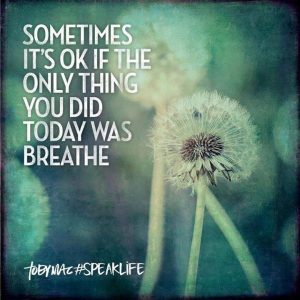 If you would like to listen to any of the past 1213 daily treks or read the daily journal, they are available at Wisdom-Trek.com. I encourage you to subscribe to Wisdom-Trek on your favorite podcast player so each day will be downloaded to you automatically.
Thank you for allowing me to be your guide, mentor, and most of all, your friend as I serve you through this Wisdom-Trek podcast and journal.
As we take this trek together, let us always:
Live Abundantly (Fully)
Love Unconditionally
Listen Intentionally
Learn Continuously
Lend to others Generously
Lead with Integrity
Leave a Living Legacy Each Day
I am Guthrie Chamberlain reminding you to Keep Moving Forward, Enjoy Your Journey, and Create a Great Day Everyday! See you tomorrow!