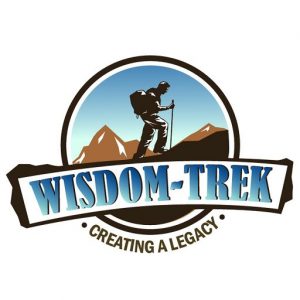 Wisdom-Trek / Creating a Legacy
Welcome to Day 983 of our Wisdom-Trek, and thank you for joining me.
This is Guthrie Chamberlain, Your Guide to Wisdom
The Enneagram System – Type Number Seven – The Enthusiast – Ask Gramps

Thank you for joining us for our five days per week wisdom and legacy building podcast. We are broadcasting from our studio at The Big House in Marietta, Ohio. This is Day 983 of our trek, and it is time for our Philosophy Friday series. Each Friday we will ponder some of the basic truths and mysteries of life and how they can impact us in creating our living legacy.
As we continue on this trek called life, sometimes we have questions about life, so our Friday trek is a time when we can "Ask Gramps." Gramps will answer questions that you would like to ask your dad or granddad, but for whatever reason are unable to. No matter how old we are, I know that all of us would like the opportunity to ask Dad or Gramps questions about life in many areas.
Today is the fourteenth episode in our series delving into what makes each of us respond differently to life situations and circumstances. Understanding ourselves and how others may interpret life through their paradigm will allow us to interact with each other with more love and compassion. This empathy can be achieved by utilizing a profound tool called "The Enneagram." If you have missed any of our past thirteen Friday series, I would recommend going back and listening to them or reading the Wisdom Journals.
As a review, the tool that we refer to as the Enneagram (Any-a-Gram) is a circle with nine interconnected points (Ennea refers to 9, and Gram refers to a drawing). Check out today's or a prior week's Wisdom Journal for a representation of it. I have also included a copy of "The Enneagram At-A-Glance," which was compiled by Suzanne H. Eller in today's Wisdom Journal. If you would like a PDF copy, click on the link in today's Wisdom Journal located on our website Wisdom-Trek.com.
I would also recommend the book The Road Back to You written by Ian Morgan Cron and Suzanne Stabile.  It is an excellent book about an enneagram journey to self-discovery from a Christian perspective.
In the first seven episodes, we explored how The Enneagram System works and then presented an overview of all nine personality types. So far we have taken a deep dive into "The Reformer," "The Helper," "The Achiever," "The Individualist,""The Investigator," and "The Loyalist." This week we will explore type Number Seven "The Enthusiast." Next week we will focus on type number eight "The Challenger."
Since we are exploring the Enneagram in detail, I would also recommend reading the Wisdom Journal for each Friday to see the diagrams presented each week. As helpful as the Enneagram is, keep in mind, it is still only a tool, and cannot replace or usurp the precepts that are found in God's Word. All decisions and actions that we make in life must be in harmony with God's precepts.
So the questions for the next several months will be…
"Hey, Gramps, why do people act and react to situations and circumstances in life differently?  How can I gain wisdom to better understand myself and others so that I can love, serve, and minister to them on a deeper level?"
 The Enneagram System – Type Number Seven – The Enthusiast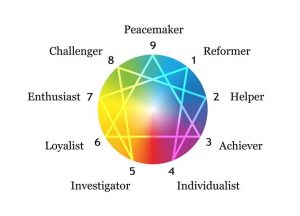 7 – THE ENTHUSIAST
Enneagram Type Seven
The Busy, Variety-Seeking Type: Spontaneous, Versatile, Acquisitive, and Scattered
· Type Seven in Brief
Sevens are extroverted, optimistic, versatile, and spontaneous. Playful, high-spirited, and practical, they can also misapply their many talents, becoming over-extended, scattered, and undisciplined. They constantly seek new and exciting experiences, but can become distracted and exhausted by staying on the go. They typically have problems with impatience and impulsiveness. At their best, they focus their talents on worthwhile goals, becoming appreciative, joyous, and satisfied.
Basic Fear: Of being deprived and in pain.
Basic Desire: To be satisfied and content—to have their needs fulfilled.
Enneagram Seven with a Six-Wing: "The Entertainer"
Enneagram Seven with an Eight-Wing: "The Realist"
Key Motivations: Want to maintain their freedom and happiness, to avoid missing out on worthwhile experiences, to keep themselves excited and occupied, to avoid and discharge pain. 
The Meaning of the Arrows (in brief)
When moving in their Direction of Disintegration (stress), scattered Sevens suddenly become perfectionistic and critical like an Unhealthy One. However, when moving in their Direction of Integration (growth), even gluttonous, scattered Sevens become more focused and fascinated by life, like Healthy Fives.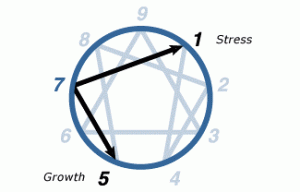 · Type Seven Overview
We have named this personality type "The Enthusiast" because Sevens are enthusiastic about almost everything that catches their attention. They approach life with curiosity, optimism, and a sense of adventure, like "kids in a candy store" who look at the world in wide-eyed, rapt anticipation of all the good things they are about to experience. They are bold and vivacious, pursuing what they want in life with a cheerful determination. They have a quality best described by the Yiddish word "chutzpah"—a kind of brash "nerviness."
Although Sevens are in the Thinking Center, this is not immediately apparent because they tend to be extremely practical and engaged in a multitude of projects at any given time. Their thinking is anticipatory: they foresee events and generate ideas "on the fly," favoring activities that stimulate their minds—which in turn generate more things to do and think about. Sevens are not necessarily intellectual or studious by any standard definition although they are often intelligent and can be widely read and highly verbal. Their minds move rapidly from one idea to the next, making Sevens gifted at brainstorming and synthesizing information. Sevens are exhilarated by the rush of ideas and by the pleasure of being spontaneous, preferring broad overviews and the excitement of the initial stages of the creative process to probing a single topic in depth.
As an example, Devon, a successful businesswoman, shares with us some of the inner workings of her Seven mindset. 
"I am definitely a list person. It's not really for memory since I have a great memory. It's more for downloading information so that my mind won't spin on it. For example, I was at a concert where the tickets were hard to get and very expensive. I couldn't sit through it. My mind was torturing me with the things I needed to do. Finally, I had to get up and leave. This was very upsetting to the person I went with, and I missed a good show."
Sevens are frequently endowed with quick, agile minds, and can be exceptionally fast learners. This is true both of their ability to absorb information (language, facts, and procedures) and their ability to learn new manual skills—they tend to have excellent mind-body coordination, and manual dexterity (typewriting, piano playing, and tennis). All of this can combine to make a Seven into the quintessential "Renaissance person."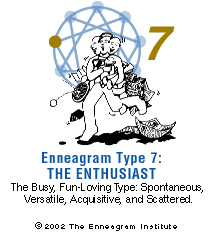 Ironically, Sevens' wide-ranging curiosity and ability to learn quickly can also create problems for them. Because they are able to pick up many different skills with relative ease, it becomes more difficult for them to decide what to do with themselves. As a result, they also do not always value their abilities as they would if they had to struggle to gain them. When Sevens are more balanced, however, their versatility, curiosity, and ability to learn can lead them to extraordinary achievement.
The root of their problem is common to all of the types of the Thinking Center: they are out of touch with the inner guidance and support of their Essential nature. As with Fives and Sixes, this creates deep anxiety in Sevens. They do not feel that they know what to do or how to make choices that will be beneficial to themselves and others. Sevens cope with this anxiety in two ways. First, they try to keep their minds busy all of the time. As long as Sevens can keep their minds occupied, especially with projects and positive ideas for the future, they can, to some extent, keep anxiety and negative feelings out of conscious awareness. Likewise, since their thinking is stimulated by activity, Sevens are compelled to stay on the go, moving from one experience to the next, searching for more stimulation. This is not to say that Sevens are "spinning their wheels." They generally enjoy being practical and getting things done.
Here is another example. Frances, a successful business consultant, sounds more energetic than is humanly possible—and yet, he is a typical Seven.
"I am highly, highly productive. At the office, I am joyful, and my mind is running at its best. I might create several marketing campaigns for a client, work on the outline for an upcoming seminar, talk out a difficult problem with a client on the telephone, close two deals, make a project list, dictate a few letters and look up to see that it's 9:30 a.m. and my assistant is coming in to start our work for the day."
Second, Sevens cope with the loss of Essential guidance by using the "trial and error" method: they try everything to make sure they know what is best. On a very deep level, Sevens do not feel that they can find what they really want in life. They, therefore, tend to try everything—and ultimately may even resort to anything as a substitute for what they are really looking for. ("If I can't have what will really satisfy me, I'll enjoy myself anyway. I'll have all kinds of experiences—that way I will not feel bad about not getting what I really want.")
We can see this in action even in the most trivial areas of their daily lives. Unable to decide whether he wants vanilla, chocolate, or strawberry ice cream, a Seven will want all three flavors—just to be sure that he does not miss out on the "right" choice. Having two weeks for a vacation and a desire to visit Europe brings a similar quandary. Which countries and cities to visit? Which sites to see? The Seven's way of dealing with this will be to cram as many different countries, cities, and attractions into his vacation as possible. While they are scrambling after exciting experiences, the real object of their heart's desire (their personal Rosebud, as it were) may be so deeply buried in their unconscious that they are never really aware of precisely what it is.
Furthermore, as Sevens speed up their pursuit of whatever seems to offer freedom and satisfaction, they tend to make worse choices, and they are less able to be satisfied because everything is experienced indirectly, through the dense filter of their fast-paced mental activity. The result is that Sevens end up anxious, frustrated, and enraged, with fewer resources available to them physically, emotionally, and financially. They may end up ruining their health, their relationships, and their finances in their search for happiness.
On the positive side, however, Sevens are extremely optimistic people—exuberant and upbeat. They are endowed with abundant vitality and a desire to fully participate in their lives each day. They are naturally cheerful and good-humored, not taking themselves too seriously, or anything else for that matter. As we have seen, the Basic Desire of Sevens is to be satisfied, happy, and fulfilled, and when they are balanced within themselves, their joy and enthusiasm for life naturally affect everyone around them. They remind us of the pure pleasure of existence—the greatest gift of all.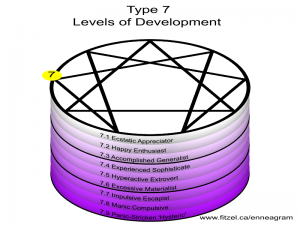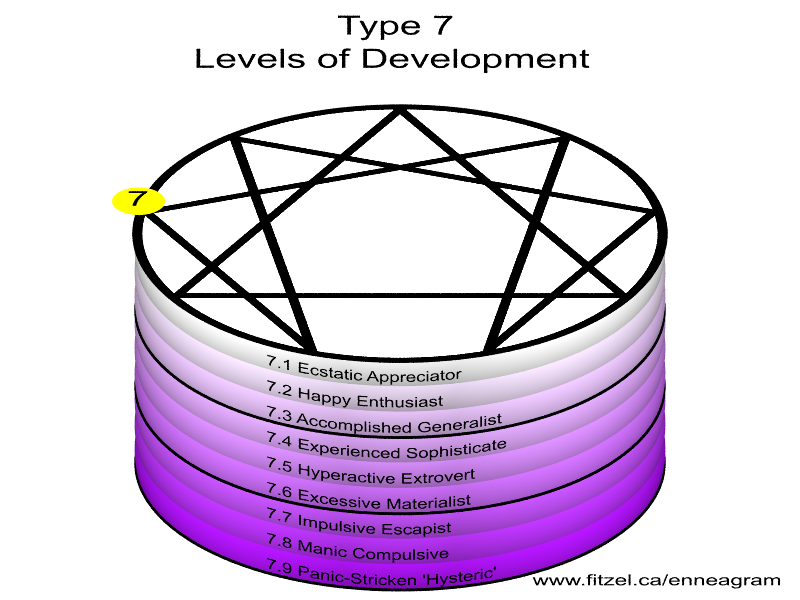 · Type Seven —Levels of Development
Healthy Levels
Level 1 (At Their Best): Assimilate experiences in depth, making them deeply grateful and appreciative for what they have. Become awed by the simple wonders of life: joyous and ecstatic. Intimations of spiritual reality, of the boundless goodness of life.
Level 2: Highly responsive, excitable, and enthusiastic about sensation and experience. Most extroverted type: stimuli bring immediate responses—they find everything invigorating. Lively, vivacious, eager, spontaneous, resilient, cheerful.
Level 3: Easily become accomplished achievers, generalists who do many different things well: multi-talented. Practical, productive, usually prolific, cross-fertilizing areas of interest.
Average Levels
Level 4: As restlessness increases, want to have more options and choices available to them. Become adventurous and "worldly wise," but less focused, constantly seeking new things and experiences: the sophisticated, connoisseur, and consumer. Money, variety, keeping up with the latest trends important.
Level 5: Unable to discriminate what they really need, become hyperactive, unable to say "no" to themselves, throwing self into constant activity. Uninhibited, doing and saying whatever comes to mind: storytelling, flamboyant exaggerations, witty wise-cracking, performing…Fear being bored: in perpetual motion, but do too many things—many ideas but little follow through.
Level 6: Get into conspicuous consumption and all forms of excess. Self-centered, materialistic, and greedy, never feeling that they have enough. Demanding and pushy, yet unsatisfied and jaded. Addictive, hardened, and insensitive.
Unhealthy Levels
Level 7: Desperate to quell their anxieties, can be impulsive and infantile: do not know when to stop. Addictions and excess take their toll: debauched, depraved, dissipated escapists, offensive and abusive.
Level 8: In flight from self, acting out impulses rather than dealing with anxiety or frustrations: go out of control, into erratic mood swings, and compulsive actions (manias).
Level 9: Finally, their energy and health are completely expended: become claustrophobic and panic-stricken. Often give up on themselves and life: deep depression and despair, self-destructive overdoses, impulsive suicide. Generally corresponds to Bipolar disorder and Histrionic personality disorder.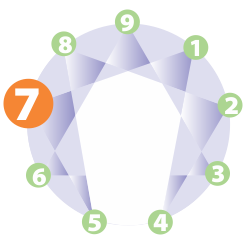 Personal Growth Recommendations for Enneagram Type Seven
Recognize your impulsiveness, and get in the habit of observing your impulses rather than giving in to them. This means letting most of your impulses pass and becoming a better judge of which ones are worth acting on. The more you can resist acting out your impulses, the more you will be able to focus on what is really good for you.
Learn to listen to other people. They are often interesting, and you may learn things that will open new doors for you. Also, learn to appreciate silence and solitude: you do not have to distract yourself (and protect yourself from anxiety) with constant noise from the television or the stereo. By learning to live with less external stimulation, you will learn to trust yourself. You will be happier than you expect because you will be satisfied with whatever you do, even if it is less than you have been doing.
You do not have to have everything this very moment. That tempting new acquisition will most likely still be available tomorrow (this is certainly true of food, alcohol, and other common gratifications—that ice cream cone, for instance). Most good opportunities will come back again—and you will be in a better position to discern which opportunities really are best for you.
Always choose quality over quantity, especially in your experiences. The ability to have experiences of quality can be learned only by giving your full attention to the experience you are having now. If you keep anticipating future experiences, you will keep missing the present one and undermine the possibility of ever being satisfied.
That will conclude our focus on personality type number Seven – The Enthusiast. A word of encouragement from God's word for those of you who are Enneagram type number Seven is found in Ephesians 5:15-20, "So be careful how you live. Don't live like fools, but like those who are wise.   Make the most of every opportunity in these evil days.  Don't act thoughtlessly, but understand what the Lord wants you to do.  Don't be drunk with wine, because that will ruin your life. Instead, be filled with the Holy Spirit, singing psalms and hymns and spiritual songs among yourselves, and making music to the Lord in your hearts.  And give thanks for everything to God the Father in the name of our Lord Jesus Christ."
Join us again next Friday as we further explore the Enneagram on our Ask Gramps episode. We will specifically explore the Enneagram Number Eight – The Challenger in depth. The information that we explore will allow you to unlock who you are as we travel on our trek of life and discover more about yourself and others as you impact God's kingdom. I know you will find these insights interesting, practical, and profitable in living a rich and satisfying life.
Our next trek is Mediation Monday where we will help you reflect on what is most important in life. So encourage your friends and family to join us and then come along on Monday for another day of our Wisdom-Trek, Creating a Legacy.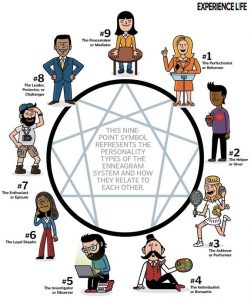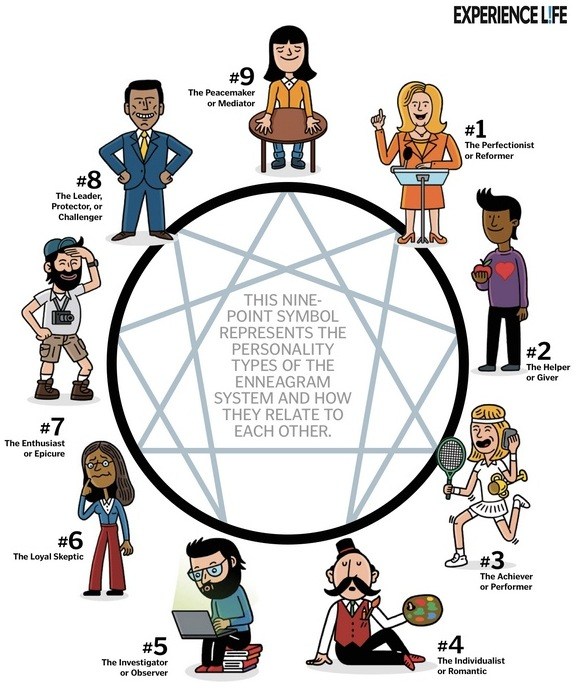 If you would like to listen to any of the past 982 daily treks or read the associated journals, they are all available at Wisdom-Trek.com. I encourage you to subscribe to Apple Podcast or Google Play so that each day's trek will be downloaded automatically.
Thank you for allowing me to be your guide, mentor, and most importantly, your friend as I serve you through the Wisdom-Trek podcast and journal.
As we take this trek together, let us always:
Live Abundantly (Fully)
Love Unconditionally
Listen Intentionally
Learn Continuously
Lend to others Generously
Lead with Integrity
Leave a Living Legacy Each Day
I am Guthrie Chamberlain reminding you to Keep Moving Forward, Enjoy Your Journey, and Create a Great Day Everyday! See you on Monday!