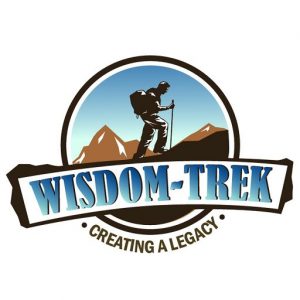 Wisdom-Trek / Creating a Legacy
Welcome to Day 1078 of our Wisdom-Trek, and thank you for joining me.
This is Guthrie Chamberlain, Your Guide to Wisdom
How to Make Wise Choices – Ask Gramps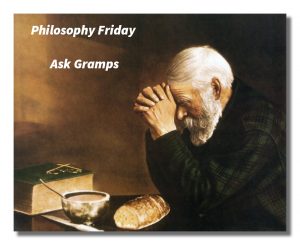 Wisdom – the final frontier to true knowledge. Welcome to Wisdom-Trek where our mission is to create a legacy of wisdom, to seek out discernment and insights, and to boldly grow where few have chosen to grow before.
Hello, my friend, I am Guthrie Chamberlain, your captain on our journey to increase wisdom and create a living legacy. Thank you for joining us today as we explore wisdom on our 2nd millennium of podcasts. This is Day 1078 of our trek, and it is time for our Philosophy Friday series. Each Friday we ponder some of the basic truths and mysteries of life and how they can impact us in creating our living legacy.
As we continue on this trek called life, sometimes we have questions about life, so our Friday trek is a time when we can "Ask Gramps."  Gramps will answer questions that you would like to ask your dad or granddad, but for whatever reason, you are unable to. No matter how old we are, I know that all of us would like the opportunity to ask Dad or Gramps questions about life in many areas.
We may mix it up a bit on our Friday episodes, but will strive to keep them down to earth and enjoyable.  If you have any questions that you would like to ask Gramps, please email them to guthrie@wisdom-trek.com.
My surgery for removing the rod and screws from my left femur last Friday was very successful, and I am well on my way to recovery. Although it is still quite sore in the four areas that the incisions were made, I can already tell that there will be relief from the irritation that was caused by the rod and screws. There will be some discomfort at least until next Wednesday when the bandages are removed, and I get the staples taken out of the incisions. I am excited about the results.
Each day we are faced with a bombardment of decisions and choices to make. It is not always easy to make sure we are making wise choices.
So the question for this week and next is…
"Hey, Gramps, when you come to decision points in life, and there is a multitude of choices to make how do you make sure that you are making wise choices, especially when there are several good options?"
How to Make Wise Choices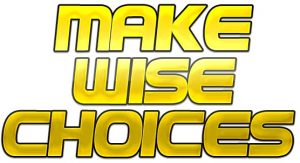 We make hundreds of choices each day. Some choices are spontaneous and of little consequence, like the coffee mug we choose in the morning. Other decisions carry greater weight and significance, like choosing the person we will marry. In either extreme or with any decision in between, learning how to make wise choices is an important life skill for every believer and servant of the Lord Jesus Christ. In fact, doing God's will is really a matter of making the right choices on a consistent, daily basis.
All godly wisdom starts with the fear of the Lord.  Proverbs 1:7 tells us, "Fear of the Lord is the foundation of true knowledge, but fools despise wisdom and discipline."To fear God is to reverently acknowledge Him for who He truly is. The result of fearing God is the avoidance of evil. Picturing yourself in the presence of Almighty God as you make decisions can be a safeguard to keep you from making foolish and unwise choices. Start your decision-making process with eternity in mind and with the goal of hearing, "Well done, my good and faithful servant" from your Lord and Master.  
When we start our decision-making process by fearing the Lord, we put ourselves in the position of humility before God. It is at this point that our hearts are ready to acknowledge our utter dependence upon the Lord for his guidance, counsel, and wisdom in how to proceed forward.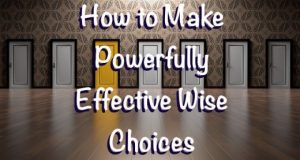 God wants to guide our lives and decision making and promises such guidance in His Word. In Psalms 32:8, "The Lord says, 'I will guide you along the best pathway for your life. I will advise you and watch over you.'" Therefore anyone who desires to make wise choices and know God's will must regularly pray for guidance. As we pray, we need to also look for ways in which He is guiding us. Along with prayers for guidance, we can pray for other important virtues like wisdom, clarity, and courage when making decisions.
Praying to God does not mean we speak without listening. Learning to know and recognize God's voice is one of the most important aspects of the Christian life. After all, what kind of relationship can you have with God, or anyone else for that matter, if you are the only one who speaks? God is not silent. He has an opinion and wants it to be known. That is why Jesus tells us in John 10:27, "My sheep listen to my voice; I know them, and they follow me." God's people, his sheep, can know his voice and are able to follow his leading.
The problem is not whether God still speaks; it's whether or not we are listening with a heart that's fully surrendered to do the will of God regardless of how we personally feel on the matter. When Jesus was on earth, shortly before His crucifixion, He also struggled, as recorded in Matthew 26:39, "He went on a little farther and bowed with his face to the ground, praying, 'My Father! If it is possible, let this cup of suffering be taken away from me. Yet I want your will to be done, not mine.'"
George Mueller, a man of great faith and prayer, said in regard to seeking God's will, "I seek at the beginning to get my heart into such a state that it has no will of its own in regard to a given matter. Nine-tenths of the difficulties are overcome when our hearts are ready to do the Lord's will, whatever it may be. When one is truly in this state, it is usually but a little way to the knowledge of what His will is."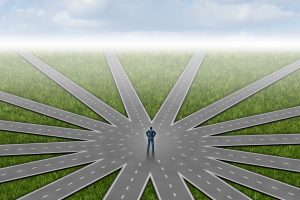 If you need to grow in your ability to hear and discern God's voice, I would highly recommend Mark and Patti Virkler's book, Dialogue with God. This one book can revolutionize your Christian life and relationship with God.
When hearing God's voice in a time of decision seems difficult, it is helpful to refer to our priorities. Knowing your priorities can help to weed out certain options and assist you in making one choice over another. It has been said that in a multiple choice test, you can usually eliminate at least two of the answers right off the bat. Having your priorities in order works the same.
So what are your priorities as a believer? Well, according to Jesus, the greatest commandment is to love God and to love others.  Mark 12:29-31, "Jesus replied, 'The most important commandment is this: 'Listen, O Israel! The Lord, our God, is the one and only Lord.  And you must love the Lord your God with all your heart, all your soul, all your mind, and all your strength.' The second is equally important: 'Love your neighbor as yourself.' No other commandment is greater than these.'"
I'd say that's a pretty good start in understanding your priorities. Loving God comes first, period. Next comes loving people (neighbors). It is essential to determine what relationships are in the highest order of priority in your life. If you're married, your spouse must come first. After all, could there be any closer a neighbor? Prioritizing the people in your life will not make every decision for you, but it can easily eliminate and weed out some selfish decisions you may be tempted to make that would hurt the people closest to you.
Join us again next Friday, and we will conclude our answer on how to make wise choices on our "Ask Gramps" episode.  Our next trek is Mediation Monday where we will help you reflect on what is most important in life. So encourage your friends and family to join us and then come along on Monday for another day of our Wisdom-Trek, Creating a Legacy.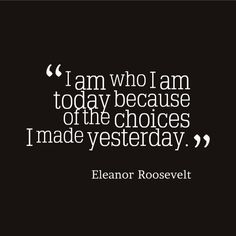 If you would like to listen to any of the past 1077 daily treks or read the associated journals, they are all available at Wisdom-Trek.com. I encourage you to subscribe to Wisdom-Trek on your favorite podcast player so each day will be downloaded to you automatically.
Thank you for allowing me to be your guide, mentor, and most of all your friend as I serve you through the Wisdom-Trek podcast and journal.
As we take this trek together, let us always:
Live Abundantly (Fully)
Love Unconditionally
Listen Intentionally
Learn Continuously
Lend to others Generously
Lead with Integrity
Leave a Living Legacy Each Day
I am Guthrie Chamberlain reminding you to Keep Moving Forward, Enjoy Your Journey, and Create a Great Day Everyday! See you on Monday!