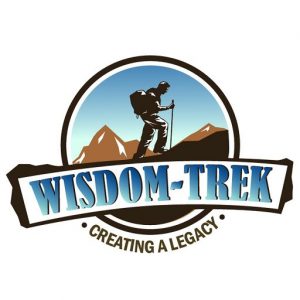 Wisdom-Trek / Creating a Legacy
Welcome to Day 708 of our Wisdom-Trek, and thank you for joining me.
This is Guthrie Chamberlain, Your Guide to Wisdom
The Power to Overcome Fear – 2

Thank you for joining us for our 5 days per week wisdom and legacy building podcast. This is Day 708 of our trek, and it is time for our Philosophy Friday series. Each Friday we ponder some of the basic truths and mysteries of life and how they can impact us in creating our living legacy.
We are focusing on how to live with less fear. We are exploring the trails on our trek of life that will help us to be fearless. This does not imply that we will reach the point where we are completely without any fear, for that is not only impossible, but also not wise. There is a time and a place for an appropriate level of fear, but most fear that we experience on a daily basis has no grounding and can be eliminated as we grow in wisdom, insight, and understanding. So our objective is to experience a FearLess Friday on our trek of life.
We are broadcasting from our studio at The Big House in Marietta, Ohio. As we continue our lesson from last week, we pick up the story of Naaman from 2 Kings 5:1-17 where Elisha had told Naaman to dip seven times in the Jordan River to be cured of his leprosy. If you missed last Friday's lesson, it can be found at wisdom-trek.com/day-703. Overcoming fear does not have to be some grand feat, but the small miracle of trusting God and His Word. Today on our trek, we will continue to explore how we need to be in a continual Mindshift mode, so we can have…
The Power to Overcome Fear (Part 2)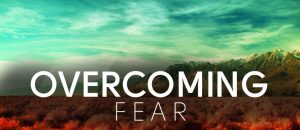 When General Naaman approached Elisha for the cure, Elisha didn't even bother to come out and meet with him. Instead, he sent a servant out with orders from God. This infuriated Naaman.
He was the commander of the entire Syrian army, which comprised thousands of soldiers.  He was certainly used to being shown a high level of respect. His money, power, and position had given him a great amount of prestige.  The fact that Elisha did not even come to the door to greet Naaman was an insult.
Naaman's pride got in the way of his cure. He wanted to be cured, but on his terms and not in obedience to God's Word. He almost turned his back on God, but his officers talked him into at least trying to do what Elisha had said. He had already traveled a far distance, and they told him he had nothing to lose. This caused Naaman to have a change of heart, however reluctantly. God used Naaman's obedience to show the world that there is power in God's Word, even if it does not always fit societal norms.
We need to realize that in the times of deepest fears God can use these opportunities to strengthen our faith. Naaman had money, power, and prestige, but none of these could overcome his fear of leprosy. The immediate cure Naaman gained through obedience was even more miraculous because it could not be bought for any price. Using his weakness and fear, God was teaching Naaman that relief only came through obedience. Our fears can also be used to stretch and strengthen our faith when we overcome it through obedience.
Naaman found the thought of washing in a dirty river embarrassing. Just as this command was unique to Naaman, God's call on our lives is personal. Fearing what people think of us is the opposite of fearing God. Whose approval do we fear losing? Our friends? Our family? Our leaders? Or is it God?
Oswald Chambers said, "The remarkable thing about God is that when you fear and respect God, you fear nothing else, whereas if you don't fear and respect God, you fear everything else."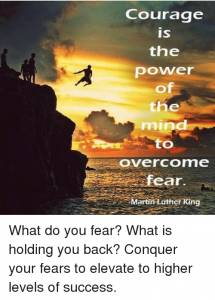 Pride is the first enemy we have to battle when faced with our fear. Anger usually soon follows. Naaman was prideful and then angry with Elisha because it hurt his pride. Because he felt that Elisha was telling him to do something unreasonable, he was even angrier. Naaman was ready to pay good money for that cure. Instead, Naaman was so insulted, so angry, that he almost turned around and went home to live with the fear of leprosy that plagued him and would eventually take his life.
His officers wisely pleaded with him in 2 Kings 5:13, "But his officers tried to reason with him and said, 'Sir, if the prophet had told you to do something very difficult, wouldn't you have done it? So you should certainly obey him when he says simply, 'Go and wash and be cured!""
If Elisha had sent Naaman on a great quest climbing mountains and slaying foes he would have gladly done it. Then the cure would have been based on his power and might. Instead, God only required obedience.
Naaman could not believe that, and thought it was too demeaning and easy. Could God really overcome his leprosy by dipping in a muddy river? He probably thought that would contaminate the open sores.  His unbelief and pride nearly robbed him of what he desired most. How many blessings do we miss out on because of our lack of simple obedience to God's precepts? Are we letting unbelief rob us of what we desire most?
Following God's precepts is not always easy, but it is always right to do so. We have fears and need God's power to overcome them. Just like Naaman's officers encouraging him to be obedient, we have other believers to come alongside us and God's Holy Spirit within us to encourage and guide us when our faith is weak and our fears are strong.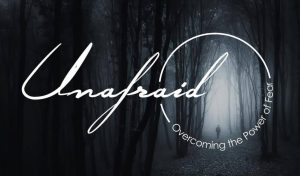 When Naaman continued to dip himself in the muddy Jordan River submerging his entire body over his head, there is no record of partial healing. It was not until he emerged from the seventh dip that his body was made new found in 2 Kings 5:14, "So Naaman went down to the Jordan River and dipped himself seven times, as the man of God had instructed him. And his skin became as healthy as the skin of a young child, and he was healed!"
Naaman's life was completely changed after his obedience. No longer did he have a fear of slowly dying as leprosy ravished his body from the outside. Only after his healing was complete was he able to meet Elisha. He still wanted to pay for his healing, Elisha refused all offers. So instead, Naaman requested soil from Israel that he could take back to Syria as the holy ground which to worship the one true God.
Naaman overcame his fear of leprosy, his fear of ridicule, and his pride through obedience to God's Word as spoken through Elisha. It was the power of the Word that brought victory over fear. Allow God's power to help you overcome fear in your life.
Next FearLess Friday we will explore Faith That Overcomes Fear. I know you will find these insights interesting and profitable in living a rich and satisfying life. Our next trek is Mindshift Monday where we will help you live differently by thinking differently. So encourage your friends and family to join us and then come along on Monday for another day of our Wisdom-Trek, Creating a Legacy.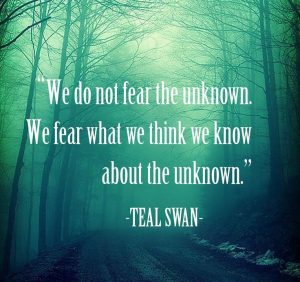 That will finish our trek for today. If you would like to listen to any of the past daily treks or read the associated journals, they are all available at Wisdom-Trek.com. You can also subscribe through iTunes or Google Play so that each day's trek will be downloaded automatically.
Thank you for allowing me to be your guide, mentor, and most of all your friend as I serve you through the Wisdom-Trek podcast and journal.
As we take this trek of life together, let us always:
Live Abundantly (Fully)
Love Unconditionally
Listen Intentionally
Learn Continuously
Lend to others Generously
Lead with Integrity
Leave a Living Legacy Each Day
This is Guthrie Chamberlain reminding you to Keep Moving Forward, Enjoy Your Journey, and Create a Great Day Every Day! See you on Monday!