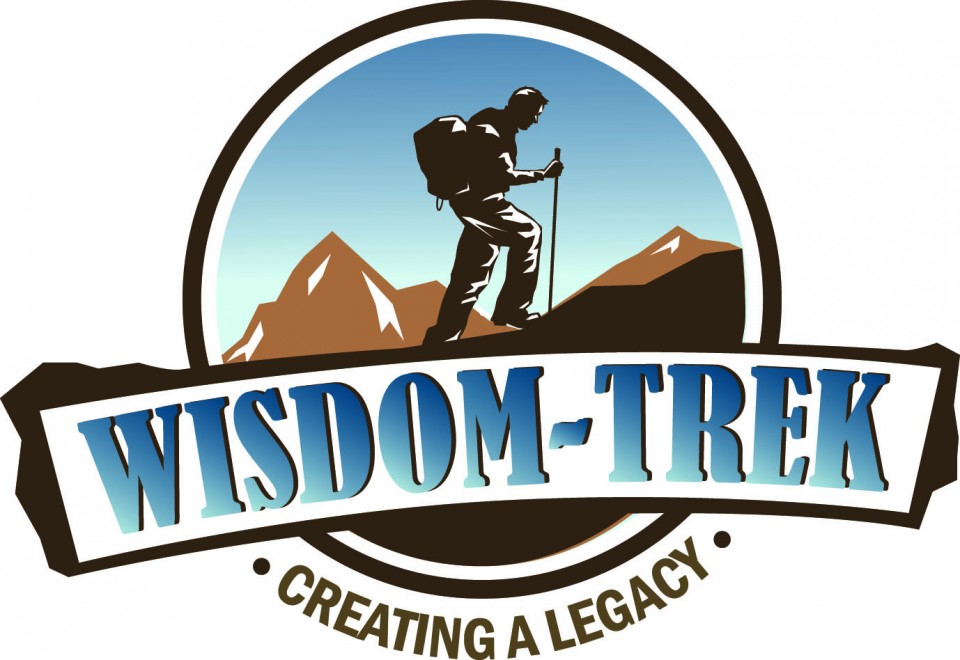 Wisdom-Trek / Creating a Legacy
Welcome to Day 9 of our Wisdom-Trek, thank you for joining me.  
This is Guthrie Chamberlain, your guide to wisdom.
Today we continue to investigate the tools needed for a successful Wisdom-Trek.
Today we are recording our podcast/journal from our studio at The Big House in Marietta, Ohio.  We are back in Marietta for a couple weeks for more renovating and grounds keeping.
I had the opportunity of working outside mowing, trimming, and staking new tree saplings that spring up in our yard each year.  An interesting phenomenon that we have discovered, though, is that the squirrels also wait for us to stake any new oak trees that have sprung up, so they can go and dig up the acorn. To say the least, it is very hard to get any new oak trees started from the acorns.  There have been a few that have managed to grow and survive, but it is always a fun and interesting challenge to keep them hidden from our furry friends.  We are hoping for 2-3 to survive this year.  We also stake a few maple trees, which are not as hardy starting, but they usually don't get rooted up.
We would love for you to get to know us on a more personal level.  As we trek together I look forward to sharing and hope that our simple and authentic lives will be a blessing to you.  Please check out more about us on Wisdom-Trek.com/About Wisdom-Trek.
We would also like to get to know you better, so please feel free to share with us on Wisdom-Trek.com/Contact Us or leave us a message on our Facebook page Wisdom-Trek.
During the first two or three weeks, we will lay the foundation of living an abundant life while creating a living legacy. Please make the time to review any podcasts or journals that you may have missed.
Today, we are continuing our research into the tools or equipment we need in order to gain wisdom, live fully, and enjoy our trek of life while we create a living legacy.
Our wheel analogy, is nearing completion as we once again consider love as the hub of that wheel and the remaining tools or attributes as the spokes stemming from a perfectly round hub. So far we have inserted the spokes of joy, peace, patience, kindness, goodness, and faithfulness.
In our 2nd analogy of love being your backpack for our trek,  we only have a couple of more tools/attributes to complete the set. I hope that these analogies help you to understand the importance of each of these traits.
The two remaining spokes in our wheel (or my 2nd analogy the tools in our backpack) are gentleness and self-control. As with the ones that we have already discussed, these attributes are referred to in the Bible as the "Fruit of the Spirit" with these fruits being an outward manifestation of what we possess internally.  These attributes allow us to create a legacy of wisdom, seek out discernment and insights, and boldly grow where few have chosen to grow before. In doing so, we will establish the framework in our lives that will truly allow us to "Live Long and Prosper."
So onto gentleness, which is the tool/spoke (attribute) that we will consider today.
Gentleness in our society is often misinterpreted and equated with weakness, especially with men.  Very few men would probably seek out the description of "he is a gentle man," but in the same line of thought, we seek to be considered gentlemen. Interesting thought considering they both mean the same thing.
Gentleness is one of the most powerful of all the tools within our backpack. It is born out of a person who also has great patience and is at peace with themselves.  It is a person that does not need to control others by force. It is a reflection of a truly mature and wise individual.
Gentleness means recognizing that the world around us is fragile, especially other people. It is recognizing our own capacity to do harm and choosing instead to be tender, soft-spoken, softhearted, and careful. When we are gentle, we touch the world in ways that protect and preserve it.
Being gentle doesn't mean being weak; gentleness can be firm, even powerful. To behave in a gentle manner requires that we stay centered on our own core values and strength—that we are proactive rather than reactive. Coming from this perspective, a gentle word or touch can allow us to focus on doing good instead of harm.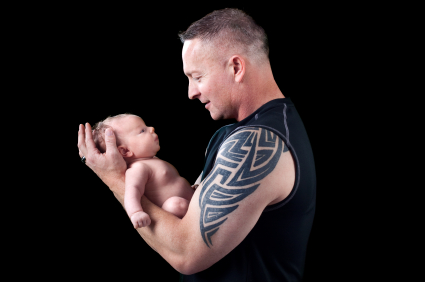 Gentleness is when you care enough to choose not to be harsh, rash, angry, or rough. Gentleness is when you know and use the best way to hold a baby, egg, or a butterfly. A gentle person knows better than to harm others and so chooses to act in a way that does not. A gentle person does not seek to make other people angry. Gentleness may lose battles, but it helps win the overall struggles. A gentle response tends to create fewer enemies, and more friends.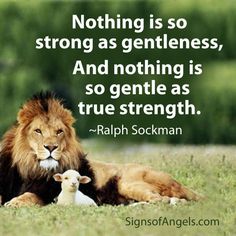 The Bible also gives us the wisdom we need to be gentle people. Proverbs 15:1, "A gentle answer deflects anger, but harsh words make tempers flare."
And also Proverbs 15:4, "Gentle words are a tree of life; a deceitful tongue crushes the spirit."
If you are a gentle person, you are a powerful person.  By controlling yourself, you will be able to manage situations and people, especially in volatile situations.
The Apostle Paul in his letter to the church in Ephesus (Ephesians 4:2) encourages the believers there to, "Always be humble and gentle. Be patient with each other, making allowance for each other's faults because of your love."
There are also several passages in the Bible that list the traits that a leader within the church should possess. One attribute that is on all of those lists is that person should be gentle.
To be an effective leader in any organization, you should be a gentle person.  We must keep this in mind before we follow anyone else, or before we take on any leadership position.
A gentle person is one who possesses the other tools/attributes that we have discussed already. Those attributes of love, joy, peace, patience, kindness, goodness, faithfulness, and self-control, which is the final attribute that we will discuss tomorrow.
Ask yourself, am I a gentle person?  I encourage you to take the 9 Tools Self-Assessment to see which attributes in your life need a little more nourishment and cultivating, without ignoring the existing strong points.
That will finish our podcast/journal for today. Tomorrow we will inspect the tool/attribute of self-control.  The only way to exemplify all of these traits in our lives is by possessing self-control. Please check into our "camp" tomorrow for another day on our Wisdom-Trek, Creating a Legacy.
As a reminder, I have provided tools to assist in these areas on our Free Resources page.
I encourage you to leave a discussion topic, comment, suggestion, or question about this podcast in the comment form on Wisdom-Trek.com/day9 or email me at guthrie@venturecg.com.
If you have not done so already, please take the time to visit iTunes, Stitcher, or an Android player and subscribe so that Wisdom-Trek will be available for you each day automatically.  We also have a Subscribe to Podcast page.
Please leave us a rating on each episode, and spread the word to everyone you know to join us on our Wisdom-Trek. Thank you!
Check out Wisdom-Trek.com for the daily journal, wisdom nuggets, and free resources.
As we take this Trek together let us always:
Live Abundantly (Fully)
Love Unconditionally
Listen Intentionally
Learn Continuously
Lend Generously
Lead with Integrity
Leave a Living Legacy Each Day
This is Guthrie Chamberlain reminding you to Keep Moving Forward, Enjoy the Journey, and Create a Great Day! See you tomorrow!