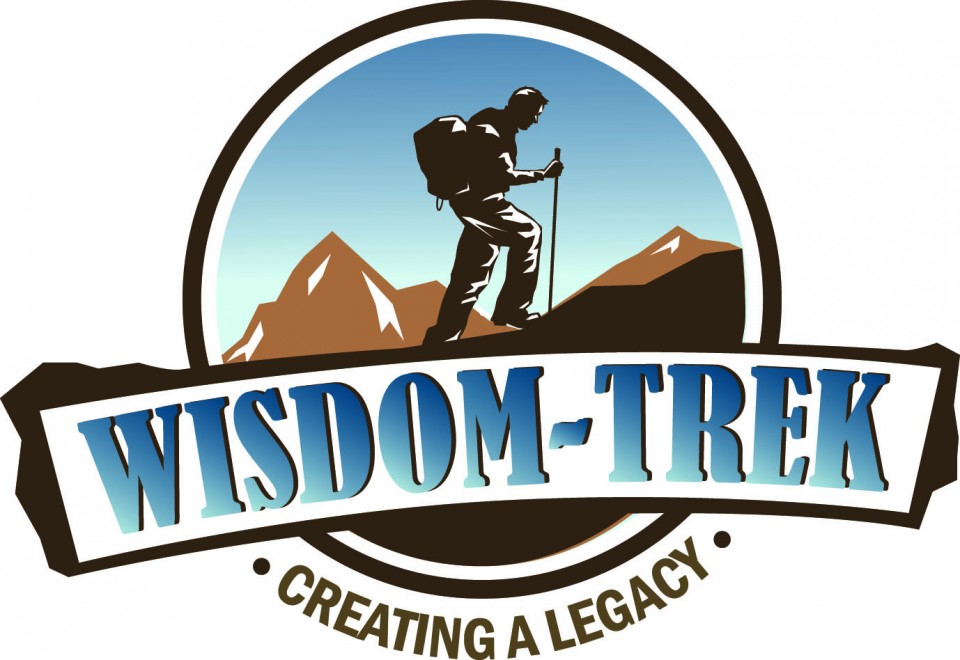 Wisdom-Trek / Creating a Legacy
Welcome to Day 7 of our Wisdom-Trek and thank you for joining me. 
This is Guthrie Chamberlain, Your Guide to Wisdom.
Today we continue to investigate the tools needed for a successful Wisdom-Trek.
Today we are recording our podcast/journal from our studio at The Big House in Marietta, Ohio.  Each day, as it is applicable, I will share stories and personal life experiences as we trek together.
As of the time of making the notes for this podcast/journal our personal trek has us traveling again. This week Paula was in For Myers, Florida for 4 days visiting her Aunt. We had a day trip from Charlotte to Savannah working with a client and headed back to The Big House in Marietta, Ohio, at the end of the week.  Traveling does get wearisome at times, as does daily life, but we always endeavor to enjoy the journey as we continue our treks for this season of life.
We would love for you to get to know us better on a personal level.  We are ordinary folks that have chosen to make our life extraordinary.  If we hyphenate that word it is extra-ordinary, so I guess our lives must be more ordinary than most. Paula and I have many times joked that we are probably considered a boring couple, but within that steady, ordinary life we have experienced much, and for the most part, have enjoyed life fully.  For more about us, please check out our website Wisdom-Trek.com/About Wisdom-Trek.
Likewise, we would like to get to know you better, so please feel free to share with us on Wisdom-Trek.com/Contact Us or leave us a message on our Facebook page Wisdom-Trek.
I encourage you to listen to any previous episodes that you may have missed. During the first two or three weeks we are laying the foundation of living an abundant life while creating a living legacy.
Today, we are continuing to consider what tools or equipment we need in order to gain wisdom, live fully, and enjoy our trek of life while we create a living legacy.
We are visualizing life as a wheel or bicycle tire, with love being the hub of that wheel and the remaining tools or attributes making up the spokes stemming from a perfectly round hub. So far we have inserted the spokes of joy, peace, patience, and kindness.
I also used a 2nd analogy of love being your backpack for our trek and each of the attributes as tools we need for success.  Whichever one you can visualize best, please use it. I also encourage you to work on strengthening these attributes in your life.
The four remaining spokes in our wheel (or my 2nd analogy, the tools in our backpack) are goodness, faithfulness, gentleness and self-control. These attributes are referred to in the Bible as the "Fruit of the Spirit" and as we cultivate this fruit it will grow in our lives as we build the foundation to create a legacy of wisdom, seek out discernment and insights, and boldly grow where few have chosen to grow before. In doing so, we will establish the framework in our lives that will truly allow us to "Live Long and Prosper."
I have provided tools to assist in these areas on our Free Resources webpage at Wisdom-Trek.com/resources.
I encourage you to take the free 9-Tools Self-Assessment to see which attributes in your life need a little more nourishment and cultivating, without ignoring the existing strong points.
Today we will look at the tool/spoke (attribute) of goodness.
As we consider goodness we see that it is closely tied to yesterday's lesson on kindness.  If we are kind people and show kindness, then we will naturally do good to and for others.
When you think of a good person, you probably imagine a person who is authentic or a person that you enjoy being around because of their character and integrity.  That is the type of person that we should strive to be.
Let's put it this way, "Each of us should be regarded by our standard of life, not by our standard of living; by our measure of giving, not by our measure of wealth; by our simple goodness, not by our seeming greatness."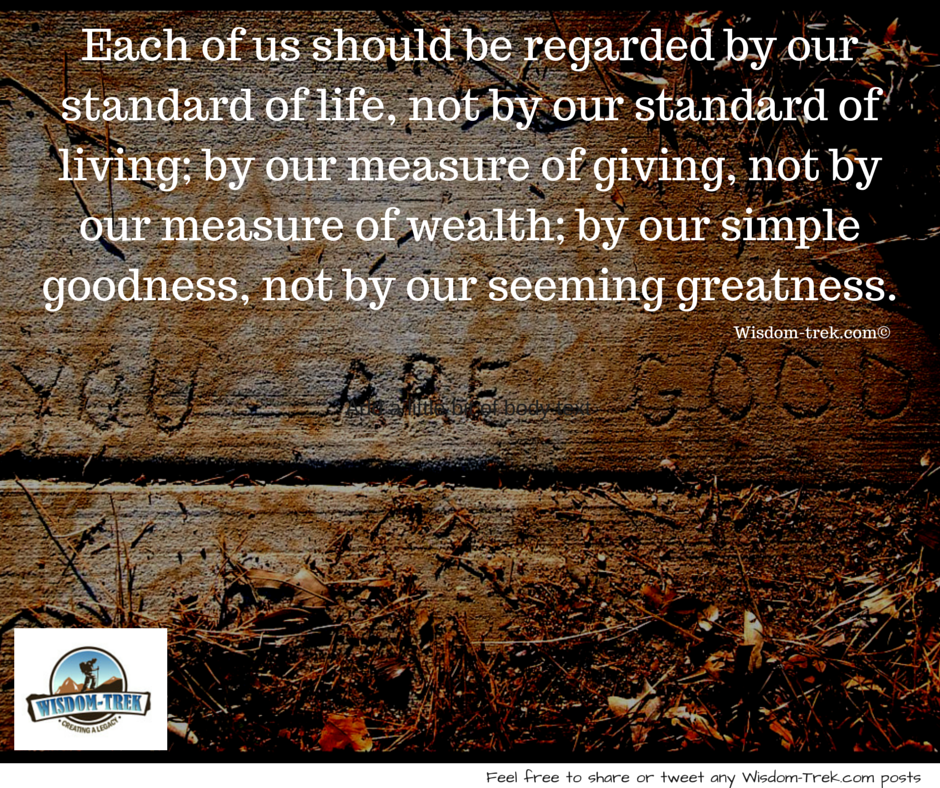 Charles Swindoll put it well when he said, "Few things are more infectious than a person with a good and godly lifestyle. The people you rub shoulders with everyday need that kind of challenge. Not prudish. Not preachy. Just Cracker Jack clean living. Just honest to goodness, bone-deep, non-hypocritical integrity."
Goodness may not come easy to us.   It stems from being kind, and as we learned yesterday, we may need to practice and learn to be kind, even when we may not feel like it, or when another person may not deserve kindness.
In the same manner, as we learn to be kind, then our life will also begin to show goodness.
Our life has to be a continuous process of repair and reconstruction, of discarding evil and developing goodness. In the journey of life, if you want to positively impact others, if you want to travel without fear, you must have the ticket of a good conscience.
.
Goodness is achieved by practicing acts of kindness, which stems from being patient with others, which is gained by being at peace with yourself, which is manifested by being filled with joy, which is the result of cultivating the seeds of love in your life. That is unconditional love for yourself, and others.
I see the Bible as the foundation of all wisdom, and as a Christ follower, it becomes evident to me that ultimately, my capacity to be a good person stems from the fact that God is good.
If we allow it, God's goodness will pursue us, as King David wrote in Psalms 23:6, "Surely your goodness and unfailing love will pursue me all the days of my life, and I will live in the house of the Lord forever."
We all innately desire God's goodness, and we also seek the approval of others, at least to a certain extent. If you want to be thought of as a good person, in addition to goodness being one of the fruits of God's Spirit, we need to grasp that doing good for others is more important than spreading our own opinions.
The 1st century Christians in Rome were debating on whether it was ok to eat certain foods. The Apostle Paul put it this way in his letter to the Christians in Rome, "For the Kingdom of God is not a matter of what we eat or drink, but of living a life of goodness and peace and joy in the Holy Spirit. If you serve Christ with this attitude, you will please God, and others will approve of you, too," Romans [14:17]-18.
We should not pursue being good just for the approval of others but because it is the right thing to do.  Take action – integrate goodness into your everyday life, in all that you do. As Marcus Aurelius put it, "Don't go on discussing what a good person should be. Just be one."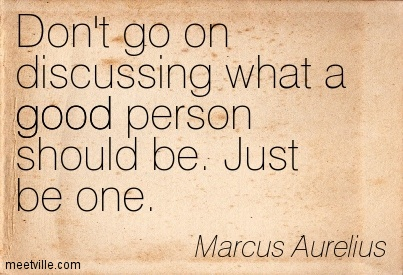 As we continue our trek, be the good that you want to see in others, by doing good, then you will have goodness as an attribute of your life. Cultivate the seeds of kindness that we planted yesterday and watch them grow into acts of goodness every day.
Trek one day at a time, for today is all we have.
Tomorrow we will move onto the sixth tool in our backpack, or spoke in our wheel faithfulness, which is a crucial component of someone who is good.
As with all of the spokes/tools these attributes are interwoven – they are all like different color threads within the fabric of our lives.  The more of these colored threads that we possess, the richer our lives will become.  This will allow us to live fully, grow in wisdom, and leave a living legacy.
I encourage you to leave a discussion topic, comment, suggestion, or question about this podcast in the comment form on Wisdom-Trek.com/day7 or email me at guthrie@venturecg.com.
If you have not done so already, please take the time to visit iTunes, Stitcher or an Android player and subscribe so that Wisdom-Trek will be available for you each day automatically.  We also have a Subscribe to Podcast.
Please leave us a rating on each episode, and spread the word to everyone you know to join us on our Wisdom-Trek. Thank you!
Check out Wisdom-Trek.com for the daily journal, wisdom nuggets, and free resources.
That will finish our podcast/journal for today. Tomorrow we will inspect the tool/attribute of faithfulness and what it means to be a truly faithful person. Please check into our "camp" tomorrow for another day on our Wisdom-Trek, Creating a Legacy.
As we take this Trek together let us always:
Live Abundantly (Fully)
Love Unconditionally
Listen Intentionally
Learn Continuously
Lend Generously
Lead with Integrity
Leave a Living Legacy Each Day
This is Guthrie Chamberlain reminding you to Keep Moving Forward, Enjoy the Journey, and Create a Great Day! See you tomorrow!