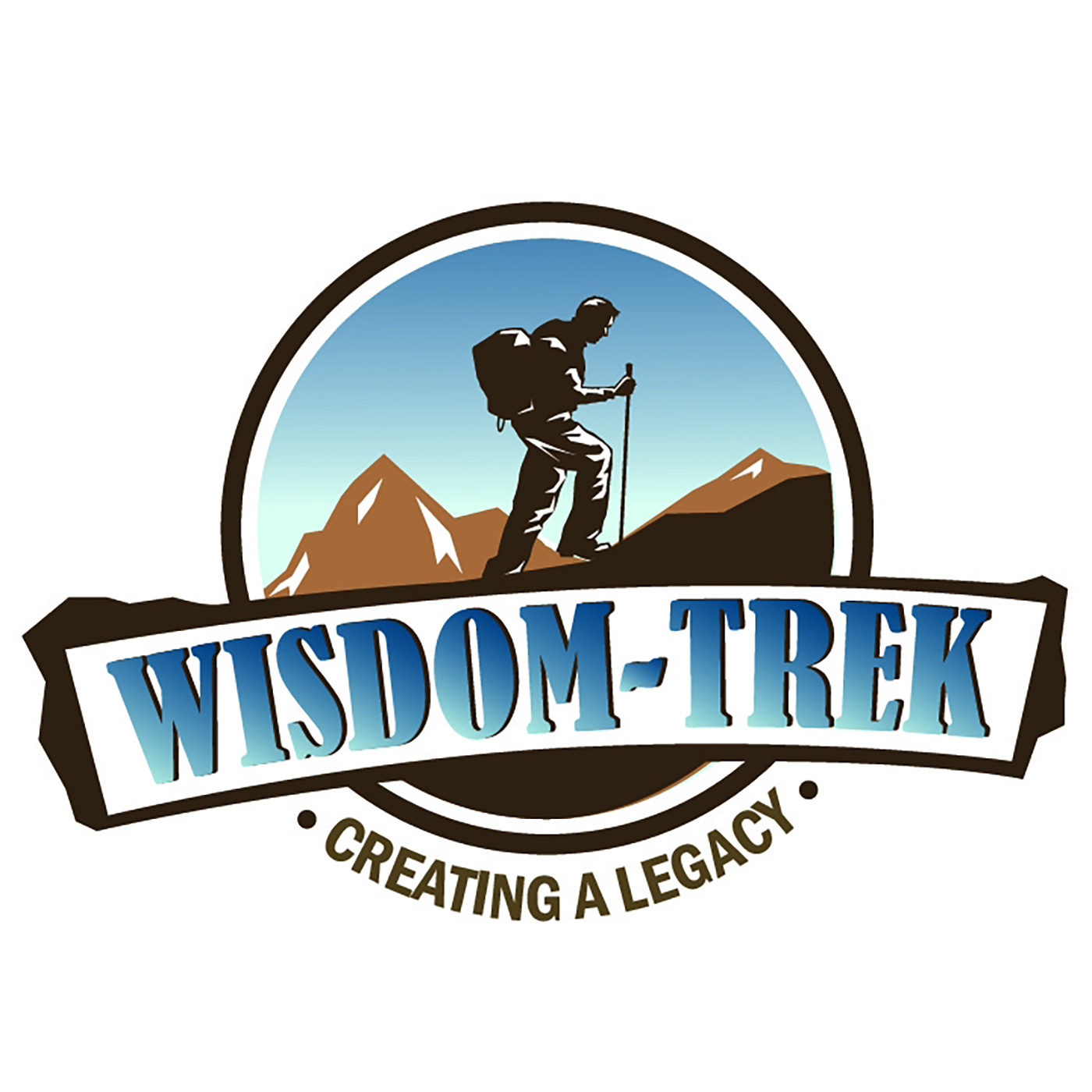 Wisdom-Trek / Creating a Legacy
Welcome to Day 28 of our Wisdom-Trek and thank you for joining me.  
This is Guthrie Chamberlain, Your Guide to Wisdom.
Today we look at the 12 Trails of Courage (Trails 7-12).
Thank you for joining us for our 7 day a week, 7 minutes of wisdom podcast.  This is Day 28 of our Trek. Yesterday we looked at 6 trails that we can take to gain courage, and today we are going to look at the remaining 6 trails of life where we can be infused with courage. We cover a lot of topics on our podcasts – all focused on gaining wisdom and insight that help us to create a living legacy. Many of the podcasts are in a series of steps that cover multiple days, so if you have missed any episodes, please subscribe to Wisdom-Trek on iTunes or Stitcher or listen on Wisdom-Trek.com.
We are recording our podcast from our studio at Home2 in Charlotte, North Carolina, but by the time that it airs, we should be back at The Big House in Marietta, Ohio.  If you have not heard the story of our primary home in Ohio, please check out the About Us page. We are blessed to have a history rich with stories.  The stories that all of us share about life are the spice that makes life interesting and allows us to live abundantly.
Let's begin up the trails of courage, and see how we can apply them.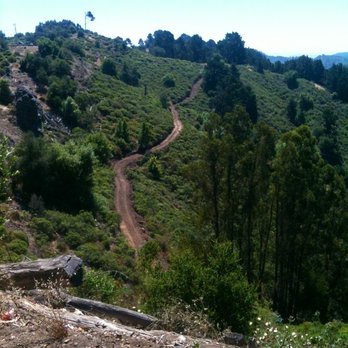 The Trail of Taking Bold Action
It takes courage to take bold action, but nothing changes if nothing changes. Have the guts to step boldly from your comfort zone to make the changes and take the chances that call you forward to fulfilling the potential within you. Courage allows you to trade procrastination and excuses for a commitment to being a person who is willing to do what it takes to live life abundantly. Whatever the risks you face on your trail of life, it is a much greater risk not to do anything.
The Trail of Perseverance
It takes courage to overcome the setbacks and failures that present themselves on the way to your goals, ambitions, and dreams. Perseverance and reaching those dreams is what brings the greatest sense of achievement. Face your challenges with a deep determination to stay the trail. When the trails become rough and the obstacles seem insurmountable, resist surrendering in the face of adversity.  You can continue to climb, for any goal worth pursuing will require its share of determination and perseverance. Plug into the dreams and ambitions that make your spirit soar, and remember that it matters not that you reach the summit but that you had the guts to try. It is through perseverance in the face of adversity that the ordinary become extra-ordinary.
The Trail of Saying No
Sometimes we need the courage to say no to the good in order to make room for the great. Every time we say "yes" to a request or offering, we are automatically saying "no" to some other choice.  However, finding the courage to say "no" first requires being clear about what you most want in life so you can say "yes" to the right choices.  This practice will help you set boundaries in the midst of conflicting directions and requests.  It will also teach people what you will and will not accept. Saying "no" when you need to may not be easy, but the price you pay for not doing so far exceeds any momentary discomfort.
10. The Trail of the Open Heart
It takes courage to be open to experiencing life's pain as deeply as its joy, and yet this can be life's richest fulfillment.  Opening your heart fully to the depths of emotion that come with a life lived abundantly takes great courage, but it is the only way worth living life. It takes courage to let down your defenses and make yourself vulnerable to the anguish that life can sometimes bring so that you can experience the joy that comes from connecting with others openly, intimately, and compassionately.  You need to learn to drop the barriers that are creating distance and isolating you from others. It is ok to reveal your humanity and make yourself available for others to know, to love, to care for, and to connect with. Nothing is more nurturing to the spirit.
  11. The Trail of Letting Go
We all like to feel in control. However peace of mind only comes through giving your best to life. It takes courage to detach yourself from the outcome of your efforts, knowing that everything in life has a purpose. Put your faith in the wisdom that developed you. Have the courage to know that who you are is not defined by the outcome of your efforts.  You need to trust that all you need at any moment to take on the challenges of life is already present in you. You will need to give up fighting what you cannot control, begin focusing on what you can control, and start living in the present moment. Finding the courage to let go will not impede your ability to achieve what you seek most from life. It will enhance it.
12. The Trail of Leading Others
Leadership is not a position; it's a choice and courage to take action. Every day you have opportunities to be a leader. The essence of leadership is inspiring people to move in a direction they may otherwise not have gone, to impact others in a manner that will enable them to accomplish more than they would have otherwise, and to lead them to accomplish and to grow into someone they may otherwise not have become. By choosing the path of integrity, personal responsibility, and courage, you will automatically shine your light so brightly that it will reveal to others the splendor of their own. Ultimately only by living with courage and being the leader yourself will others find the courage to lead the world into a future filled with possibility. "Nothing so conclusively proves a man's ability to lead others as what he does from day to day to lead himself," Thomas Watson.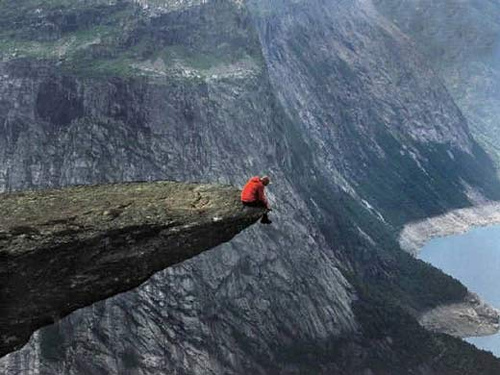 Yesterday, we left off on our practical lesson from Judges 7 wondering about Gideon and if he would have the courage to move forward in battle. God left Gideon with 300 men to fight against several hundred thousand trained warriors. Those are not good odds. God realized that Gideon would be very apprehensive as we pick up the story in verse 8.
"The Midianite camp was in the valley just below Gideon. That night the Lord said, 'Get up! Go down into the Midianite camp, for I have given you victory over them! But if you are afraid to attack, go down to the camp with your servant Purah. Listen to what the Midianites are saying, and you will be greatly encouraged. Then you will be eager to attack.'
So Gideon took Purah and went down to the edge of the enemy camp. The armies of Midian, Amalek, and the people of the east had settled in the valley like a swarm of locusts. Their camels were like grains of sand on the seashore—too many to count! Gideon crept up just as a man was telling his companion about a dream. The man said, 'I had this dream, and in my dream a loaf of barley bread came tumbling down into the Midianite camp. It hit a tent, turned it over, and knocked it flat!'
His companion answered, 'Your dream can mean only one thing—God has given Gideon son of Joash, the Israelite, victory over Midian and all its allies!'
When Gideon heard the dream and its interpretation, he bowed in worship before the Lord. Then he returned to the Israelite camp and shouted, 'Get up! For the Lord has given you victory over the Midianite hordes!' He divided the 300 men into three groups and gave each man a ram's horn and a clay jar with a torch in it.
Then he said to them, 'Keep your eyes on me. When I come to the edge of the camp, do just as I do. As soon as I and those with me blow the rams' horns, blow your horns, too, all around the entire camp, and shout, 'For the Lord and for Gideon!''
It was just after midnight, after the changing of the guard, when Gideon and the 100 men with him reached the edge of the Midianite camp. Suddenly, they blew the rams' horns and broke their clay jars. Then all three groups blew their horns and broke their jars. They held the blazing torches in their left hands and the horns in their right hands, and they all shouted, 'A sword for the Lord and for Gideon!'
Each man stood at his position around the camp and watched as all the Midianites rushed around in a panic, shouting as they ran to escape. When the 300 Israelites blew their rams' horns, the Lord caused the warriors in the camp to fight against each other with their swords. Those who were not killed fled to places as far away as Beth-shittah near Zererah and to the border of Abel-meholah near Tabbath."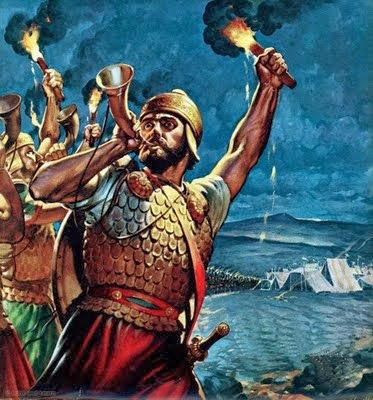 What a victory! And, this is what courage can do for our lives.
Well, that will finish our podcast for today. If you missed any of our previous podcasts, please check out Wisdom-Trek on iTunes, Sticher, or on Wisdom-Trek.com. Tomorrow we will compare hiking up and down mountains to our trek of life.
So, please check into our "camp" tomorrow for another day on our Wisdom-Trek, Creating a Legacy.
I encourage you to leave a discussion topic, comment, suggestion, or question about this podcast on the Contact Us page of our website, or email me at guthrie@venturecg.com. We would love to have interaction from members of our Wisdom-Trek team.
Please subscribe on iTunes or the player of your choice, so Wisdom-Trek is downloaded each day automatically.  We also have a Subscribe to Podcast page.
Please leave us a rating on iTunes or Stitcher. This will allow us to gain more exposure in the market and have a greater impact on the lives of others.  This means so much to us! Also, spread the word to everyone you know to join us on our Wisdom-Trek. Thank you!
You can read the journal from today's podcast on Wisdom-Trek.com, where we also have wisdom nuggets and free resources.
As we take this Trek together let us always:
Live Abundantly (Fully)
Love Unconditionally
Listen Intentionally
Learn Continuously
Lend Generously
Lead with Integrity
Leave a Living Legacy Each Day
This is Guthrie Chamberlain reminding you to Keep Moving Forward, Enjoy the Journey, and Create a Great Day! See you tomorrow!