Welcome to Day 1697 of our Wisdom-Trek, and thank you for joining me.
This is Guthrie Chamberlain, Your Guide to Wisdom
Carve Your Name on Hearts – Daily Wisdom
Welcome to Wisdom-Trek with Gramps. Wisdom is the final frontier in gaining true knowledge. We are on a daily trek to create a legacy of wisdom, seek out discernment and insights, and boldly grow where few have chosen to grow before.
Hello, my friend; this is Gramps. Thanks for coming along on today's trek as we increase wisdom and create a living legacy. Proverbs 16:16  says, "How much better to get wisdom than gold, and sound judgment than silver!" We are on Day 1697 of our trek, and it's time to explore another nugget of wisdom, which includes an inspirational quote along with some wise words from Gramps for today's trek. If you apply the words you hear today, over time, it will help you become more healthy, wealthy, and wise as you continue your daily trek of life. So let's jump right in with today's nugget.
Today's quote is from Charles H. Spurgeon, and it is, "A good character is the best tombstone. Those who loved you and were helped by you will remember you. Carve your name on hearts, not on marble."
Carve Your Name on Hearts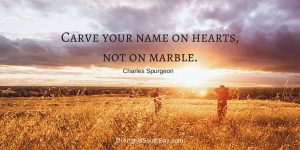 The entire concept of Wisdom-Trek is summarized in this quote from Charles Spurgeon. Our character, that is how we live each day, adds to our living legacy. It does not matter how much wealth or resources we accumulate in a lifetime unless used to help others. Our character is indeed an ongoing memorial of who we are and how we live.
We do not need a fancy tombstone listing our achievements, but our positive and godly impact will be carved into the hearts of those whom we serve. They will love us for our living legacy much more than any material inheritance we leave. If God allows you to accumulate wealth and resources during your lifetime, and it is used to further His kingdom, that is an additional blessing for your life.
When I read this quote it also reminded me of my dad, who recently passed away at age 90. Although he could not leave us any earthly treasures, he left our family, and indeed the world, a living legacy of children, grandchildren, and great-grandchildren who were taught the precepts for living found in God's Word. This legacy is carved in our hearts.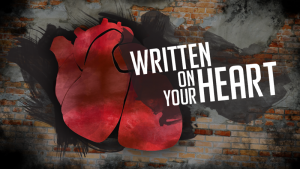 The only letter of recommendation we need is you yourselves. Your lives are a letter written in our hearts; everyone can read it and recognize our good work among you. Clearly, you are a letter from Christ showing the result of our ministry among you. This "letter" is written not with pen and ink, but with the Spirit of the living God. It is carved not on tablets of stone, but on human hearts. 
As you ponder this nugget of wisdom for yourself, please encourage your friends and family to join us and then come along tomorrow for another day of our Wisdom-Trek, Creating a Legacy.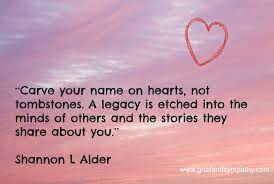 If you would like to listen to any of our past 1696 treks or read the Wisdom Journal, they are available at Wisdom-Trek.com. I encourage you to subscribe to Wisdom-Trek on your favorite podcast player so that each day's trek will be downloaded automatically. If you have not done so, please consider giving us a five-star rating so that others will also join us in mining our nuggets of wisdom.
Thank you so much for allowing me to be your guide, mentor, and, most of all, your friend as I serve you through the Wisdom-Trek podcast and journal.
As we take this trek together, let us always:
Live Abundantly (Fully)
Love Unconditionally
Listen Intentionally
Learn Continuously
Lend to others Generously
Lead with Integrity
Leave a Living Legacy Each Day
I am Guthrie Chamberlain reminding you to Keep Moving Forward, Enjoy Your Journey, and Create a Great Day Everyday! See you tomorrow for more daily wisdom!