Welcome to Day 1621 of our Wisdom-Trek, and thank you for joining me.
This is Guthrie Chamberlain, Your Guide to Wisdom
Your Lasting Heritage – Daily

Wisdom
Welcome to Wisdom-Trek with Gramps! Wisdom is the final frontier in gaining true knowledge. Our mission is to create a legacy of wisdom, seek out discernment and insights, and boldly grow where few have chosen to grow before.
Hello, my friend; this is Gramps. Thanks for coming along on our trek to increase wisdom and create a living legacy. Proverbs 16:16 says, "How much better to get wisdom than gold, and sound judgment than silver!" Today is Day 1621 of our trek, and it's time for another nugget of wisdom, which includes an inspirational quote along with some wise words from Gramps for today's trek. If you apply the words you hear today, over time, it will help you become more healthy, wealthy, and wise as you continue your daily trek of life. So let's jump right in with today's nugget.
Today's quote is from Branch Rickey, and it is, "What matters most is not the honor that you take with you, but the heritage you leave behind."
Your Lasting Heritage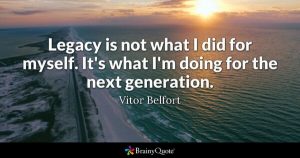 I talk a lot on Wisdom-Trek about legacy because a living and lasting legacy are essential. Today's quote uses a little bit of different language, but it is the same focus. Creating a living legacy, or in this case, a heritage, is not about bringing glory or honor to yourself, but having a positive impact on others' lives both while you are living and into eternity. The heritage that you leave behind is created and fostered every day of your life. It is the daily activities of helping and encouraging others. It is the kindness you show to others. It is showing love to others, even when it is hard and those you are loving don't deserve it.
Legacy is a similar concept to inheritance and heritage. It is something we inherit from past generations and pass to our future generations. Usually, heritage refers to material and economic inheritance, while legacy refers to immaterial and cultural inheritance. In other words, family legacy means the accomplishments, beliefs, actions, and guidance you demonstrate in your lives – that carry forward to future generations in a fashion that allows those family members to adopt and adapt them to make their lives meaningful and fruitful. It is not about ourselves with legacy or heritage, but how our lives impact others, especially close family and friends.
Every day is a chance to live your legacy and create your heritage. For Granny and me, one of our daily prayers is that we will have a good and godly impact on our children and grandchildren. Our prayer is that we might encourage them to live lives that are good and godly. This is so much more important than leaving houses, land, material possessions, or money.
As you consider your life and the heritage that you have now and into eternity, what legacy are you creating? God has left us an abundant heritage, and we should do the same for those God allows us to impact. It is part of building God's kingdom on earth. It prepares the world for the new Eden where heaven and earth combine and rule and reign with Jesus Christ.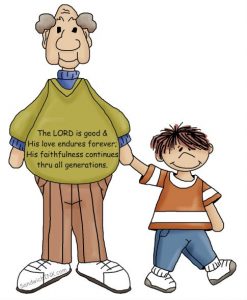 Good people leave an inheritance to their grandchildren, but the sinner's wealth passes to the godly.
Lord, you are my strength and fortress, my refuge in the day of trouble! Nations from around the world will come to you and say, "Our ancestors left us a foolish heritage, for they worshiped worthless idols. Can people make their own gods? These are not real gods at all!"  The Lord says, "Now I will show them my power; now I will show them my might. At last, they will know and understand that I am the Lord.
As you ponder this nugget of wisdom for yourself, please encourage your friends and family to join us and then come along tomorrow for another day of our Wisdom-Trek, Creating a Legacy.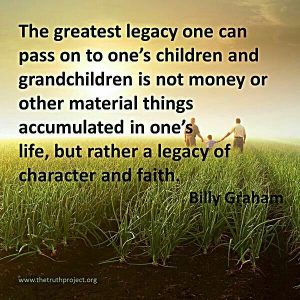 If you would like to listen to any of our past 1620 treks or read the Wisdom Journal, they are available at Wisdom-Trek.com. I encourage you to subscribe to Wisdom-Trek on your favorite podcast player so that each day's trek will be downloaded automatically.
Thank you so much for allowing me to be your guide, mentor, and, most of all, your friend as I serve you through the Wisdom-Trek podcast and journal.
As we take this trek together, let us always:
Live Abundantly (Fully)
Love Unconditionally
Listen Intentionally
Learn Continuously
Lend to others Generously
Lead with Integrity
Leave a Living Legacy Each Day
I am Guthrie Chamberlain reminding you to Keep Moving Forward, Enjoy Your Journey, and Create a Great Day Everyday! See you tomorrow for daily wisdom.