Welcome to Day 1588 of our Wisdom-Trek, and thank you for joining me.
This is Guthrie Chamberlain, Your Guide to Wisdom
Determined By Our Thoughts – Daily Wisdom
Welcome to Wisdom-Trek with Gramps! Wisdom is the final frontier in gaining true knowledge. Our mission is to create a legacy of wisdom, seek out discernment and insights, and boldly grow where few have chosen to grow before.
Hello, my friend; this is Gramps. Thanks for coming along on our journey to increase wisdom and create a living legacy. Today is Day 1588 of our trek, and it's time for your daily snippet of wisdom, which includes an inspirational quote along with some wise words from Gramps for today's trek. If you apply the words you hear today, over time, it will help you become healthy, wealthy, and wise as you continue your daily trek of life. So let's jump right in with today's nugget.
Today's quote is from Peter Lord, and it is, "We have no control over how we feel, how we act — our attitudes and actions — except as they are determined by our thoughts."   
Determined By Our Thoughts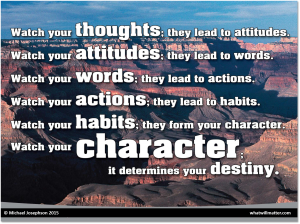 I am sure you have heard the saying "You are what you eat." I understand the meaning behind this statement, but you don't become a hamburger when you eat one. A better saying which is far more accurate is, "You are what you think about."
On most days it may not seem like we have control over how we feel, how we act, or our attitudes and actions…It is because all these elements are irrevocably tied together. The missing component in the last two sentences is that it does not consider our thought process. Since we do have control over what we think, it is possible to control our attitudes and actions completely.
All thoughts can be divided into two basic categories: true and false. The thoughts that come from God are true. He is the God of all truth and has sent the Holy Spirit to dwell in us and guide us into all truth. If I can receive God's thoughts, I can think the truth. Therefore I will have the right attitudes and actions.
Consider a glass of water. You have likely heard the saying, "Is the glass half full or half empty?" It is neither; it is entirely full, with half water and half air. The question then becomes, "How do you get the air out of a glass?" By filling it with water. The same applies to our minds. How do you get rid of wrong and untrue thoughts? You do so by filling your mind with true and right thoughts from God. The control of our thought life, then, comes by thinking God's thoughts with Him. Once we have our thoughts controlled by truth, then how we feel and act, our attitudes and actions will be under control. That is, controlled by God's Spirit which dwells within us. We are God's temple where He resides.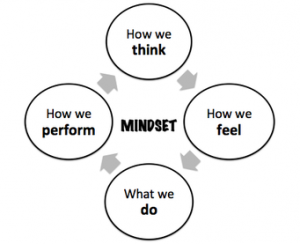 And now, dear brothers and sisters, one final thing. Fix your thoughts on what is true, and honorable, and right, and pure, and lovely, and admirable. Think about things that are excellent and worthy.
As you ponder this nugget of wisdom for yourself, I would ask you to please encourage your friends and family to join us and then come along on Monday for another day of our Wisdom-Trek, Creating a Legacy.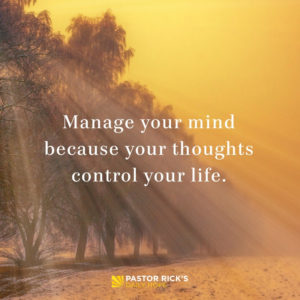 If you would like to listen to any of our past 1587 treks or read the Wisdom Journal, they are all available at Wisdom-Trek.com. I encourage you to subscribe to Wisdom-Trek on your favorite podcast player so that each day will be downloaded to you automatically.
As we take this trek together, let us always:
Live Abundantly (Fully)
Love Unconditionally
Listen Intentionally
Learn Continuously
Lend to others Generously
Lead with Integrity
Leave a Living Legacy Each Day
I am Guthrie Chamberlain reminding you to Keep Moving Forward, Enjoy Your Journey, and Create a Great Day Everyday! See you on Monday for more daily wisdom!