Welcome to Day 1523 of our Wisdom-Trek, and thank you for joining me. 
This is Guthrie Chamberlain, Your Guide to Wisdom
Exponential Mindset – Proof of Growth – Ask Gramps
Wisdom – the final frontier to true knowledge.  Welcome to Wisdom-Trek! Where our mission is to create a legacy of wisdom, to seek out discernment and insights, to boldly grow where few have chosen to grow before. Hello, my friend; I am Guthrie Chamberlain, your captain on our journey to increase Wisdom and Create a Living Legacy.  Thank you for joining us today as we explore wisdom on our 2nd millennium of podcasts. Today is Day 1523 of our Trek, and our focus on Fridays is the future technological and societal advances, so we call it Futuristic Fridays.  My personality is one that has always been very future-oriented.  Since my childhood, I have yearned for the exploration and discovery of new technologies and advancements for the future.  I grew up with the original Star Trek series, and even today, as I am now on my 65th revolution around the sun, I still dream of traveling in space. Each week we will explore rapidly converging technologies and advancements, which will radically change our lives.  At times, the topics may sound like something out of a science fiction novel, but each area that we explore is already well on its way of becoming a reality over the next couple of decades.
To keep with our theme of "Ask Gramps," I will put our weekly topics in the form of a question to get us on track.  This week's question is, Hey Gramps, last week you explained what a futuristic exponential mindset is, but do you have evidence to support why we should craft a futuristic exponential mindset? 
Exponential Mindset – Proof of Growth
Last week we explained how to craft a Futuristic Exponential Mindset. This week we will explore the exponential growth that is now evident. I am using some of the information mentioned in Peter Diamandis's blogs and book "The Future is Faster Than You Think."
Exponential growth is happening all around us, but it can be hard to see.
Given our linear thinking minds' restrictions, it's difficult for us to grasp how something that starts deceptively small can…
Double 10 times, resulting in 1,000x growth, and
Double 30 times and get you to nearly a 1,000,000,000x
Part of overcoming this embedded bias is actively developing an Exponential Mindset, as we discussed in last week's episode. Today, I'm going to share and explore the overwhelming "proof of exponentials." Proof ranging from accelerating computing power and internet access, to the digitization of retail and the rapidly falling costs of sequencing the human genome.  If you would like to view the charts that correspond to this data, please check the Wisdom Journal for today on Wisdom-Trek.com.  Those charts are proof that offers all of us "data-driven optimism."
Let's dive in… 
Moore's Law Continues…
Almost all of our exponential tech trends discussed in this episode are being built on top of ever-increasing computational power. For the past ~70+ years, Moore's Law, which predicts that computing power will double every two years, computing power's exponential growth has continued non-stop. The chart in today's Wisdom Journal, plotted on a log-scale, demonstrates this trend.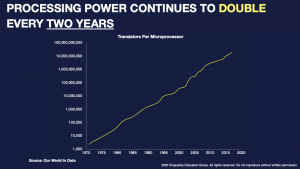 Computers are also becoming much more efficient. Processing efficiency is measured as the watts' number is needed per million instructions per second (watts per MIPS).
As you can see in the next chart in today's Wisdom Journal, processing efficiency has increased by a factor of 100,000 since 1990.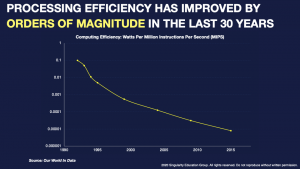 With continued advances in quantum computing, we'll see an explosion of information-processing capability.
By 2023, IBM expects to reach 1,121 qubits with their processor codenamed Condor. As you can see in the next chart in today's Wisdom Journal, this would be a 17-fold increase from today. IBM sees 2023 as the inflection point for the commercialization of quantum technology.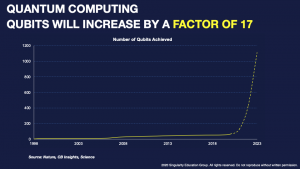 One critical effect of continued improvements in computation is an explosion of the total amount of information produced.
Between now and 2025, we will produce 3x the amount of information and data globally.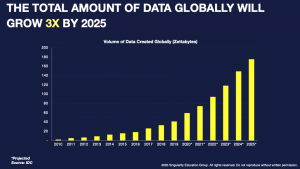 The Internet Continues its Explosive Growth
Since 2010, the number of internet users worldwide has doubled while global internet traffic has grown twelvefold.
Simultaneously, rapid improvements in energy efficiency have helped limit energy demand growth from data centers and data transmission networks, which combined accounted for just 1% of global electricity use in 2019.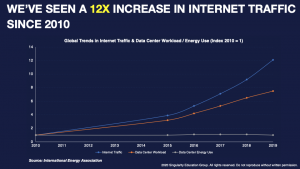 Today, nearly 60% of the world's population has access to the internet.
We passed the 50% milestone in 2018, and this trend is only accelerating. As I've written previously, internet access may soon become a universal human privilege with such progress.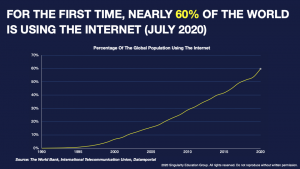 Another way to appreciate just how much and how quickly the internet has grown is to look at the number of internet searches conducted.
For example, as you can see in the chart in today's Wisdom Journal, the number of Google searches alone has increased by 2,000x during the last 20 years.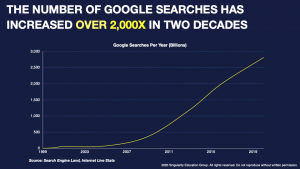 One factor that has made such a dramatic increase in internet searches possible is the increasing speed of an end user's connection, measured in megabits per second (Mbps).
As you can see below, end-user connection speed has jumped 10x in the last decade alone.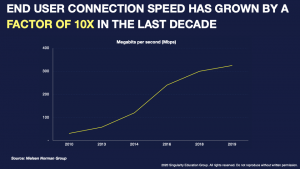 Mobile Devices, Smartphones & 5G Growing Rapidly
After an extended period of exponential growth, the number of mobile subscriptions globally is greater than the number of all people on Earth.
Given the total number of mobile subscriptions globally, as of 2019, global mobile penetration was 108%.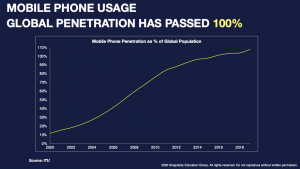 In the US, the share of Americans who own a smartphone is 81%. According to the Pew Research Center, this is a 50% increase from when the organization first started collecting this data in 2011.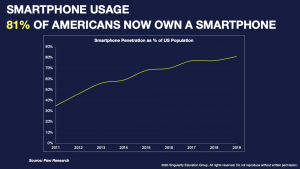 The advancement of 5G networks and technology will both accelerate and enhance mobile and smartphone adoption.
Ericsson projects that there will be 80 million 5G mobile subscriptions by the end of 2020. That number will then balloon to 2.8 billion in 2025.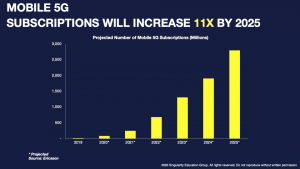 We'll also see an explosion of all sorts of connected devices. Cisco estimates that by 2022 (just a few years away), we'll have over 1 billion total connected wearable devices in the world.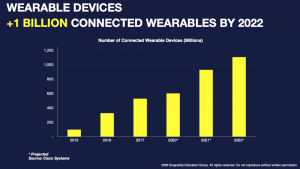 Some of the most dramatic growth in devices and hardware will come from VR & AR headsets.
Research firm IDC estimates that between now and 2024, we will see a 10x growth in global VR & AR headset shipments worldwide.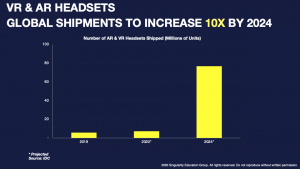 Dramatic Growth in Battery Technology
We'll need a significant increase in battery storage to power all of these devices. According to McKinsey, by 2024, we will see a 17x increase in battery demand.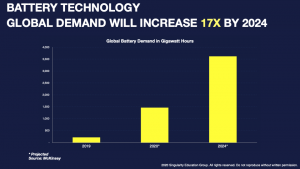 Growth of Digital Memory Storage
DRAM (dynamic random-access memory) is a type of memory chip used in most desktop and laptop computers.
Demand for DRAM chips has been increasing for years, and over the next three years, we'll see at least an additional 100 billion 1 GB equivalent modules shipped globally.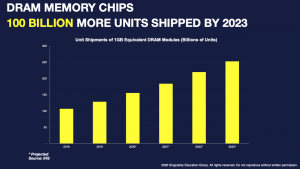 Electric Vehicles (EVs) and Solar Energy
With the rapid growth in electric car sales over the past decade, electric cars now make up about 1% of the global car fleet.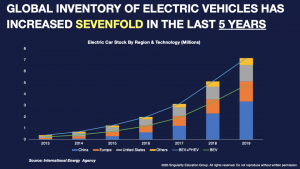 Solar generation is one of humanity's primary renewable energy sources. We saw massive solar growth during the last decade, increasing by a factor of twenty from 2010 to 2019.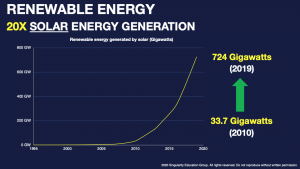 The Digitization of Retail
Global retail e-commerce sales more than doubled from $1.5 trillion in 2015 to $3.5 trillion in 2019.
That trend will only continue. By 2023, global e-commerce sales are projected to be almost $7 trillion.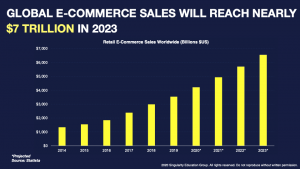 Growth of Industrial Robots
The market for industrial robots has been growing at record rates of 19% per year since 2013, and is expected to continue double-digit growth at least through 2021.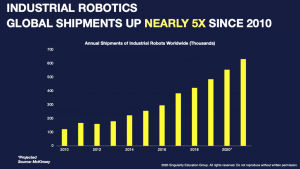 3D Printing Adoption
In 2018, the global additive manufacturing market grew to over $10.4 billion, crossing the pivotal double-digit billion threshold for the first time in its decades-long history.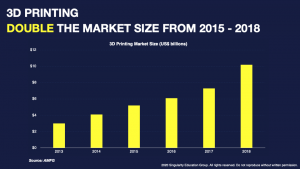 Exponential Growth in Biotech
The next chart in today's Wisdom Journal shows the progress we have made in reducing the cost of sequencing the human genome. In 2008, that progress began to exceed Moore's Law. This rapid growth continues, and direct-to-consumer genome sequencing is now widely available.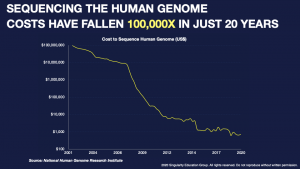 NIH funding for CRISPR-related research grew from $5 million in 2011 to $1.1 billion in 2018. During that time, the number of CRISPR-related scientific publications increased by a factor of 45x.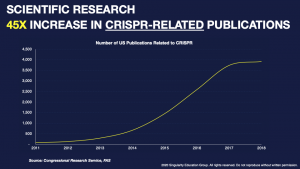 The exponential growth that we have reviewed today should not be feared.   As Christ-followers, we know that all wisdom and discovery ultimately comes from God.  We can use all of these new technologies to expedite the building of God's kingdom.
For the Lord grants wisdom! From his mouth come knowledge and understanding.
That is a wrap for today's question.  Join us again next Futuristic Friday as we look at another exciting exponential technology area on our 'Ask Gramps' episode.  Our next trek is Meditation Monday, where we will help you reflect on what is most important in life.  So encourage your friends and family to join us and then come along on Monday for another day of 'Wisdom-Trek, Creating a Legacy.'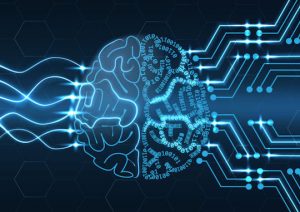 If you would like to listen to any of the past 1522 daily treks or read the associated journals, they are available at Wisdom-Trek.com.  I encourage you to subscribe to Wisdom-Trek on your favorite podcast player so that each day will be downloaded to you automatically.
Thank you for allowing me to be your guide, mentor, but most importantly, I am your friend as I serve you through this Wisdom-Trek podcast and journal.
As we take this Trek of life together, let us always:
Live Abundantly (Fully)
Love Unconditionally
Listen Intentionally
Learn Continuously
Lend to others Generously
Lead with Integrity
Leave a Living Legacy Each Day
I am Guthrie Chamberlain….reminding you to 'Keep Moving Forward,' 'Enjoy your Journey,' and 'Create a Great Day…Everyday'! See you on Monday!