Welcome to Day 1497 of our Wisdom-Trek, and thank you for joining me.
This is Guthrie Chamberlain, Your Guide to Wisdom
A New Calf – Humor Unplugged
Wisdom – the final frontier to true knowledge. Welcome to Wisdom-Trek where our mission is to create a legacy of wisdom, to seek out discernment and insights, and to boldly grow where few have chosen to grow before.
Hello, my friend, I am Guthrie Chamberlain, your captain on our journey to increase wisdom and create a living legacy. Thank you for joining us today as we explore wisdom on our 2nd millennium of podcasts. This is Day 1497 of our trek, and it is time for our 3-minute mini-trek called Humor Unplugged. Our Thursday podcast will provide a short and clean funny story to help you lighten up and live a rich and satisfying life – something to cheer you and give a bit a levity in your life.
We are told in Proverbs 15:30, "A cheerful look brings joy to the heart; good news makes for good health." We are also encouraged in Proverbs 17:22, "A cheerful heart is good medicine, but a broken spirit saps a person's strength."Consider this your vitamin supplement of cheer for today. So let's jump right in with today's funny which is titled…
A New Calf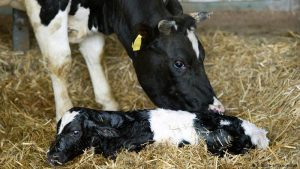 Little six-year-old Danny was so excited that he was going to the farm to spend the weekend with his granddad, whom he called PaPa.  He loved being with PaPa and really loved being at the farm so he could be PaPa's big helper.  PaPa and Danny worked at completing their chores as they invested all day together on Saturday.
As usual, when Danny visited PaPa, they were up bright and early on Sunday morning to milk the ten milk cows before heading off to church. As PaPa was milking the cows, Danny wandered through the barn as he so loved to do. He came across one cow in a pen all by herself, and she looked enormous. Danny said, "Hey PaPa, what is this one cow doing all by itself, and why it is so fat?"
PaPa chuckled a bit and said, "That's old daisy; she is due any day now." Danny wasn't sure what that all meant, but he was really concerned that Daisy wasn't doing very well.  They headed off to church, but it was hard for Danny to sit still as he kept thinking of poor old Daisy.
When they arrived back at the farm after church, Danny jumped out of the truck and headed to the barn. He soon came running back out with wide eyes and shouted, "Hey PaPa, it looks like Daisy is not doing well; she is lying down and keeps mooing." PaPa said, "Well, let's get out of our Sunday go-to-meeting clothes and put on our work clothes, and then we can check on Daisy." When they finally got back to the barn, PaPa could see that indeed, Daisy was having trouble calving. He didn't know how little Danny would take in the whole process, but had no option but to get on with the job of assisting the birth.
PaPa got in the pen with Daisy and proceeded to stick his hand and arm in to assist as he pulled the calf free from the birth canal. Danny stood there, watching with eyes ready to pop out of his head. Soon Daisy was happily cleaning it up. PaPa turned to Danny and said, well, "Danny, do you have any questions about what you just saw?"
At first, Danny was speechless and seemed overwhelmed by the experience, but finally asked, "Just how fast was that calf going when it hit Daisy's behind?"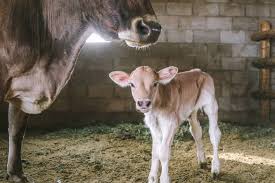 I hope that brought a smile to your face today. If it did, pass your smile on to someone else, we all could use a kind smile each day. Our Thursday thought is, "As a calf follows its mother among a thousand cows, so the good or bad deeds of a man follow him."
Here is our verse for today.
In that day, the wolf and the lamb will live together; the leopard will lie down with the baby goat. The calf and the yearling will be safe with the lion, and a little child will lead them all.
As you enjoy these nuggets of humor, please encourage your friends and family to join us and then come along tomorrow for another day of our Wisdom-Trek, Creating a Legacy.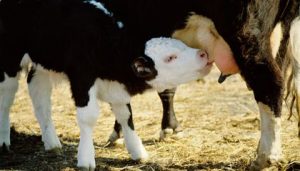 If you would like to listen to any of our past 1496 treks or read the Wisdom Journal, they are all available at Wisdom-Trek.com.  I encourage you to subscribe to Wisdom-Trek on your favorite podcast player so that each day will be downloaded to you automatically.
Thank you for allowing me to be your guide, mentor, and most importantly, your friend as I serve you through the Wisdom-Trek podcast and Journal.
As we take this trek together, let us always:
Live Abundantly (Fully)
Love Unconditionally
Listen Intentionally
Learn Continuously
Lend to others Generously
Lead with Integrity
Leave a Living Legacy Each Day
I am Guthrie Chamberlain reminding you to Keep Moving Forward, Enjoy Your Journey, and Create a Great Day Everyday! See you tomorrow for Futuristic Friday!