Welcome to Day 1495 of our Wisdom-Trek, and thank you for joining me.
This is Guthrie Chamberlain, Your Guide to Wisdom
Don't Be Lame – Wisdom Unplugged
Wisdom – the final frontier to true knowledge. Welcome to Wisdom-Trek where our mission is to create a legacy of wisdom, to seek out discernment and insights, and to boldly grow where few have chosen to grow before.
Hello, my friend, I am Guthrie Chamberlain, your captain on our journey to increase wisdom and create a living legacy. Thank you for joining us today as we explore wisdom on our 2nd millennium of podcasts. This is Day 1495 of our trek, and it is time for our 3-minute mini trek called Wisdom Unplugged.  This short nugget of wisdom includes an inspirational quote with a little bit of additional content for today's trek. Consider this your vitamin supplement of wisdom for today. So let's jump right in with today's nugget.
Today's quote is a Latin Proverb, and it is, "If you always live with those who are lame, you will yourself learn to limp."
Don't Be Lame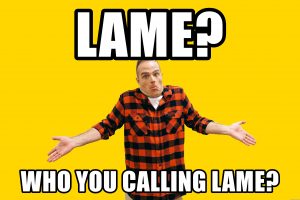 This proverb is so true, and it makes me think of so many other sayings and proverbs. One that I remember mom telling us when we were teenagers was, "If you lie down with dogs, don't be surprised that you will rise up with fleas."  Who we invest our time with will strongly influence who we become.
If you want to be successful, then you need to invest your time with successful people. If you desire to learn and show love and compassion then invest more time with those who already show those traits. Jim Rohm was credited with saying that "you are the average of the five people you spend the most time with."  This is so true, and I see examples of this fact nearly every day, both good and bad.  If you desire to be wise then you must invest your time with the wise.
Once again the irrefutable law of planting and harvesting applies here. When you plant corn, you will harvest corn. If you plant wheat, you will harvest wheat. If you plant weeds or thornbushes, that is what you will harvest. There is no changing this universal law of God. Don't invest time with those who are lame in spirit, or you will limp through life not being able to fulfill your God-given talents and abilities.
Don't be fooled by those who say such things, for "bad company corrupts good character."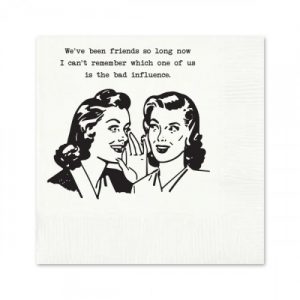 That's a wrap for today's Wisdom Unplugged quote. If you would like free access to my database of over 11,000 inspirational quotes, the link is available on the main page of Wisdom-Trek.com. As you enjoy these nuggets of wisdom, encourage your friends and family to join us and then come along tomorrow for another day of our Wisdom-Trek, Creating a Legacy.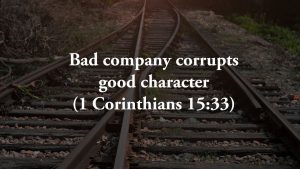 If you would like to listen to any of the past 1492 daily treks or read the associated journals, they are available at Wisdom-Trek.com. I encourage you to subscribe to Wisdom-Trek on your favorite podcast player so that each day will be downloaded to you automatically.
Thank you for allowing me to be your guide, mentor, and most importantly, your friend as I serve you through the Wisdom-Trek podcast and Journal.
As we take this trek together, let us always:
Live Abundantly (Fully)
Love Unconditionally
Listen Intentionally
Learn Continuously
Lend to others Generously
Lead with Integrity
Leave a Living Legacy Each Day
I am Guthrie Chamberlain reminding you to Keep Moving Forward, Enjoy Your Journey, and Create a Great Day Everyday! See you tomorrow for Worldview Wednesday!