Wisdom-Trek / Creating a Legacy
Welcome to Day 1349 of our Wisdom-Trek, and thank you for joining me.
This is Guthrie Chamberlain, Your Guide to Wisdom
Showing Faith Through Actions – Meditation Monday
Wisdom – the final frontier to true knowledge. Welcome to Wisdom-Trek! Where our mission is to create a legacy of wisdom, to seek out discernment and insights, to boldly grow where few have chosen to grow before.
Hello, my friend, I am Guthrie Chamberlain, your captain on our journey to increase wisdom and create a living legacy. Thank you for joining us today as we explore wisdom on our 2nd millennium of podcasts. This is Day 1349 of our trek, and it is time for Meditation Monday. Taking time to relax, refocus, and reprioritize our lives is crucial in order to create a living legacy.
For you, it may just be time alone for quiet reflection. You may utilize structured meditation practices. In my life, meditation includes reading and reflecting on God's Word and praying. It is a time to renew my mind, refocus on what is most important, and make sure that I am nurturing my soul, mind, and body. As you come along with me on our trek each Meditation Monday, it is my hope and prayer that you, too, will experience a time for reflection and renewing of your mind.
Let me ask you. What is more critical faith or actions? Let us meditate on…
Showing Faith through Actions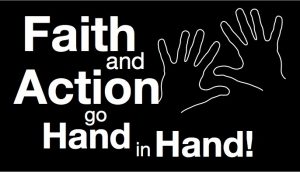 The answer to the question above may be obvious, and is a rhetorical question because according to God's Word, we cannot correctly have one without the other. We read in James 2:14-20:
What good is it, dear brothers and sisters, if you say you have faith but don't show it by your actions? Can that kind of faith save anyone? Suppose you see a brother or sister who has no food or clothing, and you say, "Good-bye and have a good day; stay warm and eat well"—but then you don't give that person any food or clothing. What good does that do?
So you see, faith by itself isn't enough. Unless it produces good deeds, it is dead and useless.
Now someone may argue, "Some people have faith; others have good deeds." But I say, "How can you show me your faith if you don't have good deeds? I will show you my faith by my good deeds."
You say you have faith, for you believe that there is one God. Good for you! Even the demons believe this, and they tremble in terror. How foolish! Can't you see that faith without good deeds is useless?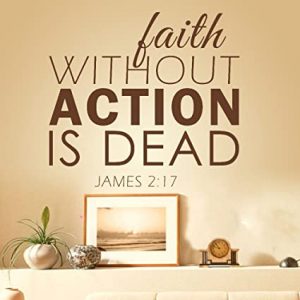 Especially in the world today, but also every day, we have the opportunity to show others our faith in Christ through our actions. To share God's love with others through tangible acts of worship will be a catalyst to share God's love through His Word. Our mission as Christ-followers is to build God's Kingdom on earth, as it is in heaven. The last part of Galatians 5:6 sums it up, "What is important is faith expressing itself in love."
Think about it…As believers, we have an opportunity to unite together worldwide and tangibly show God's love to those who need His love desperately. In doing so, we will fulfill all that is written in the law and through the prophets.
Matthew 22:37-40 says, "Jesus replied, 'You must love the Lord your God with all your heart, all your soul, and all your mind.' This is the first and greatest commandment. A second is equally important: 'Love your neighbor as yourself.' The entire law and all the demands of the prophets are based on these two commandments."
God's Holy Spirit indwells each of us. He comforts us. He teaches us. Above all He points us to Christ as our example for living. The Spirit empowers us to live in obedience honoring God as His image-bearers. This selfless life of love is impossible apart from him.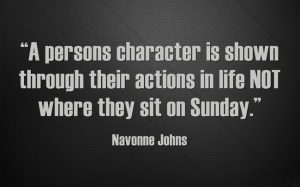 Every day, but especially during times of crisis, let us show our faith by our actions. Let us first serve those who are vulnerable and need our assistance most. As James teaches us in James 1:27, "Pure and genuine religion in the sight of God the Father means caring for orphans and widows in their distress and refusing to let the world corrupt you."
It is so easy to get distracted and focus on ourselves and lesser things. What matters most, though, is faith working through love. That should be our objective. Let us meditate on this today, then take action.
That is a wrap for today's meditation. Next week we will continue our trek on Meditation Monday as we take time to reflect on what is most important in creating our living legacy. On tomorrow's trek, we will explore another wisdom quote. This 3-minute wisdom supplement will assist you in becoming healthy, wealthy, and wise each day.
Thank you for joining me on this trek called life. Encourage your friends and family to join us and then come along tomorrow for another day of our Wisdom-Trek, Creating a Legacy.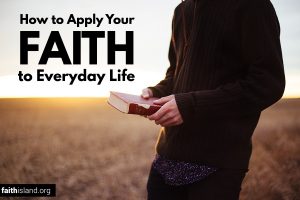 If you would like to listen to any of the past 1348 daily treks or read the daily journal, they are available at Wisdom-Trek.com. I encourage you to subscribe to Wisdom-Trek on your favorite podcast player so that each day will be downloaded to you automatically.
Thank you for allowing me to be your guide, mentor, and most importantly, your friend as I serve you through the Wisdom-Trek podcast and journal.
As we take this trek together, let us always:
Live Abundantly (Fully)
Love Unconditionally
Listen Intentionally
Learn Continuously
Lend to others Generously
Lead with Integrity
Leave a Living Legacy Each Day
I am Guthrie Chamberlain reminding you to Keep Moving Forward, Enjoy Your Journey, and Create a Great Day Everyday! See you tomorrow!