Wisdom-Trek / Creating a Legacy
Welcome to Day 1320 of our Wisdom-Trek, and thank you for joining me.
This is Guthrie Chamberlain, Your Guide to Wisdom
Abundantly Grateful – Wisdom Unplugged
Wisdom – the final frontier to true knowledge. Welcome to Wisdom-Trek! Where our mission is to create a legacy of wisdom, to seek out discernment and insights, to boldly grow where few have chosen to grow before. Hello, my friend, I am Guthrie Chamberlain, your captain on our journey to increase Wisdom and Create a Living Legacy. Thank you for joining us today as we explore wisdom on our 2nd millennium of podcasts. This is Day 1320 of our Trek, and it is time for our 3-minute mini trek called Wisdom Unplugged. This short nugget of wisdom includes an inspirational quote with a little bit of additional content for today's trek. Consider this your vitamin supplement of wisdom for today. So let's jump right in with today's nugget:
Today's quote is from Thomas à Kempis, and it is: Be thankful for the least gift, so shalt thou be ready to receive greater.
Abundantly Grateful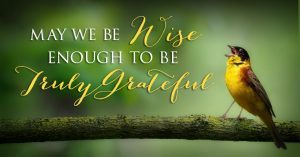 It is only when we are thankful and grateful for the smallest gifts in life can we then be thankful for more when we do receive it. In fact, if we are not thankful for that which is least important, we will never receive anything more. The heart is like a fertile garden. It is only when we plant the tiny seeds of thankfulness will our hearts have the capacity to accept and grow that thankfulness into abundant gratitude. So what are the small things, to which you barely recognize anymore, that you should be grateful for? A brand new day? Being able to breathe? A warm place to live? The love and concern that we have from others, and can show to others? The quiet moment of peace in the midst of this hectic world? There is so much that we can be abundantly grateful for, that thankfulness should gush from our lips at all times. So the next time you find yourself grumbling and complaining, stop and take a moment for gratitude for life and the blessings to be alive so that you can positively impact others. With your mouth praise God, the giver of all gifts, and soon you will find that you are now ready to receive more for which you can be grateful. Let us be abundantly grateful at all times.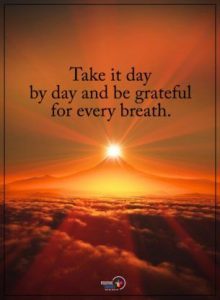 Colossians 3:14-16
Above all, clothe yourselves with love, which binds us all together in perfect harmony. And let the peace that comes from Christ rule in your hearts. For as members of one body, you are called to live in peace. And always be thankful. Let the message about Christ, in all its richness, fill your lives. Teach and counsel each other with all the wisdom he gives. Sing psalms and hymns and spiritual songs to God with thankful hearts.
That's a wrap for today's Wisdom Unplugged quote. If you would like free access to my database of over 11,000 inspirational quotes, the link is available on the main page of Wisdom-Trek.com. Just as you enjoy these nuggets of wisdom, encourage your friends and family to join us and then come along tomorrow for another day of 'Wisdom-Trek, Creating a Legacy.'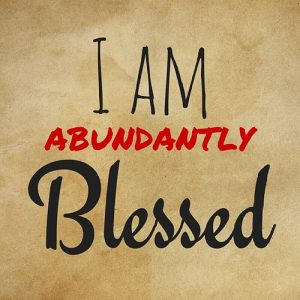 If you would like to listen to any of our past 1319 treks or read the Wisdom Journal, they are available at Wisdom-Trek.com. I encourage you to subscribe to Wisdom-Trek on your favorite podcast player so that each day's trek will be downloaded automatically.
Thank you for allowing me to be your guide, mentor, and most importantly, I am your friend as I serve you in through this Wisdom-Trek podcast and journal each day.
As we take this Trek of life together, let us always:
Live Abundantly (Fully)
Love Unconditionally
Listen Intentionally
Learn Continuously
Lend to others Generously
Lead with Integrity
Leave a Living Legacy Each Day
I am Guthrie Chamberlain….reminding you to 'Keep Moving Forward,' 'Enjoy your Journey,' and 'Create a Great Day…Everyday'! See you tomorrow for Worldview Wednesday!