Listen to the Wisdom-Trek episode for today (0:04:22)
Get Updates About Wisdom-Trek
Podcast: Play in new window | Download
Subscribe: Apple Podcasts | Android | Email | Google Play | Stitcher | RSS | More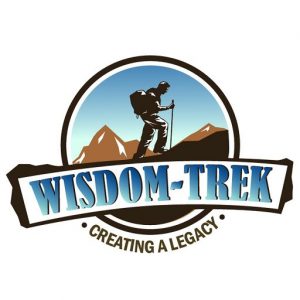 Wisdom-Trek / Creating a Legacy
Welcome to Day 856 of our Wisdom-Trek, and thank you for joining me.
I am Guthrie Chamberlain, Your Guide to Wisdom
The Good Samaritan – Wisdom Wednesday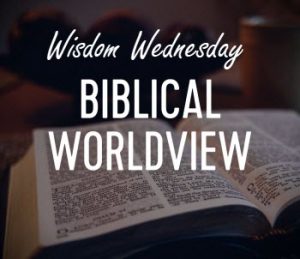 Thank you for joining us for our five days per week wisdom and legacy building podcast. Today is Day 856 of our trek, and it is Wisdom Wednesday. Due to a heavy travel schedule this week, I will be switching from our regular daily topics, and instead, I will be reading through the parables of Jesus.
Jesus's parables are seemingly simple and memorable stories, often with imagery, that all convey messages. Scholars have commented that although these parables seem simple, the messages they convey are deep and central to the teachings of Jesus. Christian authors view them not as mere similitudes, which serve the purpose of illustration, but as internal analogies in which nature becomes a witness for the spiritual world.
Many of Jesus's parables refer to simple everyday things, such as a woman baking bread, a man knocking on his neighbor's door at night, or the aftermath of a roadside mugging. Yet they deal with major religious themes, such as the growth of the Kingdom of God, the importance of prayer, and the meaning of love.
In Western civilization, these parables formed the prototype for the term parable; and in the modern age, even among those who know little of the Bible, the parables of Jesus remain some of the best-known stories in the world.
We are broadcasting from our studio at The Big House in Marietta, Ohio. Our parable for today is taken from Luke [10:30]-37 and is about…
The Good Samaritan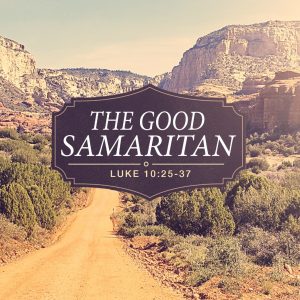 Jesus replied with a story. "A Jewish man was traveling from Jerusalem down to Jericho, and he was attacked by bandits. They stripped him of his clothes, beat him up, and left him half dead beside the road.
By chance, a priest came along. But when he saw the man lying there, he crossed to the other side of the road and passed him by. A Temple assistant walked over and looked at him lying there, but he also passed by on the other side.
Then a despised Samaritan came along, and when he saw the man, he felt compassion for him. Going over to him, the Samaritan soothed his wounds with olive oil and wine and bandaged them. Then he put the man on his own donkey and took him to an inn, where he took care of him. The next day he handed the innkeeper two silver coins, telling him, 'Take care of this man. If his bill runs higher than this, I'll pay you the next time I'm here.'
'Now which of these three would you say was a neighbor to the man who was attacked by bandits?' Jesus asked.
The man replied, 'The one who showed him mercy.'
Then Jesus said, 'Yes, now go and do the same.'"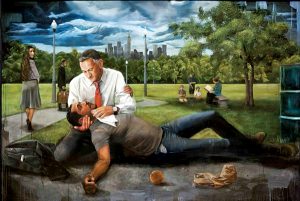 On tomorrow's trek, we will continue with the parables of Jesus. Thank you for joining me on this trek called life. Encourage your friends and family to join us and then come along tomorrow for another day of our Wisdom-Trek, Creating a Legacy.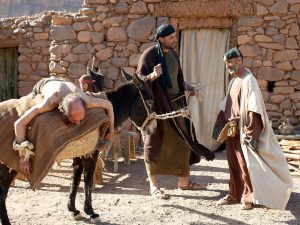 That will finish our trek for today. If you would like to listen to any of our past 855 treks or read the Wisdom Journal, they are available at Wisdom-Trek.com. I encourage you to subscribe to Apple Podcast or Google Play so that each day's trek will be downloaded automatically.
Thank you for allowing me to be your guide, mentor, and most of all your friend as I serve you through the Wisdom-Trek podcast and journal.
As we take this trek together, let us always:
Live Abundantly (Fully)
Love Unconditionally
Listen Intentionally
Learn Continuously
Lend to others Generously
Lead with Integrity
Leave a Living Legacy Each Day
I am Guthrie Chamberlain reminding you to Keep Moving Forward, Enjoy Your Journey, and Create a Great Day Everyday! See you tomorrow!