Listen to the Wisdom-Trek episode for today (0:08:44)
Get Updates About Wisdom-Trek
Podcast: Play in new window | Download
Subscribe: Apple Podcasts | Android | Email | Google Play | Stitcher | RSS | More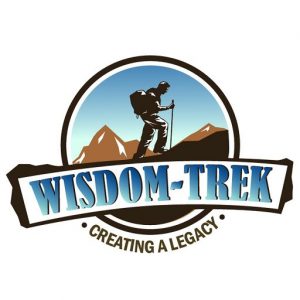 Wisdom-Trek / Creating a Legacy
Welcome to Day 789 of our Wisdom-Trek, and thank you for joining me.
This is Guthrie Chamberlain, Your Guide to Wisdom
Choose the Correct Path – Meditation Monday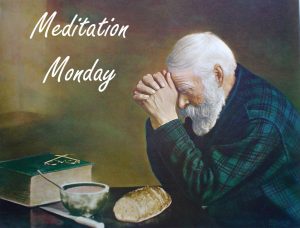 Thank you for joining us for our five days per week wisdom and legacy building podcast. This is Day 789 of our trek, and it is time for Meditation Monday. Taking time to relax, refocus, and reprioritize our lives is crucial in order to create a living legacy.
For some, it may just be time alone for quiet reflection. Some may utilize structured meditation practices. In my life, meditation includes reading and reflecting on God's Word and praying. It is a time to renew my mind, refocus on what is most important, and make sure that I am nurturing my soul, mind, and body. As you come along with me on our trek each Meditation Monday, it is my hope and prayer that you too will experience a time for reflection and renewing of your mind. 
We are broadcasting from our studio at The Big House in Marietta, Ohio. Our pair of Red Shouldered Hawks which have nested for the past few years in the large oak tree outside our office windows have returned and have started their annual repairs to their nest. It is so interesting to watch them diligently work preparing their nest for this year's chicks.
They are very particular to choose just the right sticks and other materials to provide a comfortable and safe environment for their chicks. Today let us reflect on why it is important for us to be particular in choosing what paths we take in life so that we can live in a manner that is in alignment with God's precepts and teachings found in His Word.
Choose the Correct Path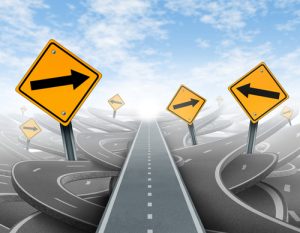 The Father is holy and wholly given to doing what is right, just, holy, gracious, and merciful. What about you? What is your consuming passion? Is it to honor the Father? Is it to obey His words and follow His example? Is it to be conformed to the righteous character and gracious compassion of God?
In all ages, even long before the instant age, we find ourselves inhabiting, many people wanted an instant and easy holiness. The evil one has long twisted the truth and deceived the gullible into taking shortcuts. God's Word warns us about four deceptions and temptations that the devil will offer us in the name of religion:
The wide door and the easy path — the ones that suggest all religions are okay and equal — but that lead to destruction.
The sweet deceiving words of false prophets whose lives (their bad fruit) show they cannot be trusted.
Nice sounding religious words of praise and adoration that are disconnected from a life of obedience and end in shocking condemnation.
A religion that is quickly embraced, shallowly believed, and focused on appearances, but cannot stand the stress and strain of real life.
There is one path, one way, and one truth John 14:6, "Jesus told him, 'I am the way, the truth, and the life. No one can come to the Father except through me.'"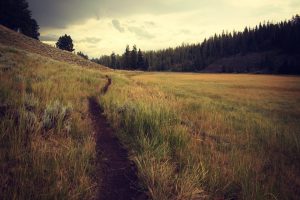 Many in our world today don't like such talk. In fact, you may bristle at it yourself because you've had the easy way peddled to you by false prophets who talk a good religious game while living any way they want. Such talk is foolish. It's not new or innovative or post-modern; it's just the lie of the old deceiver who wants to steer you the wrong way so that when the floods of life come…well, he can be there for your destruction.
Don't be deceived. Follow God. Obey God. Trust God. Doing so may look narrow and hard, but Jesus promises you this in Matthew [11:28]-30:
Then Jesus said, "Come to me, all of you who are weary and carry heavy burdens, and I will give you rest. Take my yoke upon you. Let me teach you, because I am humble and gentle at heart, and you will find rest for your souls. For my yoke is easy to bear, and the burden I give you is light."
The following are Jesus's words from the Sermon on the Mount about choosing the right path that leads to the Father. If your heart is set on Jesus Christ — if your heart's desire is to follow Him and obey Him — then you will be able to resist the deceptions and temptations of the easy way, the false prophets, a religion that is all talk with little obedience, and quickly constructed facade-based religion! These passages are found in Matthew 7:13-29.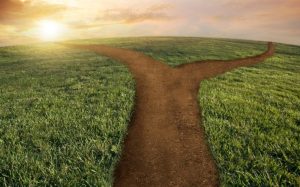 · The Narrow Gate
 "You can enter God's Kingdom only through the narrow gate. The highway to hell is broad, and its gate is wide for the many who choose that way.  But the gateway to life is very narrow, and the road is difficult, and only a few ever find it.
· The Tree and Its Fruit
"Beware of false prophets who come disguised as harmless sheep but are vicious wolves.  You can identify them by their fruit, that is, by the way, they act. Can you pick grapes from thornbushes or figs from thistles? A good tree produces good fruit, and a bad tree produces bad fruit.  A good tree can't produce bad fruit, and a bad tree can't produce good fruit.  So every tree that does not produce good fruit is chopped down and thrown into the fire. Yes, just as you can identify a tree by its fruit, so you can identify people by their actions.
· True Disciples
"Not everyone who calls out to me, 'Lord! Lord!' will enter the Kingdom of Heaven. Only those who do the will of my Father in heaven will enter.  On judgment day many will say to me, 'Lord! Lord! We prophesied in your name and cast out demons in your name and performed many miracles in your name.'  But I will reply, 'I never knew you. Get away from me, you who break God's laws.'
· Building on a Solid Foundation
"Anyone who listens to my teaching and follows it is wise, like a person who builds a house on solid rock.  Though the rain comes in torrents and the floodwaters rise, and the winds beat against that house, it won't collapse because it is built on bedrock.  But anyone who hears my teaching and doesn't obey it is foolish, like a person who builds a house on sand.  When the rains and floods come, and the winds beat against that house, it will collapse with a mighty crash." 
When Jesus had finished saying these things, the crowds were amazed at his teaching, for he taught with real authority—quite unlike their teachers of religious law.
So we see in today's brief meditation, choosing the right path in life is crucial. Every choice we make has consequences which may be good or bad, depending on the choices we make. The most important choice that we will ever make is to choose to be a Christ follower because it will truly impact all eternity. Choose the Right Path.
Next week we will continue our trek on Meditation Monday as we take time to reflect on what is most important in creating our living legacy. On tomorrow's trek, we will explore another wisdom quote. This 3-minute wisdom supplement will assist you in becoming healthy, wealthy, and wise each day. Thank you for joining me on this trek called life. Encourage your friends and family to join us and then come along tomorrow for another day of our Wisdom-Trek, Creating a Legacy.

If you would like to listen to any of the past 788 daily treks or read the daily journal, they are available at Wisdom-Trek.com. You can also subscribe to iTunes and Google Play so that each day's trek will be downloaded automatically.
Thank you so much for allowing me to be your guide, mentor, and most of all your friend as I serve you through the Wisdom-Trek podcast and journal.
As we take this trek together, let us always:
Live Abundantly (Fully)
Love Unconditionally
Listen Intentionally
Learn Continuously
Lend to others Generously
Lead with Integrity
Leave a Living Legacy Each Day
I am Guthrie Chamberlain reminding you to Keep Moving Forward, Enjoy Your Journey, and Create a Great Day Everyday! See you tomorrow!