Listen to the Wisdom-Trek episode for today (0:09:10)
Get Updates About Wisdom-Trek
Podcast: Play in new window | Download
Subscribe: Apple Podcasts | Android | Email | Google Play | Stitcher | RSS | More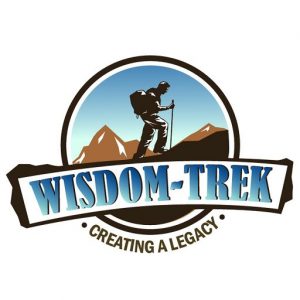 Wisdom-Trek / Creating a Legacy
Welcome to Day 711 of our Wisdom-Trek, and thank you for joining me.
I am Guthrie Chamberlain, Your Guide to Wisdom
Riddles of the Wise – Proverbs 30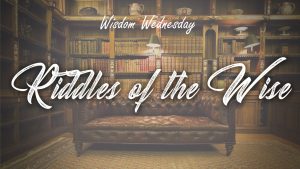 Thank you for joining us for our 5 days per week wisdom and legacy building podcast. Today is Day 711 of our trek, and it is Wisdom Wednesday. Every Wednesday along life's trails we dig for the nuggets of wisdom that are found within the book of Proverbs. Today we will explore Proverbs 30 from The Voice Translation, which will give us a fresh perspective on this book of timeless wisdom.
We are broadcasting from our studio at The Big House in Marietta, Ohio. I tend to relate to practical everyday advice and wisdom and strive to share that same practical wisdom with each listener of Wisdom-Trek. The practical advice and wisdom in today's passage is that same type of wisdom. Wisdom can be shared in many different ways and in Proverbs 30 we read the…
Riddles of the Wise

Chapters 30 and 31 are the final parts of this ancient book of biblical wisdom. Interestingly, each chapter contains poems attributed to non-Israelite authors named Agur and Lemuel. Agur is a commoner, while Lemuel is a king. According to the superscriptions, both are referred to as sons — a fitting conclusion to a book devoted to sons acquiring wisdom.
In Chapter 30 we hear from the first wise son, Agur. There's a mini-autobiography in verses 1-9, followed by a collection of fascinating riddles (verses 10-33). Most of these riddles explore things in life that you should avoid: slander, cursing, hate, deception, mockery, adultery, pride, and evil. As bad as these things sound, Agur's sayings reveal that those who do such things often consider themselves innocent.
Some of these riddles are not about virtue or morality, but are simply observations about nature or relationships. Their structure consists of three observations. The first two are observations about how the world works. The third shows how the first two relate to how wisdom works.
"For as churning cream produces butter" (observation 1), and "as twisting the nose produces blood" (observation 2), "so stirring up anger produces strife" (observation 3).
The riddles, along with the autobiography, are asking us to consider the outcomes of our choices and actions. What do you need to pay most attention to as you go into your day?
Listen intently as I read Proverbs 30.
1 These are the words of Agur, son of Jakeh. An oracle of wisdom.
He says, "I am weary, God.
I am weary and spent, O God."[a]
2 Certainly I am a stupid man, as dumb as an ox.
I don't understand the way that most people do.
3 I have never learned wisdom,
and I have no knowledge at all of the Holy One.
4 Who has ascended into the heavens and then come back down?
Who has collected the winds in the palm of His hand?
Who has wrapped up the vast oceans in His coat?
Who has plotted the ends of the earth and then fashioned them?
What is His name?
What is His son's name?
Do you know? Indeed, you do.
5 Every word of God will be put to the test and proven true;
He is a defense for those who trust in Him.
6 Take care. Add nothing to what He has said;
for if you do, He will correct you and expose you as a liar.
7 Two things I ask, O God.
Sometime before I die, grant these humble requests:
8 Eliminate any hint of worthless and deceitful words from my lips.
Do not make me poor or rich,
but give me each day what I need;
9 For if I have too much, I might forget You are the One who provides,
saying, "Who is the Eternal One?"
Or if I do not have enough, I might become hungry and turn to stealing
and thus dishonor the good name of my God.
10 Never run down a servant to his master
because the slave might curse you and you would suffer as a result.
11 There is a kind of person who curses his father
and pronounces no blessing upon his mother;
12 A kind of person who is without fault in his own estimation
but has not been scrubbed clean of his own sordidness;
13 A kind whose look is too haughty,
whose eyebrows arch as he looks down on others;
14 A kind whose very teeth cut like swords
and whose jaws sever like knives,
All the better to consume the poor of the earth
and the oppressed among men.
15 The leech has twin suckers;
"More blood! More blood," they demand.
Three other things are just as insatiable,
no, make it four that never say, "Enough":
16 The grave, the childless woman who cannot bear,
the parched earth that cries for rain,
and the fire, which never says, "Enough!"
17 One who derides his father
and fails to honor his mother in old age
Will die in contempt: his eyes will be pecked out by the ravens of the valley
and eaten by the young vultures when his unburied body lies on the trash heap.
18 There are three mysteries I find absolutely amazing,
no, make it four I cannot comprehend:
19 The way an eagle flies through the sky,
the way a snake moves over a rock,
The way a boat glides through the middle of the sea,
and the way a man becomes one with his virgin wife.
20 An adulterous woman is so cavalier by nature.
When she's done, it is as if she washed after eating
and then says, "I have done nothing wrong."
21 Three situations disturb the earth,
no, make it four that it cannot endure:
22 When a slave is elevated to king,
when a fool is full of fine food,
23 When a hated woman finally marries,
and when a serving girl takes possession of her mistress's wealth.
24 There are four creatures on earth that are small,
but they are very wise and we can learn from them:
25 While ants are hardly a strong species,
they work constantly to store up food during the summer;
26 While badgers are animals without many defenses,
they are wise enough to make their homes in the rocky cliffs;
27 While locusts live without a ruler,
they all know how to move in formation;
28 While a lizard is easy enough to catch in your hand,
it is shrewd enough to enter the palaces of kings.
29 There are three creatures with majesty in their stride,
no, make it four that move with grace:
30 The lion, which is the strongest of the animals,
does not back down from any other creature;
31 The strutting rooster, the male goat,
and a king as he goes out with his army.[b]
32 If you have been foolish enough to insinuate yourself in some high position
or if you have concocted some sort of evil plan,
clamp your hand tightly over your mouth;
33 For pressing down milk makes butter,
pressing your nose makes it bleed,
and pressing anger makes trouble.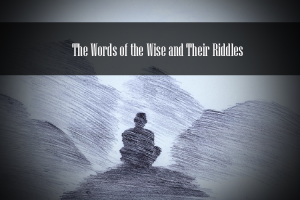 That will conclude our exploration of Proverbs 30. These riddles of the wise have such deep and lasting truths for us to apply each day. All the precepts found in God's Word have the law of planting and harvesting built into them. If you plant good seeds in life, you will reap a bountiful harvest of good. The opposite is also true. Over the course of our lives, we will harvest what we plant. Each week we will explore a full chapter in Proverbs. I hope that you will join us next week for Chapter 31 so that you can gain wisdom, insight, and understanding for yourself.
The entire book of Proverbs provides us with rich wisdom, insight, and understanding on a myriad of life issues. Regardless of where you are in your faith walk, if you follow the precepts in Proverbs, your life will be rich and satisfying. I encourage you to take them and plant the seeds of wisdom in your heart so that you will reap a harvest of wisdom throughout your life.
Tomorrow we will continue with our 3-minute wisdom nugget that will provide you with a bit of wisdom that, if followed will allow you to grow healthier, wealthier, and wiser each day. So encourage your friends and family to join us and then come along with us tomorrow for another day of our Wisdom-Trek, Creating a Legacy.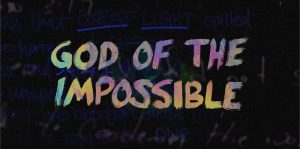 That will finish our trek for today. If you would like to listen to any of the past daily treks or read the associated journals, they are all available at Wisdom-Trek.com. You can also subscribe through iTunes or Google Play so that each day's trek will be downloaded automatically.
Thank you for allowing me to be your guide, mentor, and most of all your friend as I serve you through the Wisdom-Trek podcast and journal.
As we take this trek of life together, let us always:
Live Abundantly (Fully)
Love Unconditionally
Listen Intentionally
Learn Continuously
Lend to others Generously
Lead with Integrity
Leave a Living Legacy Each Day
This is Guthrie Chamberlain reminding you to Keep Moving Forward, Enjoy Your Journey, and Create a Great Day Every Day! See you tomorrow!