Listen to the Wisdom-Trek episode for today
Get Updates About Wisdom-Trek
Podcast: Play in new window | Download
Subscribe: Apple Podcasts | Android | Email | Google Podcasts | Stitcher | Spotify | RSS | More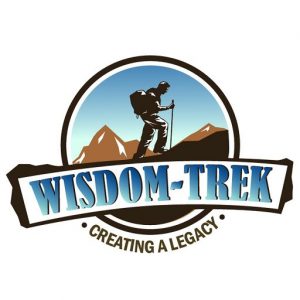 Wisdom-Trek / Creating a Legacy
Welcome to Day 664 of our Wisdom-Trek, and thank you for joining me.
This is Guthrie Chamberlain, Your Guide to Wisdom
You and I Can Change Our World – Mindshift Monday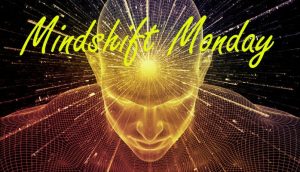 Thank you for joining us for our 5 days per week wisdom and legacy building podcast. This is Day 664 of our trek, and it is time for our Mindshift Monday series. Wisdom-Trek's primary focus is to assist you in creating your living legacy.
Creating your living legacy can only be accomplished by gaining wisdom in many areas of life. You can only gain wisdom by changing what you allow to go into your mind which is a result of changing the way you think.
Our world is changing rapidly, and we must keep up with those changes if we are to remain relevant. In other words, to create your living legacy, you must choose to be in a continual mode of mindshift. It is easy to get stuck in a mindset that your current circumstances cannot be changed. This is not true, but you must understand this fundamental principle…In order to change your life, you must change how you think and what you think about. Our Mindshift Monday podcast and journal will be to provide you practical ways to make a mindshift to a rich and satisfying life. 
We are broadcasting from our studio at The Big House in Marietta, Ohio. Our granddaughter Hazel is continuing her chemo treatments through August before they switch to a different regimen in September. The oncology staff has prepared Elizabeth and Nat by telling them to enjoy the remainder of August by including some fun activities for the family because the next phase is going to be more difficult for Hazel. Just like the recent major events in our lives are changing how we view our world and consider life, you never know what may be part of your next season of life. When you are in continual mindshift mode, you are preparing yourself to adapt to and accept these changes, whether they are pleasant or not.
It is also our choosing to have the mindset that life is about encouraging one another to live to our God-given potential. God desires you to make a difference in your world, but it may require that we help each other. So on our trek today have a mindshift that will help you realize that…
You and I Can Change Our World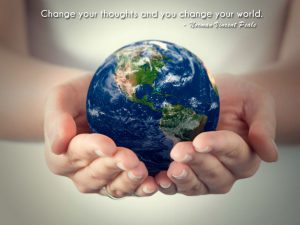 I remember a story from days gone by about a 10-year-old boy who was selling pencils door to door in his neighborhood. When an interested adult at one of the houses asked him the reason for selling pencils, he replied, "I want to raise six million dollars to build a new hospital for the city."
Amazed at his answer, the inquiring adult exclaimed, "That's a mighty big job for just one little boy, isn't it?"
"No," responded the 10-year-old with big dreams. "I have a friend who is helping me."
The world God created is a big and beautiful place in which to live. Unfortunately, humanity has somewhat ruined the world, and that needs to be changed. The task is large and would be difficult for any one of us to make a huge impact. I don't think I can change it myself. I need your help! You might ask, just me? That's right, just you.
We must change with the times through a continual mindshift, but the real question is…Are we big enough to actually change the times? George Bernard Shaw said, "The reasonable man adapts himself to the world; the unreasonable man attempts to adapt the world to himself.  Therefore, all progress depends on the unreasonable man." The Apostle Paul put it this way in Romans 12:2, "Don't copy the behavior and customs of this world, but let God transform you into a new person by changing the way you think. Then you will learn to know God's will for you, which is good and pleasing and perfect."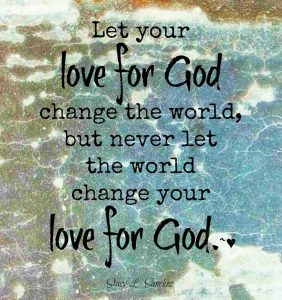 If you and I are willing to be unreasonable by transforming our thinking, perhaps we can change our world. You see, history has been altered in time past by various groups of people. Here are some examples of how history was changed:
By 50,000 – 1 Chronicles [12:33]
From the tribe of Zebulun, there were 50,000 skilled warriors. They were fully armed and prepared for battle and completely loyal to David.
If 50,000 cannot be found to change the world how about:
Yet I will preserve 7,000 others in Israel who have never bowed down to Baal or kissed him!"
If 7,000 cannot be found to change the world how about:
By 300 – Judges 7:7
The Lord told Gideon, "With these 300 men I will rescue you and give you victory over the Midianites. Send all the others home."
If 300 cannot be found to change the world how about:
During this time, when about 120 believers were together in one place, Peter stood up and addressed them.
If 120 cannot be found to change the world how about:
By 50 – Robert E. Speer said in 117. "If fifty men in our congregation can be found who will enter the holy place of prayer and become henceforth men whose hearts God has touched with prayer passion, the history of the church will be changed."
If 50 cannot be found to change the world how about:
By 10 – Dwight L. Moody said, "If ten men will give themselves completely to the will of God, they will be able to change the world.  In a discussion between God and Abraham God clarifies his willingness to use just 10 persons. – Genesis [18:32]
Finally, Abraham said, "Lord, please don't be angry with me if I speak one more time. Suppose only ten are found there?" And the Lord replied, "Then I will not destroy it for the sake of the ten."
If 10 cannot be found to change the world how about:
By 2 – Jesus told us this in Matthew [18:19]
"I also tell you this: If two of you agree here on earth concerning anything you ask, my Father in heaven will do it for you.You see, two people can change the world.  Will you join me?  God needs both of us and wants to use us because you and I can change the world.  This will require that we are both be in continual Mindshift Mode.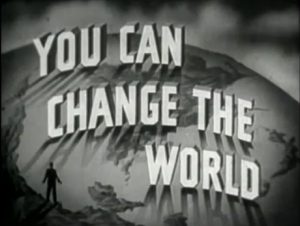 With these thoughts in mind, we will conclude our trek for today and as we do, let's make a mindshift change that we can change the world.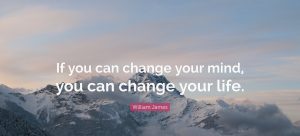 Next week we will continue our trek of Mindshift Monday. On tomorrow's trek, we will explore another wisdom quote. This 3-minute wisdom supplement will assist you in becoming healthy, wealthy and wise each day. Thank you for joining me on this trek called life. Encourage your friends and family to join us and then come along tomorrow for another day of our Wisdom-Trek, Creating a Legacy.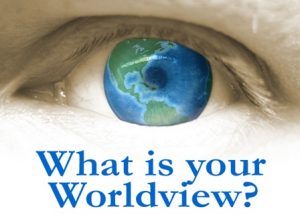 If you would like to listen to any of our past treks or read the Wisdom Journal, they are available at Wisdom-Trek.com. You can also subscribe at iTunes or Google Play so that each day's trek will be downloaded automatically.
Thank you so much for allowing me to be your guide, mentor, and most of all your friend as I serve you through the Wisdom-Trek podcast and journal.
As we take this trek of life together, let us always:
Live Abundantly (Fully)
Love Unconditionally
Listen Intentionally
Learn Continuously
Lend to others Generously
Lead with Integrity
Leave a Living Legacy Each Day
This is Guthrie Chamberlain reminding you to Keep Moving Forward, Enjoy Your Journey, and Create a Great Day Every Day! See you tomorrow!