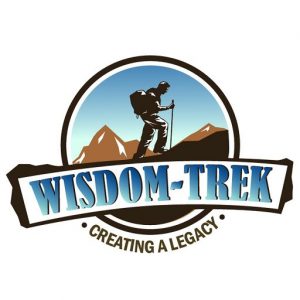 Wisdom-Trek / Creating a Legacy
Welcome to Day 938 of our Wisdom-Trek, and thank you for joining me.
This is Guthrie Chamberlain, Your Guide to Wisdom
The Enneagram System – The Continuum of the Levels of Development – Ask Gramps

Thank you for joining us for our five days per week wisdom and legacy building podcast. This is Day 938 of our trek, and it is time for our Philosophy Friday series. Each Friday we will ponder some of the basic truths and mysteries of life and how they can impact us in creating our living legacy.
As we continue on this trek called life, sometimes we have questions about life, so our Friday trek is a time when we can "Ask Gramps." Gramps will answer questions that you would like to ask your dad or granddad, but for whatever reason are unable to.  No matter how old we are, I know that all of us would like the opportunity to ask dad or gramps questions about life in many areas.
Today is the fifth episode in a new series delving into what makes each of us respond as we do to life situations. Understanding ourselves and how others may interpret life through their paradigm will allow us to interact with each other with more love and compassion. We can do this utilizing a profound tool call "The Enneagram." If you have missed any of our past four Friday series, I would recommend going back and listening to them or reading the Wisdom Journals.
As a review, the tool that we refer to as the Enneagram (Any-a-Gram) is a circle with 9 interconnected points (Ennea refers to 9, and Gram refers to a drawing). Check out today's Wisdom Journal for a representation of it. I have also included a copy of "The Enneagram At-A-Glance" below that was compiled by Suzanne H Eller. If you would like a PDF copy of it, click on the link.
I would also recommend a recently released book The Road Back to You written by Ian Morgan Cron and Suzanne Stabile. It is an excellent book about an enneagram journey to self-discovery.
When I discovered the depth of the Enneagram, it opened up a new horizon of understanding of myself first and also helped me to understand others better. The Enneagram is the most useful tool of this type I've encountered for personal growth. We are exploring this tool in detail, and I would recommend also reviewing the diagrams presented in the journals each week.
If you have any questions or would like additional resources, please send me a message from the Wisdom Journal page, and I will reply. As helpful as the Enneagram is, keep in mind though, it is still only a tool, and cannot replace or usurp the precepts that are found in God's Word. All decisions and actions that we make in life must be in harmony with God's precepts.
So the questions for the next several weeks or months will be…
"Hey, Gramps, why do people act and react to situations and circumstances in life differently? How can I gain wisdom to better understand myself and others so that I can love, serve, and minister to them on a deeper level?"
The Enneagram System – The Continuum of the Levels of Development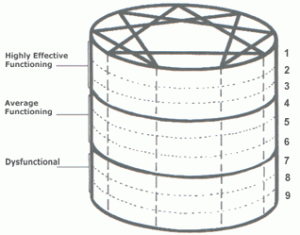 The continuum is comprised of nine internal Levels of Development—briefly, there are three Levels in the healthy section, three Levels in the average section, and three Levels in the unhealthy section. It may help you to think of the continuum of Levels as a photographer's grayscale which has gradations from pure white to pure black with many shades of gray in between.
On the continuum, the healthiest traits appear first, at the top, so to speak. As we move down the continuum in a spiral pattern, we progressively pass through each Level of Development marking a distinct shift in the personality's deterioration to the pure black of psychological breakdown at the bottom. The continuum for each of the personality types can be seen in the following diagram.
The Continuum of the Levels of Development
Healthy
Level 1: The Level of Liberation
Level 2: The Level of Psychological Capacity
Level 3: The Level of Social Value
Average
Level 4: The Level of Imbalance/ Social Role
Level 5: The Level of Interpersonal Control
Level 6: The Level of Overcompensation
Unhealthy
Level 7: The Level of Violation
Level 8: The Level of Obsession and Compulsion
Level 9: The Level of Pathological Destructiveness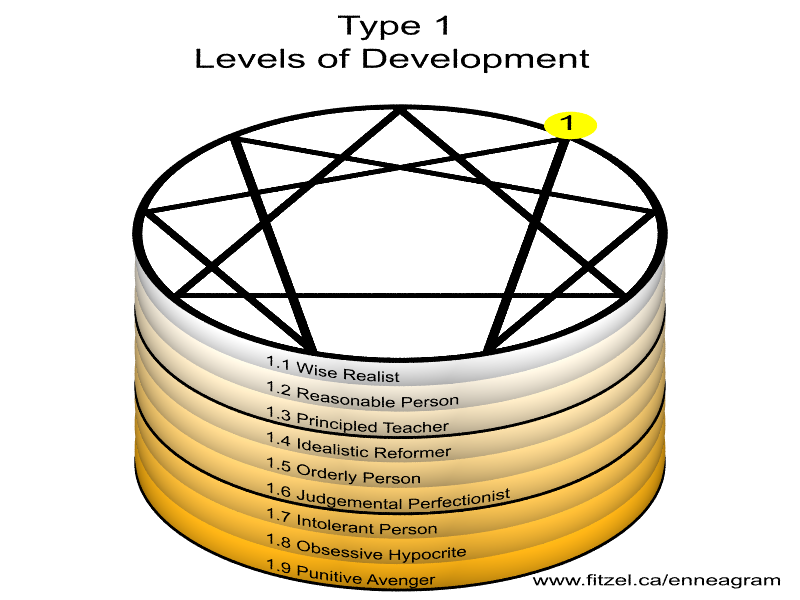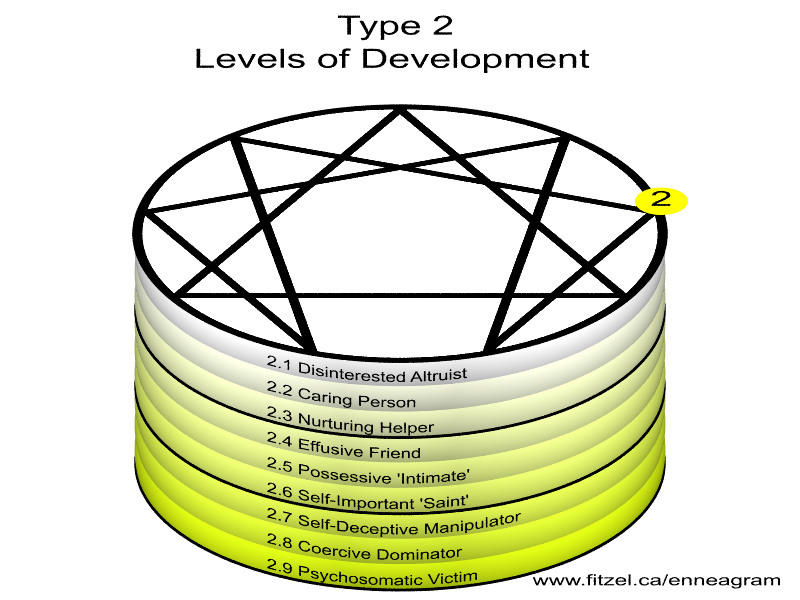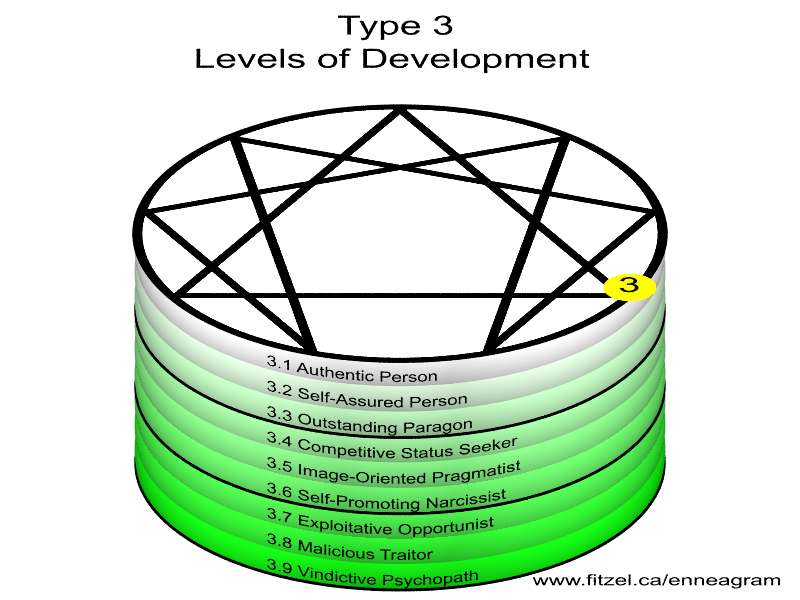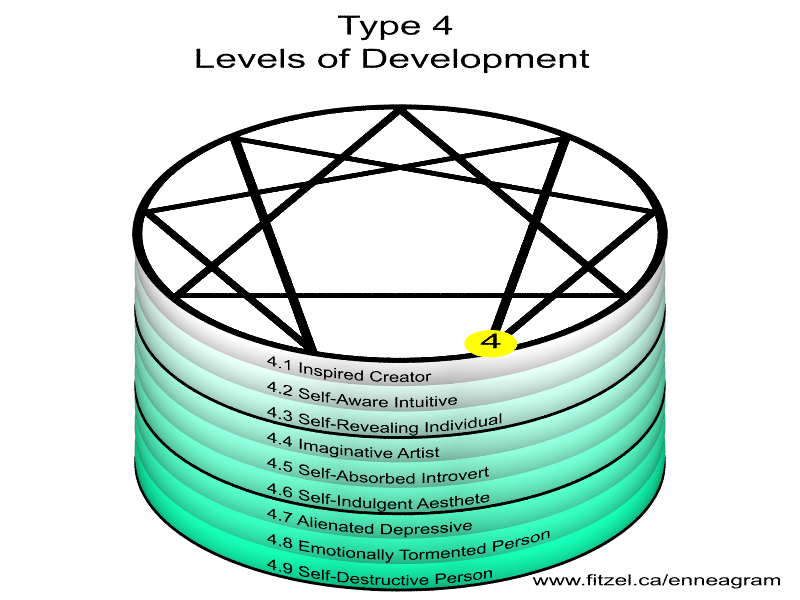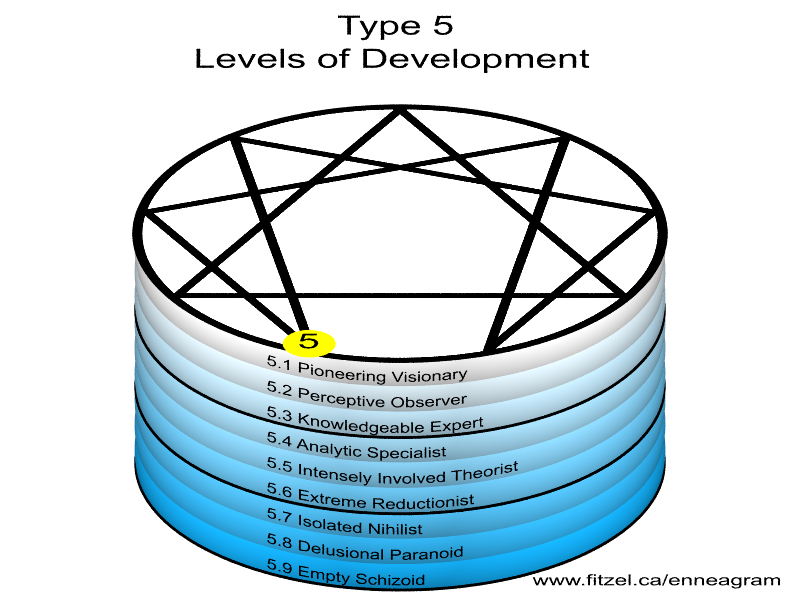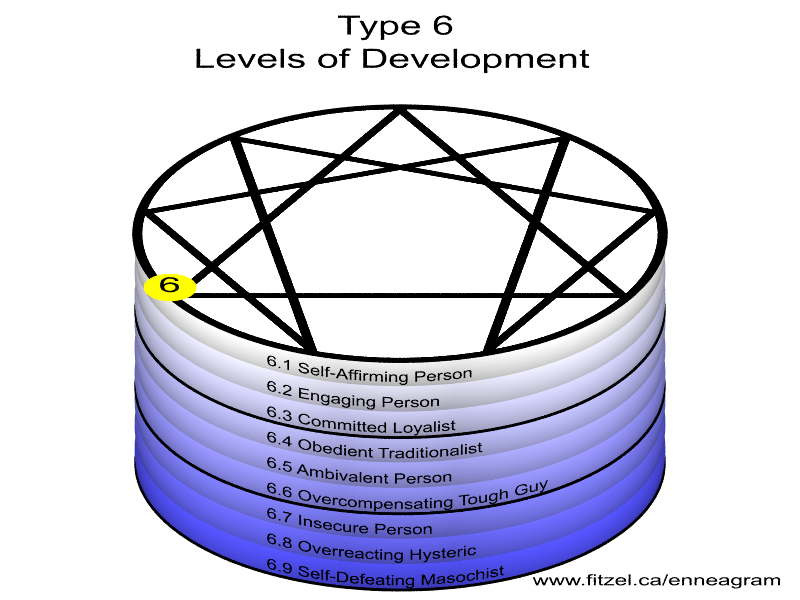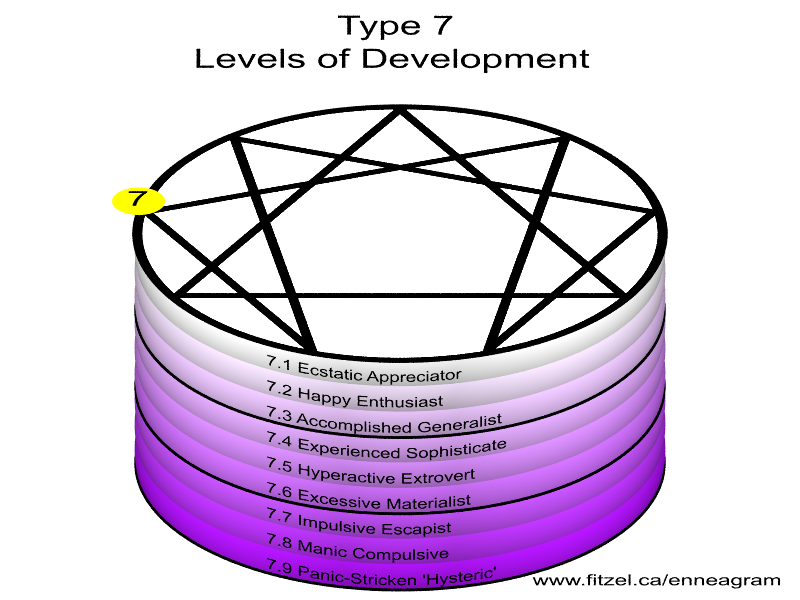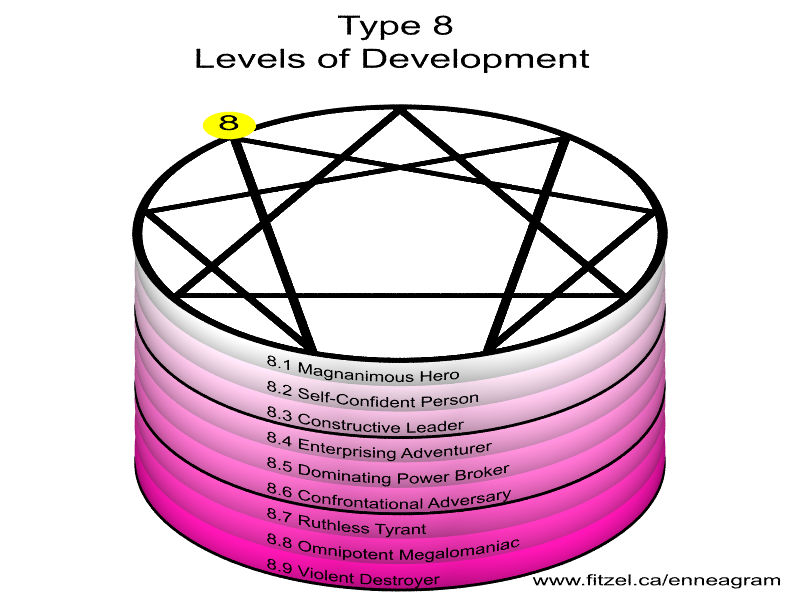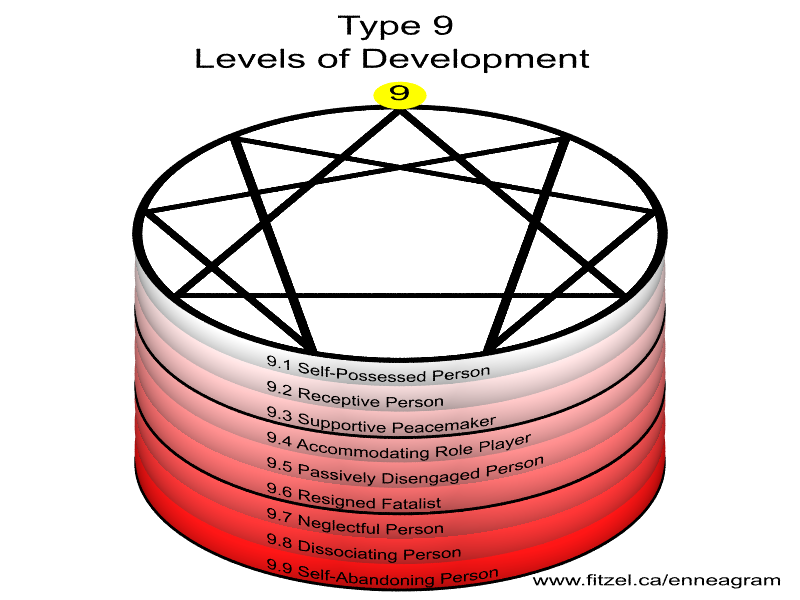 At each Level, significant spiritual and psychological shifts occur as is indicated by the title mentioned here. For example, at Level 5, the Level of Interpersonal Control, the person is trying to manipulate himself and others to get his or her spiritual and psychological needs met. This invariably creates interpersonal conflicts. By this Level, the person has also fully identified with the ego and does not see himself as anything more than that: the ego must, therefore, be increasingly defended and inflated for the person to feel safe and to keep their identity intact.
If this activity does not satisfy the person, and anxiety increases, he or she may deteriorate to the next state, Level 6, the Level of Overcompensation, where their behavior will become more intrusive and aggressive as they continue to pursue their ego-agenda. Anxiety is increasing, and the person is increasingly disruptive, and focused on getting his needs met, regardless of the impact on people around them.
One of the most profound ways of understanding the Levels is as a measure of our capacity to be present. The more we move down the Levels, the more identified we are with our ego and its increasingly negative and restrictive patterns. Our personality becomes more defensive, reactive, and automatic— and we consequently have less and less real freedom and less real consciousness. As we move down the Levels, we become caught in more compulsive, destructive actions, which are ultimately self-defeating.
By contrast, the movement toward health, up the Levels, is simultaneous with being more present and awake in our soul, minds, hearts, and bodies. As we become more present, we become less fixated in the defensive structures of our personality and are more attuned and open to ourselves and our environment and what God's design is for our lives. We see ourselves and personality objectively in action rather than "falling asleep" to our automatic mindset and personality patterns. There is, therefore, the possibility of "not doing" falling into a damaging mindset and personality and of gaining some real distance from the negative consequences of getting caught in it.
As we become more present, we see ourselves and personality traits more objectively, and the Levels become a continuous guide to self-observation, a map that we can use to chart where we are in our psycho-spiritual development at any given time. As we move "up" the Levels, we discover that we are freer and less driven by compulsive, unconscious drives and, therefore, are able to act more effectively and spirit-lead in all areas of our lives, including in our relationships. When we are less identified with our old mindset and personality, we find that we respond as needed to whatever life presents, actualizing the positive potentials in all nine types, bringing real peace, creativity, strength, joy, compassion, and other positive qualities to whatever we are doing.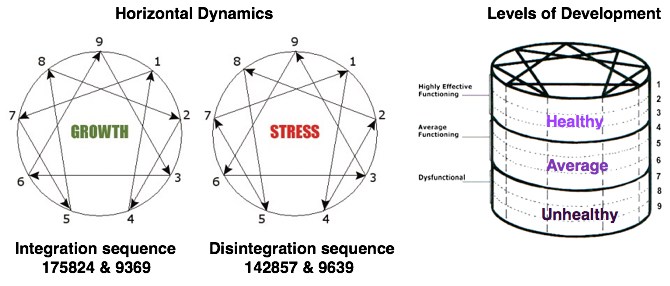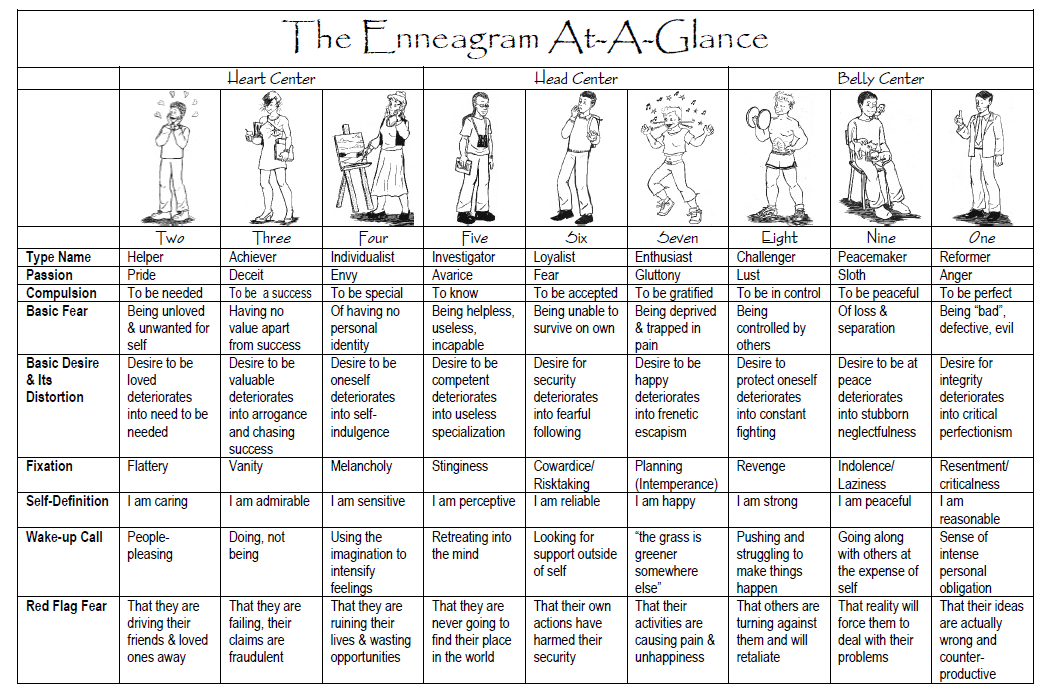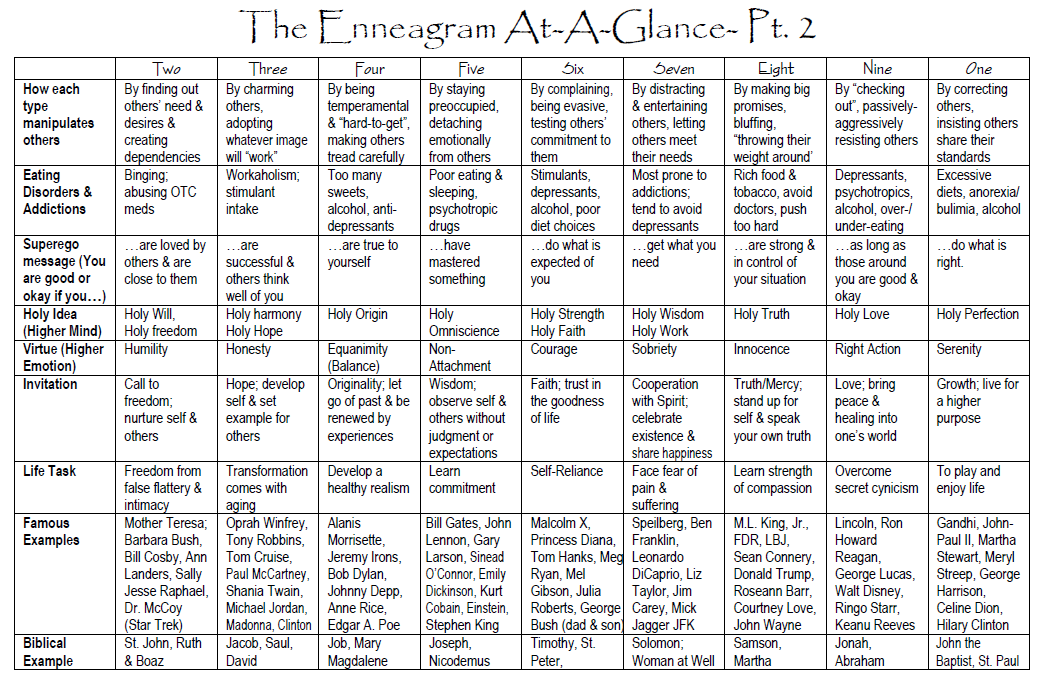 Download the Enneagram-At-A-Glance in PDF Format
Next Friday we will begin an overview of the "Direction of Growth and Stress" and how they are crucial in understanding ourselves and others more fully.
While the Enneagram is a powerful tool to help us grow spiritually, understand ourselves better, and also understand the perspective of others better, ultimately it should drive us to have more love and compassion both for ourselves and others. As we are encouraged in Ephesians 4:14-16, "Then we will no longer be immature like children. We won't be tossed and blown about by every wind of new teaching. We will not be influenced when people try to trick us with lies so clever they sound like the truth.  Instead, we will speak the truth in love, growing in every way more and more like Christ, who is the head of his body, the church. He makes the whole body fit together perfectly. As each part does its own special work, it helps the other parts grow, so that the whole body is healthy and growing and full of love."
Join us again next Friday as we further explore the Enneagram on our Ask Gramps episode. The information that we explore will allow you to unlock who you are as we travel on our trek of life and discover more about yourself and others as you impact God's kingdom. I know you will find these insights interesting, practical, and profitable in living a rich and satisfying life.
Our next trek is Mediation Monday when we will help you reflect on what is most important in life. So encourage your friends and family to join us and then come along on Monday for another day of our Wisdom-Trek, Creating a Legacy.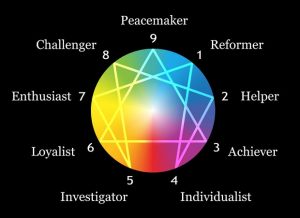 If you would like to listen to any of the past 937 daily treks or read the associated journals, they are all available at Wisdom-Trek.com. I encourage you to subscribe to Apple Podcast or Google Podcast so that each day's trek will be downloaded automatically.
Thank you for allowing me to be your guide, mentor, and most of all your friend as I serve you through the Wisdom-Trek podcast and journal.
As we take this trek together, let us always:
Live Abundantly (Fully)
Love Unconditionally
Listen Intentionally
Learn Continuously
Lend to others Generously
Lead with Integrity
Leave a Living Legacy Each Day
I am Guthrie Chamberlain reminding you to Keep Moving Forward, Enjoy Your Journey, and Create a Great Day Everyday! See you on Monday!