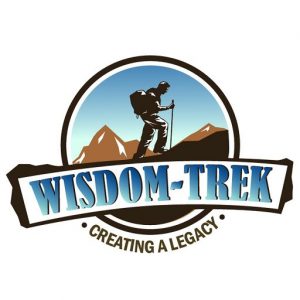 Wisdom-Trek / Creating a Legacy
Welcome to Day 918 of our Wisdom-Trek, and thank you for joining me.
This is Guthrie Chamberlain, Your Guide to Wisdom
What Is the Enneagram? – Ask Gramps

Thank you for joining us for our five days per week wisdom and legacy building podcast. This is Day 918 of our trek, and it is time for our Philosophy Friday series. Each Friday we will ponder some of the basic truths and mysteries of life and how they can impact us in creating our living legacy.
As we continue on this trek called life, sometimes we have questions about life, so our Friday trek is a time when we can "Ask Gramps." Gramps will answer questions that you would like to ask your dad or granddad, but for whatever reason are unable to. No matter how old we are, I know that all of us would like the opportunity to ask dad or gramps questions about life in many areas.
Starting this week, we are beginning a new series delving into what makes each of us respond as we do to life situations. Understanding this and how others may interpret life through their paradigm will allow us to interact with each other with love and compassion. We are going to take a deep dive into an ancient tool of wisdom that many scholars feel is based on a Christian perspective dating back to the early centuries after when Christ was on earth.
This tool is referred to as the Enneagram (Any-a-Gram) which refers to its 9 points (Ennea refers to 9, and Gram referring to a drawing). You can see a representation of the drawing below. We will start with a brief overview today, and with each subsequent "Ask Gramps" episode, we will do a deep dive into its strengths and potential weaknesses. This tool has experienced a very strong interest growth during the past 20 years and is now being taught in many Christian based ministries.
We are broadcasting from our studio at The Big House in Marietta, Ohio. Throughout the years Paula and I have both used and marketed personality profile tools such and DISC, Myers Briggs, and Profiles International as hiring and management tools. While we think these tools are very useful, especially in a business or ministry situation, we also found that they were somewhat limited and focused primarily on outward personality traits and not core behavior traits.
When I started to discover the depth of the Enneagram, it opened up a new horizon of understanding of myself first, and is helping me to understand others better. The Enneagram is the most useful tool of this type I've encountered for personal growth.  Keep in mind though, it is still only a tool, and cannot replace or usurp the precepts that are found in God's Word.   The questions for the next several week or months will be…
"Hey, Gramps, what makes certain people act and react to situations and circumstances in life? How can I gain wisdom to better understand myself and others so that I can love, serve, and minister to them on a deeper level?"
What Is the Enneagram?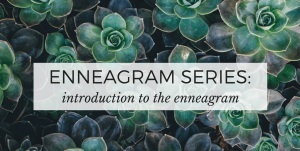 At first glance, the Enneagram might look like another "personality test," and personality factors significantly into it. But it goes much deeper than that. It helps us see core fears, motivations, desires, strengths, blind spots, stressors, and sins that most often trip us up. When used in Christian contexts, it shows us aspects of God's character and connects us more closely to the truth that we are made to be image bearers of Him and are to reflect him in the world.
As you can see from the symbol that is found in the Wisdom Journal for today, the Enneagram contains nine spaces or types, with each number representing a dominant personality, mindset, and core worldview. Each space also has a primary strength or gift that reflects an attribute of God and a primary struggle that emerges in insecurity or unhealthy behaviors.
These one-word descriptors can be expanded into four-word sets of traits. Keep in mind that these are merely highlights and do not represent the full spectrum of each type.
The Reformer or Perfectionist is principled, purposeful, self-controlled, and perfectionistic.
The Helper is generous, demonstrative, people-pleasing, and possessive.
The Achiever or Performer is adaptable, excelling, driven, and image-conscious.
The Individualist or Romantic is expressive, dramatic, self-absorbed, and temperamental.
The Investigator is perceptive, innovative, secretive, and isolated.
The Loyalist is engaging, responsible, anxious, and suspicious.
The Enthusiast is spontaneous, versatile, acquisitive, and scattered.
The Challenger is self-confident, decisive, willful, and confrontational.
The Peacemaker is receptive, reassuring, complacent, and resigned.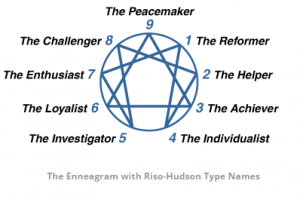 Sometimes the language of "true self" and "false self" is used for the gifts and blind spots of each type, with the true self representing who we are when we are self-aware, healthy, rooted in our identity in Christ, and living from a place of freedom in being fully who He created us to be. The false self comes out when we try to prove our worth by exploiting our gifts—using them in ways other than they are meant to be used—or taking control of people and situations instead of finding our security in the truth of God's unconditional love for us. The Enneagram thus gives us a picture of the really valuable gifts we have to offer each other when we are living as our true self, healthy and whole, as well as makes us aware of the unhealthy places and habits we are prone to depending on when we're stressed or afraid.
All of us fit into one of the nine spaces, though it often takes time to discern which one is our dominant number, and we may have characteristics of several numbers. And of course, every person is also unique and thus will experience their number and the world a bit differently. In addition to the individual types, numbers have connections to each other. One of those connections is the triads of the Enneagram. The nine spaces create three triads that also have distinct characteristics, with Eight, Nine, and One forming what's often called "The Gut Triad," Two, Three, and Four forming "The Heart Triad," and Five, Six, and Seven forming "The Head Triad."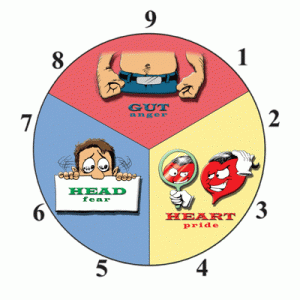 · How Do I Figure Out Which Number I Am?
Some of you may already know your number or may immediately be able to identify yourself when you read a bit more about each space. But part of the distinctiveness of the Enneagram is that it is meant to be discerned over time through prayer, conversation with others who know us, reading, and attention.
Tests do exist that might help you figure out what number you are, but if you don't already know your blind spots, you may not be able to provide very accurate answers to the questions, and thus the results can be misleading. Again, it's much better to pay attention to what parts of what types seem to resonate most in the way you see the world and live out your days. Good friends and family members can be invaluable helps in this process, reflecting back to you what they see when they think about what motivates you, what you react to, what you struggle with, and what gifts you bring to relationships and situations.
Even just looking at the triads as a starting point, to narrow down the possibilities. One overall triad often resonates more than the other two.
· A Few Words of Caution
First, it's true—a cursory glance at the Enneagram could make it seem like one more narcissistic tool that gives us permission to look down on others. On the other end of the spectrum, it could lead us to a place of despair or paralysis as we see our blind spots—and the ways those blind spots hurt others and keep us from God's love—exposed and called out. Especially if you are a One and prone toward perfectionism. It is not uncommon for people to wish they were a different type as they begin to discover the many ways the false self comes out in their daily life.
But the Enneagram is meant to be a tool that frees us from the false self and opens us up more deeply to the transforming work of God's Spirit. From there, it becomes a tool that allows us to love others more effectively with more compassion, understanding, and intention. We have to understand that our blind spots are powerful deterrents to our spiritual growth—to the extent that if we remain unaware of what is motivating us, we are not free…If I am hiding behind a blind spot, I am unconsciously trying to keep God, others, and myself from the love that God offers. Knowledge of the Enneagram has led me into self-awareness that has drawn me closer to the heart of God.
Like any tool used for change, action is required; knowledge about ourselves is not enough. The Enneagram leads to deep soul work. But, in highlighting our false-self tendencies and blind spots, it gives us direction for our action and provides invitations that lead to growth and freedom.  This should assist us as we gain wisdom on our trek of life.
Second, the point of the Enneagram is never to stereotype others or judge them. Each person is unique and thus will live out of their space in different ways than others of the same number. We are all in process, struggling to move toward health. Knowing someone's number as they are willing to share it with us tells us some things about them, but we still always have to get to know them without making assumptions and see them as an individual who, like us, is constantly moving back and forth between their false self and true self throughout any given day, and thus needs grace.
The Enneagram, when used as intended, helps us have compassion for others and love them better as we learn to own the (sometimes ugly) truth it reveals about our own hearts and receive Christ's compassion for our struggle as well as his transformation. No one has mastered their number (nor can we), and we are all, always, in need of God's mercy, forgiveness, and healing.
Third, the Enneagram is not a one-stop-shop or a quick-fix tool. It's not magical or mystical. It is, as I've said, simply a tool for growth, developed by ancient and contemporary wisdom, that, like other discipleship resources, can lead to deep insights about ourselves, our relationships, and God by opening our hearts in new ways to the Spirit's work of moving us from the "old self" to the "new self" as Paul talks about in 2 Corinthians. The framework helps us see ourselves as we are and as we could be if we allow God to continually renew us and form us into people who are healthy and whole, and who reflect their Maker in glorious ways.
As with all that, we do on this trek of life let us follow 1 Corinthians 10:31, "So whether you eat or drink, or whatever you do, do it all for the glory of God."
Next week we will begin to drill down on the points of the Enneagram on our "Ask Gramps" episode. The information that we explore will allow you to unlock who you are as we travel on our trek of life and discover more about yourself and others as you impact God's kingdom. I know you will find these insights interesting, practical, and profitable in living a rich and satisfying life.
Our next trek is Mediation Monday when we will help you reflect on what is most important in life. So encourage your friends and family to join us and then come along on Monday for another day of our Wisdom-Trek, Creating a Legacy.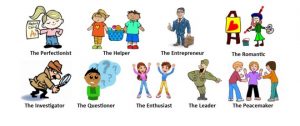 If you would like to listen to any of the past 917 daily treks or read the associated journals, they are all available at Wisdom-Trek.com. I encourage you to subscribe to Apple Podcast or Google Play so that each day's trek will be downloaded automatically.
Thank you so much for allowing me to be your guide, mentor and most of all your friend as I serve you through the Wisdom-Trek podcast and journal.
As we take this trek together, let us always:
Live Abundantly (Fully)
Love Unconditionally
Listen Intentionally
Learn Continuously
Lend to others Generously
Lead with Integrity
Leave a Living Legacy Each Day
I am Guthrie Chamberlain reminding you to Keep Moving Forward, Enjoy Your Journey, and Create a Great Day Everyday! See you on Monday!