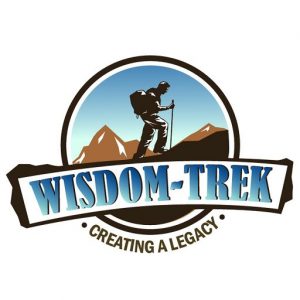 Wisdom-Trek / Creating a Legacy
Welcome to Day 1108 of our Wisdom-Trek, and thank you for joining me.
This is Guthrie Chamberlain, Your Guide to Wisdom
Why Do We Call It Good Friday – Ask Gramps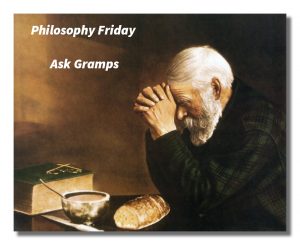 Wisdom – the final frontier to true knowledge. Welcome to Wisdom-Trek where our mission is to create a legacy of wisdom, to seek out discernment and insights, and to boldly grow where few have chosen to grow before.
Hello, my friend, I am Guthrie Chamberlain, your captain on our journey to increase wisdom and create a living legacy. Thank you for joining us today as we explore wisdom on our 2nd millennium of podcasts. This is Day 1108 of our trek, and it is time for our Philosophy Friday series. Each Friday we ponder some of the basic truths and mysteries of life and how they can impact us in creating our living legacy.
As we continue on this trek called life, sometimes we have questions about life, so our Friday trek is a time when we can "Ask Gramps." Gramps will answer questions that you would like to ask your dad or granddad, but for whatever reason are unable to. No matter how old we are, I know that all of us would like the opportunity to ask dad or gramps questions about life in many areas.
We may mix it up a bit on our Friday episodes but will strive to keep them down to earth and enjoyable. If you have any questions that you would like to ask Gramps, please email them to guthrie@wisdom-trek.com.
So the question for this week is…
"Hey, Gramps, the crucifixion of Christ was horrible, so why do we call that day Good Friday?"
Why Do We Call It Good Friday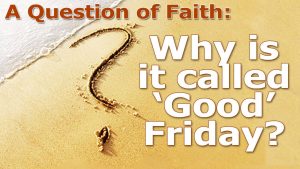 What is Good Friday and why do we call Good Friday "good," when it is such a dark and bleak event commemorating a day of suffering and death for Jesus?
For Christians, Good Friday is a crucial day of the year because it celebrates what we believe to be the most momentous weekend in the history of the world. Ever since Jesus died and was raised, Christians have proclaimed the cross and resurrection of Jesus to be the decisive turning point for all creation. Paul considered it this way in 1 Corinthians 15:3, "I passed on to you what was most important and what had also been passed on to me. Christ died for our sins, just as the Scriptures said."
On Good Friday we remember the day Jesus willingly suffered and died by crucifixion as the ultimate sacrifice for our sins (1 John 1:10). It is followed by Easter, the glorious celebration of the day Jesus was raised from the dead, heralding his victory over sin and death and pointing ahead to a future resurrection for all who are united to him by faith (Romans 6:5).
Still, why call the day of Jesus' death "Good Friday" instead of "Bad Friday" or something similar? Some Christian traditions do take this approach: in German, for example, the day is called Karfreitag, or "Sorrowful Friday." In English, in fact, the origin of the term "Good" is debated: some believe it developed from an older name "God's Friday."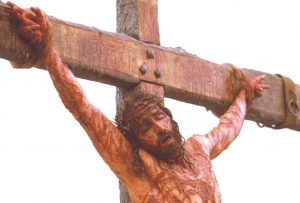 Regardless of the origin, the name Good Friday is entirely appropriate because the suffering and death of Jesus, as terrible as it was, marked the dramatic culmination of God's plan to save his people from their sins.
In order for the good news of the gospel to have meaning for us, we first have to understand the bad news of our condition as sinful people under condemnation. The good news of deliverance only makes sense once we see how we are enslaved. Another way of saying this is that it is important to understand and distinguish between law and gospel in Scripture. We need the law first to show us how hopeless our condition is; then the gospel of Jesus' grace comes and brings us relief and salvation.
In the same way, Good Friday is "good" because as terrible as that day was, it had to happen for us to receive the joy of Easter. The wrath of God against sin had to be poured out on Jesus, the perfect sacrificial substitute, in order for forgiveness and salvation to be poured out to the nations. Without that awful day of suffering, sorrow, and shed blood at the cross, God could not be both "just and the justifier" of those who trust in Jesus (Romans [3:26]). Paradoxically, the day that seemed to be the greatest triumph of evil was actually the deathblow in God's gloriously good plan to redeem the world from bondage.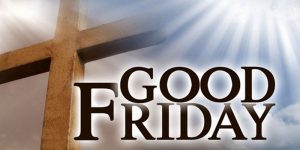 The cross is where we see the convergence of great suffering and God's forgiveness. Psalm 85:10 sings of a day when "righteousness and peace" will "kiss each other." The cross of Jesus is where that occurred, where God's demands and his righteousness, coincided with his mercy. We receive divine forgiveness, mercy, and peace because Jesus willingly took our divine punishment, the result of God's righteousness against sin. "For the joy set before him" (Hebrews 12:2) Jesus endured the cross on Good Friday, knowing it led to his resurrection, our salvation, and the beginning of God's reign of righteousness and peace.
The Spirit of God, who raised Jesus from the dead, lives in you. And just as God raised Christ Jesus from the dead, he will give life to your mortal bodies by this same Spirit living within you.
Good Friday marks the day when wrath and mercy met at the cross. That's why Good Friday is so dark and so good.
Join us again next Friday for another question on our "Ask Gramps" episode. Our next trek is Mediation Monday when we will help you reflect on what is most important in life. So encourage your friends and family to join us and then come along on Monday for another day of our Wisdom-Trek, Creating a Legacy.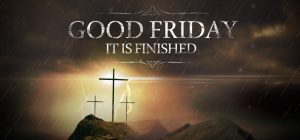 If you would like to listen to any of the past 1107 daily treks or read the associated journals, they are all available at Wisdom-Trek.com. I encourage you to subscribe to Wisdom-Trek on your favorite podcast player so each day will be downloaded to you automatically.
Thank you for allowing me to be your guide, mentor, and most of all your friend as I serve you through the Wisdom-Trek podcast and journal.
As we take this trek together, let us always:
Live Abundantly (Fully)
Love Unconditionally
Listen Intentionally
Learn Continuously
Lend to others Generously
Lead with Integrity
Leave a Living Legacy Each Day
I am Guthrie Chamberlain reminding you to Keep Moving Forward, Enjoy Your Journey, and Create a Great Day Everyday! See you on Monday!