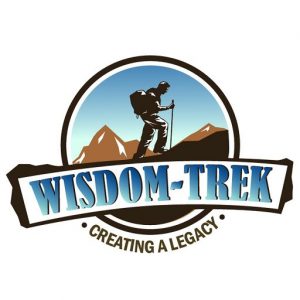 Wisdom-Trek / Creating a Legacy
Welcome to Day 871 of our Wisdom-Trek, and thank you for joining me.
I am Guthrie Chamberlain, Your Guide to Wisdom
Love Potion: Numbers 5 – Wisdom Wednesday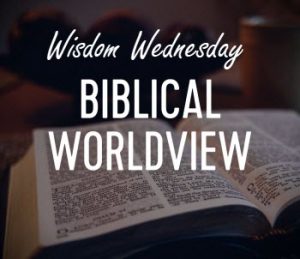 Thank you for joining us for our five days per week wisdom and legacy building podcast. Today is Day 871 of our trek, and it is Wisdom Wednesday. The past several months on Wednesday we have been focusing on interpreting current events through a Biblical worldview.
To establish a Biblical Worldview, it is important that you also have a proper understanding of God's word. Especially in our western cultures, we do not fully understand the Scriptures from the mindset and culture of the authors. In order to help us all have a better understanding of God's word, we are investing the next several months on Wednesday reviewing a series of essays from one of today's most prominent Hebrew Scholars Dr. Micheal S. Heiser which he has compiled into a book titled I Dare You Not to Bore Me with the Bible.
We are broadcasting from our studio at The Big House in Marietta, Ohio. Since the beginning of human history, people have been searching for a love potion. There is little verifiable proof that there are any secret potions. There is an odd potion found in the Old Testament, though, that seems a bit strange. In today's essay, we want to look at Numbers 5 where God gave Moses the recipe for what we will call…
Love Potion: Numbers 5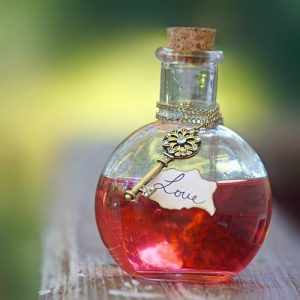 When's the last time you heard a sermon on Numbers [5:11]-31?
One of the things that Dr. Heiser enjoys telling people in conversations about Bible study is that "If it's weird, it's probably important." This passage certainly qualifies in both respects. The strangeness of the passage is easily detectable, but only careful Bible study makes its importance apparent.
Numbers [5:11]-31 describes a water ritual to determine the guilt or innocence of a woman suspected of adultery. Let me read this passage so you will have a bit of understanding on this strange ritual. This section of Scripture is called…
· Protecting Marital Faithfulness
And the Lord said to Moses, "Give the following instructions to the people of Israel."
Suppose a man's wife goes astray, and she is unfaithful to her husband and has sex with another man, but neither her husband nor anyone else knows about it. She has defiled herself, even though there was no witness and she was not caught in the act.  If her husband becomes jealous and is suspicious of his wife and needs to know whether or not she has defiled herself, the husband must bring his wife to the priest. He must also bring an offering of two quarts of barley flour to be presented on her behalf. Do not mix it with olive oil or frankincense, for it is a jealousy offering—an offering to prove whether or not she is guilty.
 The priest will then present her to stand trial before the Lord.  He must take some holy water in a clay jar and pour into it dust he has taken from the Tabernacle floor.  When the priest has presented the woman before the Lord, he must unbind her hair and place in her hands the offering of proof—the jealousy offering to determine whether her husband's suspicions are justified. The priest will stand before her, holding the jar of bitter water that brings a curse to those who are guilty. The priest will then put the woman under oath and say to her, "If no other man has had sex with you, and you have not gone astray and defiled yourself while under your husband's authority, may you be immune from the effects of this bitter water that brings on the curse. But if you have gone astray by being unfaithful to your husband, and have defiled yourself by having sex with another man." 
At this point, the priest must put the woman under oath by saying, "May the people know that the Lord's curse is upon you when he makes you infertile, causing your womb to shrivel and your abdomen to swell. Now may this water that brings the curse enter your body and cause your abdomen to swell and your womb to shrivel." And the woman will be required to say, "Yes, let it be so."  And the priest will write these curses on a piece of leather and wash them off into the bitter water. He will make the woman drink the bitter water that brings on the curse. When the water enters her body, it will cause bitter suffering if she is guilty. 
The priest will take the jealousy offering from the woman's hand, lift it up before the Lord, and carry it to the altar.  He will take a handful of the flour as a token portion and burn it on the altar, and he will require the woman to drink the water.  If she has defiled herself by being unfaithful to her husband, the water that brings on the curse will cause bitter suffering. Her abdomen will swell, and her womb will shrink, and her name will become a curse among her people.  But if she has not defiled herself and is pure, then she will be unharmed and will still be able to have children.
This is the ritual law for dealing with suspicion. If a woman goes astray and defiles herself while under her husband's authority, or if a man becomes jealous and is suspicious that his wife has been unfaithful, the husband must present his wife before the Lord, and the priest will apply this entire ritual law to her.  The husband will be innocent of any guilt in this matter, but his wife will be held accountable for her sin.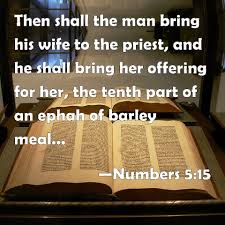 Since the instructions in Numbers 5 were given by God, the water ordeal is a means of divination, whereby it is expected that God will use the ritual to answer a question human beings cannot. That the Israelites could use such divination comes as no surprise, as the high priest had the Urim and Thummim at his disposal, and various Biblical characters utilize the casting of lots for discerning the mind of God on a matter.
This passage provides a useful starting point for discussing why Biblical characters were permitted to practice divination at all when elsewhere such methods are condemned (e.g., Deut. 18:9-14).  But let's instead focus on one practical implication of this passage.
Students of the Bible know that adultery was supposed to be punishable by death in ancient Israel (Lev. [20:10]-11). Surprisingly, death is not the penalty for the guilty woman in Numbers 5. The normal Hebrew word for adultery, the word used in connection with the death penalty, does not occur in this passage, further distancing it from being a capital crime. Why these discrepancies?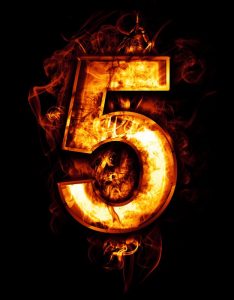 The answer lies in the fact that the guilty woman was not discovered in the act of adultery. Since this is the case, the community and, particularly, the angry husband, is effectively prohibited by the law because of this potion from taking matters into their own hands. This would serve as a protection for women suspected of adultery, or who might be the target of someone's animosity or jealousy. The point is that secret adultery can and will be punished only by God, but not as a capital crime.
Next Wisdom Wednesday we will continue with Moses as we look at Dr. Heiser's next essay titled "Is My Bible Right?"  I believe you will find this another interesting topic to consider as we build our Biblical worldview.
Tomorrow we will continue with our 3-minute humor nugget that will provide you with a bit of cheer which will help you to lighten up and live a rich and satisfying life. So encourage your friends and family to join us and then come along with us tomorrow for another day of our Wisdom-Trek, Creating a Legacy.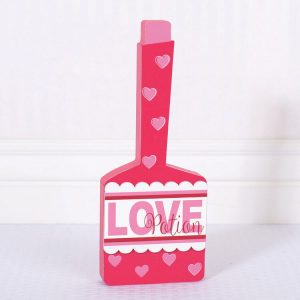 If you would like to listen to any of our past 870 treks or read the Wisdom Journal, they are available at Wisdom-Trek.com. I encourage you to subscribe to Apple Podcast or Google Play so that each day's trek will be downloaded automatically.
Thank you so much for allowing me to be your guide, mentor and most of all your friend as I serve you through this Wisdom-Trek podcast and journal.
As we take this trek together, let us always:
Live Abundantly (Fully)
Love Unconditionally
Listen Intentionally
Learn Continuously
Lend to others Generously
Lead with Integrity
Leave a Living Legacy Each Day
I am Guthrie Chamberlain reminding you to Keep Moving Forward, Enjoy Your Journey, and Create a Great Day Everyday! See you tomorrow!