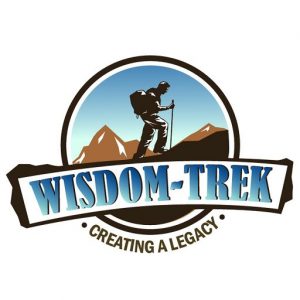 Wisdom-Trek / Creating a Legacy
Welcome to Day 858 of our Wisdom-Trek, and thank you for joining me.
This is Guthrie Chamberlain, Your Guide to Wisdom
The Lost Son – Ask Gramps

Thank you for joining us for our five days per week wisdom and legacy building podcast. This is Day 858 of our trek, and it is time for our Philosophy Friday series. Each Friday we will ponder some of the basic truths and mysteries of life and how they can impact us in creating our living legacy. Due to my heavy travel schedule this week, I will be diverting from our regular daily topics, and instead I will be reading through the parables of Jesus.
Jesus's parables are seemingly simple and memorable stories, often with imagery, that all convey messages. Scholars have commented that although these parables seem simple, the messages they convey are deep and central to the teachings of Jesus. Christian authors view them not as mere similitudes that serve the purpose of illustration, but as internal analogies in which nature becomes a witness for the spiritual world.
Many of Jesus's parables refer to simple everyday things, such as a woman baking bread, a man knocking on his neighbor's door at night, or the aftermath of a roadside mugging. Yet they deal with major religious themes, such as the growth of the Kingdom of God, the importance of prayer, and the meaning of love.
In Western civilization, these parables formed the prototype for the term parable, and in the modern age, even among those who know little of the Bible, the parables of Jesus remain some of the best-known stories in the world.
We are broadcasting from our studio at The Big House in Marietta, Ohio. Our parables for today are taken from Luke [15:11]-31 and is about…
The Lost Son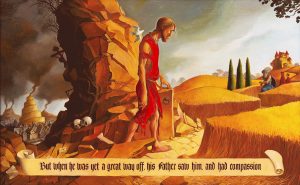 To illustrate the point further, Jesus told them this story. "A man had two sons. The younger son told his father, 'I want my share of your estate now before you die.' So his father agreed to divide his wealth between his sons.
A few days later this younger son packed all his belongings and moved to a distant land, and there he wasted all his money in wild living.  About the time his money ran out, a great famine swept over the land, and he began to starve.  He persuaded a local farmer to hire him, and the man sent him into his fields to feed the pigs. The young man became so hungry that even the pods he was feeding the pigs looked good to him. But no one gave him anything. 
When he finally came to his senses, he said to himself, 'At home, even the hired servants have food enough to spare, and here I am dying of hunger! I will go home to my father and say, "Father, I have sinned against both heaven and you, and I am no longer worthy of being called your son. Please take me on as a hired servant."' 
So he returned home to his father. And while he was still a long way off, his father saw him coming. Filled with love and compassion, he ran to his son, embraced him, and kissed him. His son said to him, 'Father, I have sinned against both heaven and you, and I am no longer worthy of being called your son   "But his father said to the servants, 'Quick! Bring the finest robe in the house and put it on him. Get a ring for his finger and sandals for his feet.  And kill the calf we have been fattening. We must celebrate with a feast,  for this son of mine was dead and has now returned to life. He was lost, but now he is found.' So the party began. 
 Meanwhile, the older son was in the fields working. When he returned home, he heard music and dancing in the house,  and he asked one of the servants what was going on.  'Your brother is back,' he was told, 'and your father has killed the fattened calf. We are celebrating because of his safe return.' 
 The older brother was angry and wouldn't go in. His father came out and begged him,  but he replied, 'All these years I've slaved for you and never once refused to do a single thing you told me to. And in all that time you never gave me even one young goat for a feast with my friends. Yet when this son of yours comes back after squandering your money on prostitutes, you celebrate by killing the fattened calf!' 
His father said to him, 'Look, dear son, you have always stayed by me, and everything I have is yours.  We had to celebrate this happy day. For your brother was dead and has come back to life! He was lost, but now he is found!'"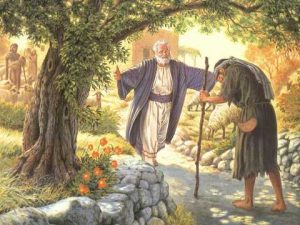 Next week we will return to our regular schedule, and we will have a question to Ask Gramps. Gramps will answer any questions you may have about life and will provide you with practical wisdom about any area of life. Please submit questions that you have to guthrie@wisdom-trek.com, and Gramps will answer them on our Friday podcast with wisdom and philosophy that Gramps has gained over the years of experience and study.
I know you will find these insights interesting, practical, and profitable in living a rich and satisfying life. Our next trek is Mediation Monday where we will help you reflect on what is most important in life. So encourage your friends and family to join us and then come along on Monday for another day of our Wisdom-Trek, Creating a Legacy.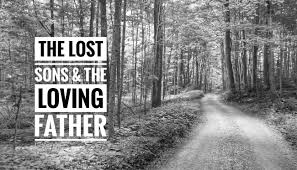 If you would like to listen to any of the past 857 daily treks or read the associated journals, they are all available at Wisdom-Trek.com. I encourage you to subscribe to Apple Podcast or Google Play so that each day's trek will be downloaded automatically.
Thank you for allowing me to be your guide, mentor, and most of all your friend as I serve you through the Wisdom-Trek podcast and journal.
As we take this trek together, let us always:
Live Abundantly (Fully)
Love Unconditionally
Listen Intentionally
Learn Continuously
Lend to others Generously
Lead with Integrity
Leave a Living Legacy Each Day
I am Guthrie Chamberlain reminding you to Keep Moving Forward, Enjoy Your Journey, and Create a Great Day Everyday! See you on Monday!