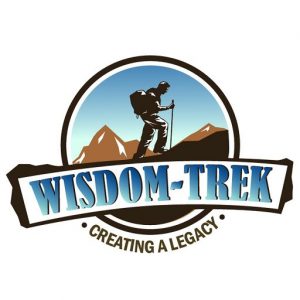 Wisdom-Trek / Creating a Legacy
Welcome to Day 833 of our Wisdom-Trek, and thank you for joining me.
This is Guthrie Chamberlain, Your Guide to Wisdom
Enjoying the Seasons of Life – Ask Gramps

Thank you for joining us for our five days per week wisdom and legacy building podcast. This is Day 833 of our trek, and it is time for our Philosophy Friday series. Each Friday we will ponder some of the basic truths and mysteries of life and how they can impact us in creating our living legacy. As we continue on this trek called life, sometimes we have questions about life, so our Friday trek is a time where we can Ask Gramps.
Gramps will answer questions that you would like to ask your dad or granddad, but for whatever reason are unable to. No matter how old you are, I know that all of us would like the opportunity to ask Dad or Gramps questions about life in many areas. We will address areas such as finances, relationships, health/fitness, business/work, home repairs/renovations, seasons of life, spiritual/Biblical questions, and any others areas that come our way.
As your fellow sojourner and mentor on this trek that we call life, it is Gramps's goal to provide you with practical wisdom and advice about any area of life. It is crucial that I receive a constant flow of questions, so please submit your questions to guthrie@wisdom-trek.com, and Gramps will answer your questions on our Friday podcast.
We are broadcasting from our studio at The Big House in Marietta, Ohio. As we transition from winter into spring, we see once again the dead of winter spring into new life. We enjoy the birds singing and the flowers poking their heads through the soil like magic displaying their beauty to all.
When we take the time to reflect upon the natural environment, we begin to observe a complex, yet very beautiful world cycling through patterns, phases, and stages of transition. We also quickly realize that nothing ever stands still, that nothing ever maintains its current state, identity, or shape for very long. In fact, all of nature cycles through seasons of change and transformation, effortlessly and naturally.
So our question for today is:
"Hey Gramps, it seems like life is rushing by so quickly and I am having difficulty just enjoying life where I am today. How can I change my perspective so that I enjoy every season of life to make an impact where I can and accept what I cannot change?"
Enjoying the Seasons of Life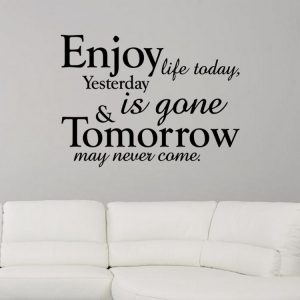 · Understanding the Cycles of Life
Life cycles through phases of transformation and change that are unavoidable, inevitable, and yet very manageable. These natural cycles of life are beneficial for our personal emotional and spiritual growth.
· Seasons Change Constantly
The seasons of life are constantly changing as a result of the choices and decisions that we make on a daily basis.
A seemingly insignificant choice today could very well change the tide of the seasons as we move into tomorrow.
For things not to change, we must stay the same. However, we cannot remain unchanged if we are constantly making new choices and decisions about our conditions and circumstances.
Life is all about change, we are constantly changing, and our circumstances are simply a reflection of the choices we make.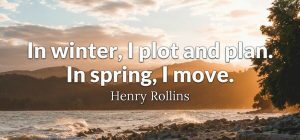 · Seasons Transition Naturally
The seasons of life transition naturally from one phase to another as a result of the thoughts, values, and beliefs we are consistently cultivating in our minds.
We transition through each of these seasons naturally because they are simply a reflection of our human nature and even the smallest of choices that we make each day.
· Seasons Are Temporary
The seasons of life are as temporary as the raindrops that fall on your head, as the thunder that rages outside, or as the wind that blows up the storm. None of these events will last forever. They are temporary in nature, just as the seasons of life are temporary on a psychological level.
The joy you experience during certain seasons will not last forever. There will inevitably be a moment when your thoughts, decisions, and actions will naturally move you into another phase of life, which may lead to pain and anguish.
However, this too is only temporary, and this too will also eventually pass.
The length of time it takes us to progress through each season is simply a reflection of our state-of-mind — a reflection of our ability to adapt to the conditions and circumstances we find ourselves in. If we adapt successfully, we will move through difficult and unpleasant phases quickly. On the other hand, if we are unable to adapt, then we will suffer the consequences of failing to capitalize on the opportunities that life inevitably throws our way.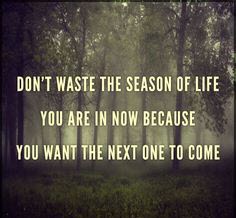 · Seasons Are Psychologically and Spiritually Beneficial
The seasons of life are there to teach us lessons about our creator, ourselves, others and life. They are there to help us grow emotionally, physically, socially, and spiritually. They are there to harden our resolve, to brighten our spirit, and to strengthen our emotional and spiritual resilience in the face of adversity and opportunity.
When we succeed, we celebrate. When we fail, we complain and blame, but eventually we begin to contemplate who we are, what we want, and how we would like to progress from this moment onward. These periods of life shape our character and paint the canvas of the life we are yet to experience. Moreover, these times help us to grow and fulfill our God-given potential as bearers of His image.
· We Create the Seasons
We naturally create and transition between the seasons of life as a result of our responses and reactions to people, events, and circumstances. This essentially means that how we respond and the choices that we make will directly influence what we get back from the world around us, whether they are problems or opportunities.
For most of us, we are not where we thought we would be at any stage of life, but that is ok.  We need to learn to enjoy the journey, to relish each day. As you transition through the various seasons of life run in such a way as to win the eternal prize. Let us follow the exhortation that the Apostle Paul wrote to us in 1 Corinthians 9:23-25, "I do everything to spread the Good News and share in its blessings. Don't you realize that in a race everyone runs, but only one person gets the prize? So run to win! All athletes are disciplined in their training. They do it to win a prize that will fade away, but we do it for an eternal prize."
Next week we will have a different question to Ask Gramps. Gramps will answer any questions you may have about life and will provide you with practical wisdom about any area of life. Please submit questions that you have to guthrie@wisdom-trek.com, and Gramps will answer them on our Friday podcast with wisdom and philosophy that Gramps has gained over the years of experience and study. I know you will find these insights interesting, practical, and profitable in living a rich and satisfying life.
Our next trek is Mediation Monday where we will help you reflect on what is most important in life. So encourage your friends and family to join us and then come along on Monday for another day of our Wisdom-Trek, Creating a Legacy.
If you would like to listen to any of the past 832 daily treks or read the associated journals, they are all available at Wisdom-Trek.com. I encourage you to subscribe to Apple Podcast or Google Play so that each day's trek will be downloaded automatically.
Thank you for allowing me to be your guide, mentor and most of all your friend as I serve you through the Wisdom-Trek podcast and journal.
As we take this trek together, let us always:
Live Abundantly (Fully)
Love Unconditionally
Listen Intentionally
Learn Continuously
Lend to others Generously
Lead with Integrity
Leave a Living Legacy Each Day
I am Guthrie Chamberlain reminding you to Keep Moving Forward, Enjoy Your Journey, and Create a Great Day Everyday! See you on Monday!