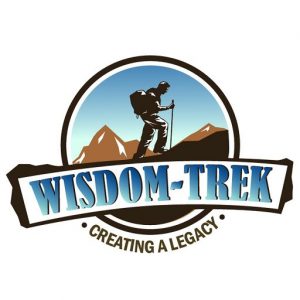 Wisdom-Trek / Creating a Legacy
Welcome to Day 823 of our Wisdom-Trek, and thank you for joining me.
This is Guthrie Chamberlain, Your Guide to Wisdom
Take Your Job and Love It – Ask Gramps

Thank you for joining us for our five days per week wisdom and legacy building podcast. This is Day 823 of our trek, and it is time for our Philosophy Friday series. Each Friday we will ponder some of the basic truths and mysteries of life and how they can impact us in creating our living legacy.
As we continue on this trek called life, sometimes we have questions about life, so our Friday trek is a time where we can Ask Gramps. Gramps will answer questions that you would like to ask your dad or granddad, but for whatever reason, you are not able to.
No matter how old we are, I know that all of us would like the opportunity to ask Dad or Gramps questions about life in many areas. We will address areas such as finances, relationships, health/fitness, business/work, home repairs/renovations, seasons of life, spiritual/Biblical questions, and any others areas that come our way.
As your fellow sojourner and mentor on this trek that we call life, it is Gramps' goal to provide you with practical wisdom and advice about any area of life. It is crucial that I receive a constant flow of questions, so please submit your questions to guthrie@wisdom-trek.com, and Gramps will answer your questions on our Friday podcast.
We are broadcasting from our studio at The Big House in Marietta, Ohio. Nearly all of us have to work at some sort of occupation in order to live and meet our financial obligations. From the very beginning of creation, God made us to work. Genesis 2:15 tells us, "The Lord God placed the man in the Garden of Eden to tend and watch over it."Granted, because of the choices that Adam and Eve made in the garden to disobey God's command, work became more difficult, but that is not where work began. My experience is that most people don't love their work. Many like it, some tolerate it, but it is a minority who find work they love that also supports their lifestyle.
So our question for today is…
"Hey Gramps, I am really struggling to enjoy my work. How can I change my situation?"
Take Your Job and Love It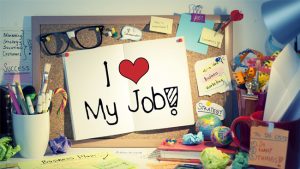 When you do not enjoy your job or it does not bring you satisfaction, does that mean you must live in frustration, desperately seeking that perfect job you can be passionate about? Not at all.
First of all, as with most things in life, your choice of attitude about your job will determine the level of satisfaction that you have. You can and should choose to find enjoyment in your work. Doing so is very valuable to your life in many ways, including greatly increasing your probability of financial success. The fact is, though, you don't have to love or even like your overall job to enjoy everyday aspects of it.
It is critical to distinguish between the job and the way you do it. This is important because every job has aspects that will be very unpleasant for you. You need to be able to get through them with a smile on your face.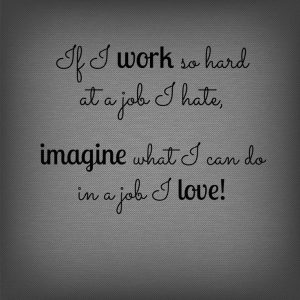 As an example, even when you work for yourself, which seems like it would be ideal, it has significant drawbacks, and most people are not suited to own their own business.  I remember my mom saying, "When you work for yourself, you only have to work half days, and you can decide which 12 hours of the day you want to work." As someone who has been an entrepreneur and small business owner for most of my adult life, I can tell you, that statement is very true. There are long hours to be worked, and at times the rate per hour turns out to be very low. Even with this, I have chosen to love my work although there are days that I don't really like it.
You may not be passionate about your job, but you should be passionate about how well you perform your work. For a few people, they are working in their dream job. For most, it is okay to enjoy your work well enough to at least meet your financial obligations and maybe even to make a good living.
You might be thinking…"But your boss doesn't appreciate you, you're underpaid, your company isn't ideal…that can be okay for now." They aren't the key evaluators in your life. You are. Do your job well for you. Also do your job well for God as we are instructed in Colossians 3:23, "Work willingly at whatever you do, as though you were working for the Lord rather than for people."
Also in Ephesians 6:7, "Work with enthusiasm, as though you were working for the Lord rather than for people."
When you have this attitude about your work, you will find that you enjoy it more. Even if you don't like your specific work or the work environment you are in, you can love the way you do it.
Love yourself and your dedication to your work so that you will be able to pat yourself on the back at the end of every day. By doing so, you also set yourself up for finding, within your company or somewhere else, a job you will enjoy more.
Are you concerned about being stuck in the same job for life? Don't worry. Individuals who emphasize the positive and rewarding aspects of their job, don't stay in unpleasant jobs that long. They get promoted or use their positive record to get a more fulfilling job.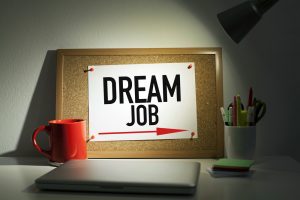 Your job is your calling and ministry. It is also a means to provide for yourself and your family, but it is only a portion of your life. Other than your job, what is your passion in life? Do you love to learn, or teach, or write? Are you fervent about cooking, sports, cars, or clothes? Do you have a wonderful friend or a family that you adore? Then you have found a purpose for doing your best, even if you don't enjoy all aspects of your work. None of us enjoy every aspect of the work we do, that is okay.
I am not saying or encouraging you to stay in a job that makes you miserable and find all your joys elsewhere. If you dislike the job, you are in, start training and preparing in your off time for a better one. Plan and prepare, then you will be ready for a better job when it comes your way.
Remember, while you are searching for that perfect job, enjoy the way you are doing your present one, and keep celebrating and expanding all the other joys of life that surround you.
Next week we will have a different question to Ask Gramps. Gramps will answer any questions you may have about life and will provide you with practical wisdom about any area of life. Please submit questions that you have to guthrie@wisdom-trek.com, and Gramps will answer them on our Friday podcast with wisdom and philosophy that Gramps has gained over the years of experience and study.
I know you will find these insights interesting, practical, and profitable in living a rich and satisfying life. Our next trek is Mediation Monday where we will help you reflect on what is most important in life. So encourage your friends and family to join us and then come along on Monday for another day of our Wisdom-Trek, Creating a Legacy.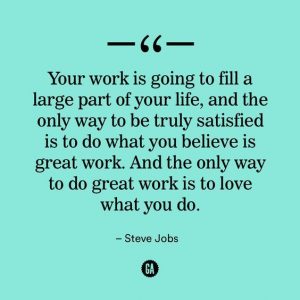 If you would like to listen to any of the past 822 daily treks or read the associated journals, they are all available at Wisdom-Trek.com. You can also subscribe to iTunes or Google Play so that each day's trek will be downloaded automatically.
Thank you so much for allowing me to be your guide, mentor, and most of all your friend as I serve you through the Wisdom-Trek podcast and journal.
As we take this trek together, let us always:
Live Abundantly (Fully)
Love Unconditionally
Listen Intentionally
Learn Continuously
Lend to others Generously
Lead with Integrity
Leave a Living Legacy Each Day
I am Guthrie Chamberlain reminding you to Keep Moving Forward, Enjoy Your Journey, and Create a Great Day Everyday! See you on Monday!