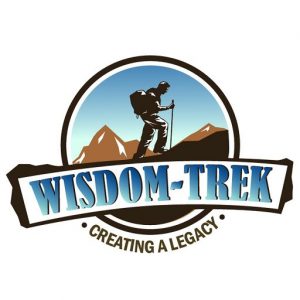 Wisdom-Trek / Creating a Legacy
Welcome to Day 798 of our Wisdom-Trek, and thank you for joining me.
This is Guthrie Chamberlain, Your Guide to Wisdom
The Perfect Marriage – Ask Gramps

Thank you for joining us for our five days per week wisdom and legacy building podcast. This is Day 798 of our trek, and it is time for our Philosophy Friday series. Each Friday we will ponder some of the basic truths and mysteries of life and how they can impact us in creating our living legacy.
As we continue on this trek called life, sometimes we have questions about life, so our Friday trek is a time where we can "Ask Gramps."  Gramps will answer questions that you would like to ask your dad or granddad, but for whatever reason are not able to.
No matter how old we are, I know that all of us would like the opportunity to ask dad or gramps questions about life in many areas.  We will address areas such as finances, relationships, health/fitness, business/work, home repairs/renovations, seasons of life, spiritual/Biblical questions, and any others areas that come our way.
As your fellow sojourner and mentor on this trek that we call life, it is my goal to provide you with practical wisdom and advice about any area of life. It is crucial that I receive a constant flow of questions, so please submit your questions to guthrie@wisdom-trek.com. And I will answer your questions on our Friday podcast.
We are broadcasting from our studio at The Big House in Marietta, Ohio. Marriage is the first institution designed by God himself. It is designed to be both wonderful and beautiful, a picture of Christ and the church. It does have its challenges, though, as two independent lives are merged into one.
Over the years there have been both correct and incorrect teachings about what God's design is so that marriage can flourish and grow. More specifically, what roles should the husband and wife fulfill to allow the marriage to be as harmonious as possible? Paula and I will be celebrating our 39th anniversary this August, and for the most part, we have an extremely wonderful and fulfilling relationship. So the question for today is…
"Hey Gramps, how can we structure our relationship so that our marriage is pleasant, fulfilling, and honoring to God?"
The Perfect Marriage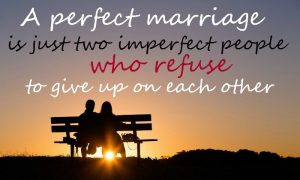 In today's politically correct society, the God-designed picture of marriage has been tainted. This unfortunate scenario is not isolated to the secular world. Over the centuries, there have been many cases of abuse either condoned or at least tolerated within the church as well. This is not what God has designed for marriage.
When God, through Jesus Christ, dwelled among us, He broke many societal norms on what had become commonplace for a woman's status both in society and in marriage. Over the centuries since, though, a husband and wife's role and responsibility has not always been taught properly, even within the church.
As a foundation to the question today we will look at Ephesians [5:21]-33.
And further, submit to one another out of reverence for Christ.
For wives, this means submit to your husbands as to the Lord.  For a husband is the head of his wife as Christ is the head of the church. He is the Savior of his body, the church.  As the church submits to Christ, so you wives should submit to your husbands in everything.
For husbands, this means love your wives, just as Christ loved the church. He gave up his life for her to make her holy and clean, washed by the cleansing of God's word.  He did this to present her to himself as a glorious church without a spot or wrinkle or any other blemish. Instead, she will be holy and without fault.  In the same way, husbands ought to love their wives as they love their own bodies. For a man who loves his wife actually shows love for himself.  No one hates his own body but feeds and cares for it, just as Christ cares for the church. And we are members of his body.
As the Scriptures say, "A man leaves his father and mother and is joined to his wife, and the two are united into one."  This is a great mystery, but it is an illustration of the way Christ and the church are one.  So again I say, each man must love his wife as he loves himself, and the wife must respect her husband.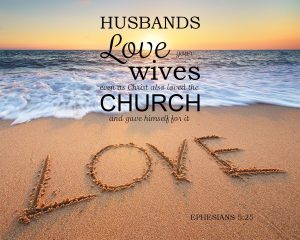 A Biblical marriage is one of mutual love, respect, and submission. We are to submit to each other because of our unconditional love for each other. Unconditional love is desiring what is best for each other. Although I know there are exceptions, generally, a husband and wife have distinctly different emotional needs that only the other can provide. Husbands desire respect and admiration where a wife desires love and security. The passage that I just read supports the foundation to make this possible.
Within any institution or organization there has to be some structure, or else there will be chaos and hardship. God has designed the structure listed in this passage. Since men are created to need respect and admiration, God set up the structure of marriage to where the husband is to lead, and the wife is to support within this structure. This in no way is a license for a husband to abuse his responsibility. In fact, God's design is quite the opposite.
Before I focus on the husband's role, let me make it perfectly clear to all husbands that are listening to this podcast or reading this journal. You are responsible before God for your leadership within the marriage. You should not transfer those responsibilities to your wife. God will still hold you responsible.
For the husbands, if you desire respect and admiration from your wife, then you must fulfill your God-given responsibilities towards your wife. There are two types of love that you are to show to your wife, and both are completely unconditional.
First, you are to love your wife as Christ loved the church and was willing to sacrifice His life for her. This is the purest form of love ever shown in all humanity. This also means that you are responsible for keeping your marriage pure in every way. Secondly, you are to love your wife as you love yourself. We as men can be very selfish, egotistical, and insensitive at times. We think about ourselves continually.
In this passage, it is clear that we are to turn this around and channel those traits as love for our wives. If you are willing to show through word and deed these two types of love on a constant basis to your wife, there will be little doubt that she will respect, admire, and love you in return.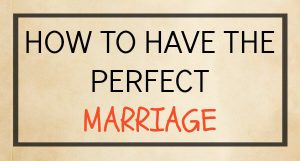 If we love our wives as Christ loves the church and as we love ourselves, then even when we desire to have our own way, we will put our wives before us. Your wife will see this, will respect and admire you, and then mutual submission will be much easier.
The final verse in this passage tells us, we are to leave our father and mother and be joined together as one cohesive unit. Through this structure, we will still have our own distinct God-given personalities, talents, and abilities, which we should fully utilize. This difference will be when we commit ourselves to our marriage, then we will seek to enhance those abilities in our spouse, and we will be blended into a much stronger unified and loving unit.
I could elaborate on this more, but I trust that Gramps's answer provides some insight into a more perfect marriage. Next week we will have a different question to "Ask Gramps." 
Gramps will answer any questions you may have about life and will provide you with practical wisdom about any area of life. Please submit questions that you have to guthrie@wisdom-trek.com, and Gramps will answer them on our Friday podcast with wisdom and philosophy that Gramps has gained over his years of experience and study.
I know you will find these insights interesting, practical, and profitable in living a rich and satisfying life. Our next trek is Mediation Monday where we will help you reflect on what is most important in life. So encourage your friends and family to join us and then come along on Monday for another day of our Wisdom-Trek, Creating a Legacy.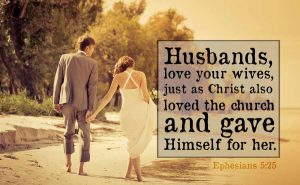 If you would like to listen to any of the past 797 daily treks or read the associated journals, they are all available at Wisdom-Trek.com. You can also subscribe to iTunes or Google Play so that each day's trek will be downloaded automatically.
Thank you so much for allowing me to be your guide, mentor, and most of all your friend as I serve you through the Wisdom-Trek podcast and journal.
As we take this trek together, let us always:
Live Abundantly (Fully)
Love Unconditionally
Listen Intentionally
Learn Continuously
Lend to others Generously
Lead with Integrity
Leave a Living Legacy Each Day
I am Guthrie Chamberlain reminding you to Keep Moving Forward, Enjoy Your Journey, and Create a Great Day Everyday! See you on Monday!