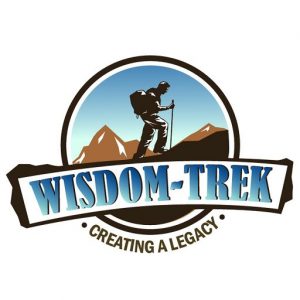 Wisdom-Trek / Creating a Legacy
Welcome to Day 748 of our Wisdom-Trek, and thank you for joining me.
This is Guthrie Chamberlain, Your Guide to Wisdom
What Is Your Calling? – Ask Gramps

Thank you for joining us for our 5 days per week wisdom and legacy building podcast. This is Day 748 of our trek, and it is time for our Philosophy Friday series. Each Friday we ponder some of the basic truths and mysteries of life and how they can impact us in creating our living legacy.
As we continue on this trek called life, sometimes we have questions about life, so our Friday trek is a time where we can "Ask Gramps." Gramps will answer questions that you would like to ask your dad or granddad, but for whatever reason are not able to. No matter how old you are, I know that all of us would like the opportunity to ask Dad or Gramps questions about life in many areas.
We will address areas such as finances, relationships, health/fitness, business/work, home repairs/renovations, seasons of life, spiritual/Biblical questions, and any others areas that come our way. As your fellow sojourner and mentor on this trek that we call life, it is my goal to provide you with practical wisdom and advice about any area of life. It is crucial that I receive a constant flow of questions, so please submit your questions to guthrie@wisdom-trek.com, or send me a message at the bottom of any page on wisdom-trek.com or text me at 740.350.5732, and I will answer your questions on our Friday podcast.
We are broadcasting from our studio at The Big House in Marietta, Ohio. During this wonderful almost magical time of year where we celebrate the birth of our Lord and Savior Jesus Christ, I tend to get wrapped up in the Christmas season.
As Christmas Day draws closer, it is more difficult to stay focused on work and other responsibilities that must be fulfilled. I would rather sit in front of a roaring fire, look at the Christmas tree, and reflect on the season.
There is a time for that, but it can't be the entire month of December. You may find yourself having a difficult time enjoying your work or staying focused on your work most of the year. Many people do not like their work or job and have a difficult time staying focused and motivated to do good work. So the question for today is:
"Hey Gramps, how can I stay motivated and enjoy my work every day?  I find it so difficult to do so."
What Is Your Calling?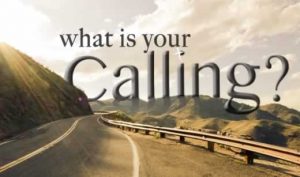 First let me start out by saying that it is unrealistic to think that you will be overjoyed every day at work, no matter how much you love what you are doing. We all have days where we don't feel well physically, mentally, or spiritually.
With that being understood, as with all of life, enjoyment first comes when we choose to enjoy our circumstance or situation regardless of how difficult it may be. Our happiness may be impacted on our current situation or happenstance, but deep abiding joy is grounded in the fact the God is in control of every situation, and He will provide us with the peace and joy needed to endure it.
Another, maybe even more crucial point, is the understanding that as a Christ-follower our work or occupation is our calling. This may be a stay at home parent (which is very honorable), a laborer, a business owner, a doctor, a lawyer, a pastor, or an executive in a worldwide company. Whatever God has called you to do for this season of life is your calling and purpose to advance His kingdom throughout the world. As long as your work is not immoral or illegal, no work should be considered unworthy of your best effort.
During the time that most of the New Testament was written within the Roman Empire, up to 50% of the population were either slaves or indentured servants. They had no choice of occupation, and yet the Apostle Paul wrote in Colossians 3:23-24, "Work willingly at whatever you do, as though you were working for the Lord rather than for people. Remember that the Lord will give you an inheritance as your reward, and that the Master you are serving is Christ."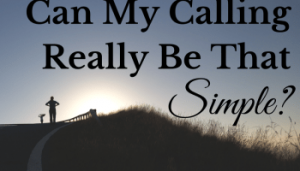 Whether you own your own business and feel you are the boss or work for a company and have a boss, ultimately you are serving Christ in all that you do. Your work is your calling, and its purpose is to meet the needs of your family and to further God's kingdom on earth.
If you are in a job that you just do not like and you live in a country where you are free to choose, then start making plans and preparing for a different occupation. This transition may take months or years to accomplish depending on your training needs and job availability, but you can start preparing for that transition today. Until that point, your current work is your calling before God, and that position is no less important than being a pastor, executive, or business owner.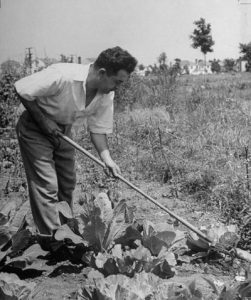 Throughout the history of the Bible, there are numerous examples of people who made an eternal impact for God by just being obedient in the position they were in. The Apostle Paul invested much of his life and ministry to making tents.
Joseph, son of Jacob (Israel) was sold by his brothers as a slave and invested 13 years learning as a slave, being wrongly accused, and then enduring imprisonment before becoming the 2nd in command of all of Egypt. While I am sure Joseph had many days where he was not pleased and wondered what God was up to, he always worked diligently. He was promoted to lead Potiphar's household before being wrongly accused by Potiphar's wife. After being sent to prison because of those accusations, he worked so diligently once again that he was put in charge of all the other prisoners. He worked diligently at all he did as slave or ruler to advance God's plans, not his own. It was his calling.
Nehemiah was a slave in exile and the cupbearer for King Artaxerxes, and yet God used his lowly position to gain favor with the King and then to go on to rebuild the walls of Jerusalem in preparation for the return of the exiles. In Chapter 2 of the book of Nehemiah after hearing of the desolation of Jerusalem, he became very sad, but he records, "I had never before appeared sad in his presence."
I am sure that this was not the first time Nehemiah felt sad, but he did what was expected of him because it was his calling.
Another prominent example is Daniel. He was a slave under King Nebuchadnezzar of Babylon and then King Cyrus and King Darius of Persia. He worked tirelessly for them and had a tremendous impact for God. Daniel remained faithful all of his life in the midst of very difficult conditions. As far as we know, Daniel never did return to his homeland of Israel, and yet he worked for God, not his earthly masters. It was his calling.
Unless you view your occupation as your calling from God, it will be difficult to remain satisfied and focused on doing your very best. Your occupation is your calling to fulfill God's work through you for the furtherance of His kingdom. Just like Joseph, Nehemiah, and Daniel, you may never become a pastor or what we consider a full-time minister, but your impact for God can be even greater by "working willingly at whatever you do."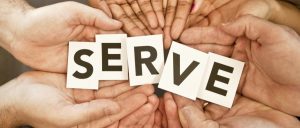 There will be days where it is easier than others, but if you stay focused on your calling, regardless of what it is, you will have an impact for God. Your calling may pivot and change in various seasons of life, as you follow God's leading. That is fine, and you should seek to grow and advance to the best possible you.
We are told in Romans 12:11, "Never be lazy, but work hard and serve the Lord enthusiastically."
All of us have a special mission for God to do His work wherever He places us. We are all doing our part to further God's kingdom here on earth. One final word of exhortation from Gramps is found in 1 Corinthians 3:8, "The one who plants and the one who waters work together with the same purpose. And both will be rewarded for their own hard work."
Next week we will have another question to "Ask Gramps." Gramps will answer any questions you may have about life and will provide you with practical wisdom about any area of life. Please submit questions that you have to guthrie@wisdom-trek.com, and Gramps will answer them on our Friday podcast with wisdom and philosophy that Gramps has gained over the years of experience and study.
I know you will find these insights interesting, practical, and profitable in living a rich and satisfying life. Our next trek is Mindshift Monday where we will help you live differently by thinking differently. So encourage your friends and family to join us and then come along on Monday for another day of our Wisdom-Trek, Creating a Legacy.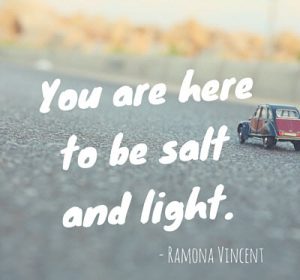 If you would like to listen to any of the past 742 daily treks or read the associated journals, they are all available at Wisdom-Trek.com. You can also subscribe to iTunes or Google Play so that each day's trek will be downloaded automatically.
Thank you for allowing me to be your guide, mentor, and most of all your friend as I serve you through the Wisdom-Trek podcast and journal.
As we take this trek together, let us always:
Live Abundantly (Fully)
Love Unconditionally
Listen Intentionally
Learn Continuously
Lend to others Generously
Lead with Integrity
Leave a Living Legacy Each Day
This is Guthrie Chamberlain reminding you to Keep Moving Forward, Enjoy Your Journey, and Create a Great Day Every Day! See you on Monday!