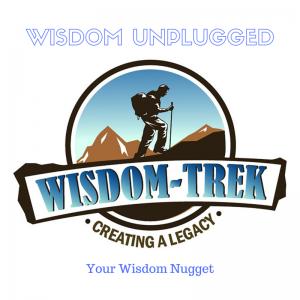 Wisdom-Trek / Creating a Legacy
Welcome to Day 735 of our Wisdom-Trek, and thank you for joining me.
This is Guthrie Chamberlain, Your Guide to Wisdom
Do As The Romans Do – Wisdom Unplugged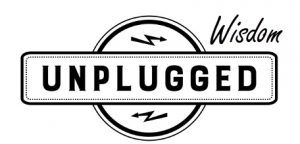 Thank you for joining us for our 5 days per week wisdom and legacy building podcast. This is Day 735 of our trek, and it is time for a 3-minute mini-trek called Wisdom Unplugged. This short nugget of wisdom includes an inspirational quote with a little additional content for today's trek. Consider this your vitamin supplement of wisdom for today. So let's jump right in with today's nugget.
Today's quote is from St. Ambrose, and it is, "When in Rome, do as the Romans do."
Do As The Romans Do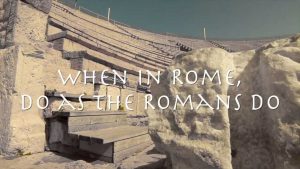 Rome was the sin capital of the ancient world. It would have made Las Vegas look like a Sunday school picnic where the saying, "What happens in Vegas, stays in Vegas."  Rome was filled with every kind of sin, debauchery, and immorality, which was prevalent. And when in Rome what's expected and accepted? "Do as the Romans do!" But a certain group of people refused to indulge in such sinful behavior. They had integrity and were filled with goodness.
In fact, the apostle Paul wrote in Romans 15:14, "I am fully convinced, my dear brothers and sisters, that you are full of goodness. You know these things so well you can teach each other all about them." To paraphrase this "In the middle of this cesspool, you are full of goodness." What a testimony! What a reputation! What a life! Do you have that kind of reputation? Are you full of goodness?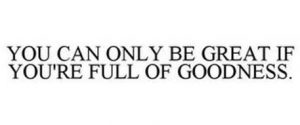 Consider a water-saturated sponge. If we push down with our finger even slightly, water runs out onto the table. We immediately know what fills the interior pockets of the sponge.
The same is true for people. What fills the inside of a person comes out under pressure. If we are soaked with God's grace, generosity, and goodness, when we are pushed to our limits and pressed down, the goodness of God trickles out on everyone in our presence.
Let's face it, most, if not all of us, will never be on a magazine cover, or sit as the chairman of the board of a major corporation, or have our names in lights, but we can be good. We can make a difference in our world by doing all the good we can with all the life we have. To make our mark means far more than fame or fortune; it means helping someone along the way to be a better person or to perform a noble task.
Go forth and be good.
That's a wrap for today's Wisdom Unplugged quote. If you would like free access to my database of over 10,000 inspirational quotes, the link is available on the main page of Wisdom-Trek.com. As you enjoy these nuggets of wisdom, encourage your friends and family to join us and then come along tomorrow for another day of our Wisdom-Trek, Creating a Legacy.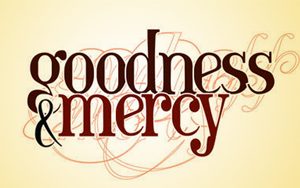 If you would like to listen to any of our past 734 treks or read the Wisdom Journal, they are available at Wisdom-Trek.com. You can also subscribe on iTunes or Google play so that each day's trek will be downloaded automatically.
Thank you for allowing me to be your guide, mentor, and most of all your friend as I serve you through the Wisdom-Trek podcast and journal.
As we take this trek of life together, let us always:
Live Abundantly (Fully)
Love Unconditionally
Listen Intentionally
Learn Continuously
Lend to others Generously
Lead with Integrity
Leave a Living Legacy Each Day
This is Guthrie Chamberlain reminding you to Keep Moving Forward, Enjoy Your Journey, and Create a Great Day Every Day! See you tomorrow for Wisdom Wednesday!