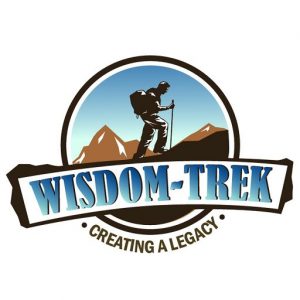 Wisdom-Trek / Creating a Legacy
Welcome to Day 728 of our Wisdom-Trek, and thank you for joining me.
This is Guthrie Chamberlain, Your Guide to Wisdom
Trials and Tribulations – Ask Gramps

Thank you for joining us for our 5 days per week wisdom and legacy building podcast. This is Day 728 of our trek, and it is time for our Philosophy Friday series. Each Friday we will ponder some of the basic truths and mysteries of life and how they can impact us in creating our living legacy.
Last week we started on a new trek called"Ask Gramps." This is a time where Gramps will answer questions that you would possibly like to ask your dad or granddad, but for whatever reason are unable to. No matter how old you are, I know that all of us would like the opportunity to ask Dad or Gramps questions about life in all areas.
We will address areas such as finances, relationships, health/fitness, business/work, home repairs/renovations, seasons of life, spiritual/Biblical questions, and any others areas that come our way. As your fellow sojourner and mentor on this trek that we call life, it is my goal to provide you with practical wisdom and advice about any area of life. It is crucial that I receive a constant flow of questions, so please submit your questions to guthrie@wisdom-trek.com, send me a message at the bottom of any page on wisdom-trek.com, or text me at 740.350.5732. I will answer your questions on our Friday podcast. I hope that this will become a highly interactive and informative time.
We are broadcasting from our studio at The Big House in Marietta, Ohio. We all face hardships at times, and our life's trek can be steep and winding with many obstacles along the path. So here is our question for today:
"Hey Gramps, why does God allow us to go through trials and tribulations?"
Trials and Tribulations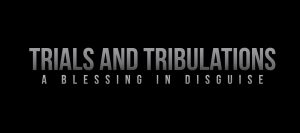 This is one question that has certainly gone through my mind several times during this year. One of the most difficult parts of the Christian life is the fact that becoming a disciple of Christ does not make us immune to life's trials and tribulations. The question still comes to mind, though, "Why would a good and loving God allow us to go through such things as Hazel getting leukemia, or me breaking my femur bone in a freak accident, or a grown child losing the job which causes financial hardships, worry, and fear?" Surely, if God loved us, He would take all these things away from us. After all, doesn't loving us mean He wants our lives to be easy and comfortable?
Well, no, it doesn't. God's ultimate purpose for His children is to mold them into being an image bearer for Him. An often misrepresentation of Romans 8:28 is that "all things work together for good." To us "good" is often thought of as what we desire or what we think is best for us. A closer look at Romans 8:28 shows, "And we know that God causes everything to work together for the good of those who love God and are called according to his purpose for them."
So that must mean that the trials and tribulations God allows in our lives, He causes or shapes those circumstances that will allow us to mature as the bearers of His image.
As in all things, God's ultimate purpose for us is to grow more and more like His Son, which continues in Romans 8:29-30, "For God knew his people in advance, and he chose them to become like his Son, so that his Son would be the firstborn among many brothers and sisters.  And having chosen them, he called them to come to him. And having called them, he gave them right standing with himself. And having given them right standing, he gave them his glory."
This is the goal of the Christian, and everything in life, including the trials and tribulations, is designed to enable us to reach that goal. It is part of the process of being set apart for God's purposes and fitted to live for His glory.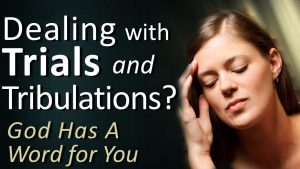 The way trials accomplish this is explained in 1 Peter 1:6-7, "So be truly glad. There is wonderful joy ahead, even though you must endure many trials for a little while. These trials will show that your faith is genuine. It is being tested as fire tests and purifies gold—though your faith is far more precious than mere gold. So when your faith remains strong through many trials, it will bring you much praise and glory and honor on the day when Jesus Christ is revealed to the whole world." The true believer's faith will be made sure by the trials we experience so that we can rest in the knowledge that it is real and will last forever.
Even though we do not like them, trials develop godly character. Romans 5:3-5 explains it this way, "We can rejoice, too, when we run into problems and trials, for we know that they help us develop endurance. And endurance develops strength of character, and character strengthens our confident hope of salvation. And this hope will not lead to disappointment. For we know how dearly God loves us, because he has given us the Holy Spirit to fill our hearts with his love."
However, we must be careful never to make excuses for our "trials and tribulations" if they are a result of our own wrongdoing. We also don't want to have a victim mentality that is often expressed as "that's just my cross to bear." Some trials and tribulations are a result of choices that we have made that may have lifelong ramifications. Many others may not be tied to anything that we have done, such as Hazel contracting leukemia, or someone else getting cancer or a devastating disease.
If hardships are caused by some choice that we made which is contrary to God's precepts found in His Word, then God will forgive our sins because the eternal punishment for them has been paid by Christ's sacrifice on the cross. However, we still have to suffer the natural consequences in this life for our sins and bad choices. But God uses even those sufferings to mold and shape us for His purposes and our ultimate good.
In fact, I have found in my own life that the trials that I go through may also be used for the perfecting of others, or bringing other people to the knowledge of our Lord Jesus Christ. Never underestimate that what appears to be your trial is actually not about you, but another person that may be observing your life.
Trials and tribulations come with both a purpose and a reward. As we are taught in James 1:2-4, "Dear brothers and sisters, when troubles of any kind come your way, consider it an opportunity for great joy. For you know that when your faith is tested, your endurance has a chance to grow. So let it grow, for when your endurance is fully developed, you will be perfect and complete, needing nothing."  James [1:12] also tells us, "God blesses those who patiently endure testing and temptation. Afterward they will receive the crown of life that God has promised to those who love him."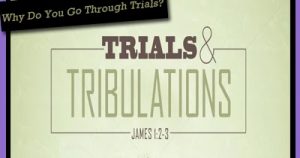 Although we are in a spiritual battle, please grasp the concept that Satan has no authority over the believer in Christ. God has given us His Word to guide us, His Holy Spirit to enable us, and the privilege of coming to Him anywhere, at any time, to pray about anything. Are you utilizing these resources each day?
God also assures us through the Apostle Paul that no trial will test us beyond our ability to bear it and no temptation will be too strong to withstand. 1 Corinthians 10:13 reminds, "The temptations in your life are no different from what others experience. And God is faithful. He will not allow the temptation to be more than you can stand. When you are tempted, he will show you a way out so that you can endure."
In summary, I don't like trials or tribulations any more than you do, but allowing them to grow and mature us will allow us to become more like Christ as image bearers of God.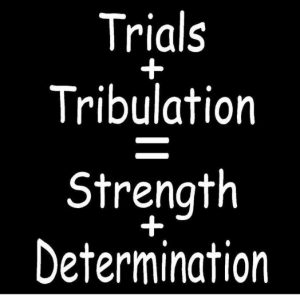 Next week we will have another question to "Ask Gramps." Gramps will answer any questions you may have about life and will provide you with practical wisdom about any area of life. Please submit questions that you have to guthrie@wisdom-trek.com, and Gramps will answer them on our Friday podcast with wisdom and philosophy that Gramps has gained over the years of experience and study. I know you will find these insights interesting, practical, and profitable in living a rich and satisfying life.
Our next trek is Mindshift Monday where we will help you live differently by thinking differently. So encourage your friends and family to join us and then come along on Monday for another day of our Wisdom-Trek, Creating a Legacy.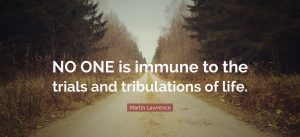 That will finish our trek for today.  If you would like to listen to any of the past daily treks or read the associated journals, they are all available at Wisdom-Trek.com. You can also subscribe through iTunes or Google Play so that each day's trek will be downloaded automatically.
Thank you for allowing me to be your guide, mentor, and most of all your friend as I serve you through the Wisdom-Trek podcast and journal.
As we take this trek of life together, let us always:
Live Abundantly (Fully)
Love Unconditionally
Listen Intentionally
Learn Continuously
Lend to others Generously
Lead with Integrity
Leave a Living Legacy Each Day
This is Guthrie Chamberlain reminding you to Keep Moving Forward, Enjoy Your Journey, and Create a Great Day Every Day! See you on Monday!