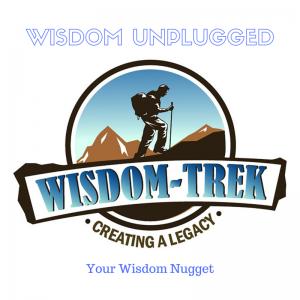 Wisdom-Trek / Creating a Legacy
Welcome to Day 727 of our Wisdom-Trek, and thank you for joining me.
This is Guthrie Chamberlain, Your Guide to Wisdom
Today Is Like Ready Cash – Wisdom Unplugged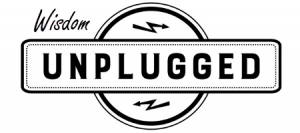 Thank you for joining us for our 5 days per week wisdom and legacy building podcast. This is Day 727 of our trek, and it is time for our 3-minute mini-trek called Wisdom Unplugged. This short nugget of wisdom includes an inspirational quote with a little additional content for today's trek. Consider this your vitamin supplement of wisdom for today. So let's jump right in with today's nugget.
Today's quote is from an unknown author, and it is, "Yesterday is like a canceled check. Tomorrow is a promissory note. Today is like ready cash. Use it wisely, for today is the most precious possession you can have."
Today Is Like Ready Cash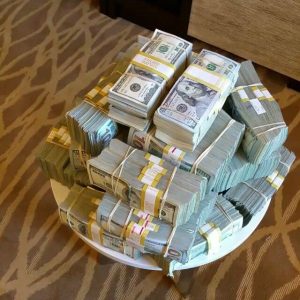 There is absolutely nothing that we can do about yesterday, other than applying the lessons that we have learned. No one is guaranteed that they will be alive tomorrow.  We need to prepare, but not obsess over it.
Today is all that we have. We need to invest our time and resources today so that they will have the greatest impact on others and on our potential tomorrows. We must use the moments that we have today as wisely as possible to maximize their impact on the lives of others.
Too often we dwell on the past with either regret or in unrealistic yearning for the "good old days." We yearn for the future as if it will be the cure-all for all of the problems that we face today. We should forget that which is behind and press forward to our tomorrows, but with the realistic expectation that we can only make an impact today.
Yes, we should plan and hope for the future, but we cannot dwell there when there is work to be done and an impact to be made today. Do what you know is right for today.  As James the half-brother of Jesus tells us in his letter James 4:13-17, "Look here, you who say, 'Today or tomorrow we are going to a certain town and will stay there a year. We will do business there and make a profit.' How do you know what your life will be like tomorrow? Your life is like the morning fog—it's here a little while, then it's gone.' What you ought to say is, 'If the Lord wants us to, we will live and do this or that.' Otherwise, you are boasting about your own pretentious plans, and all such boasting is evil. Remember, it is a sin to know what you ought to do and then not do it."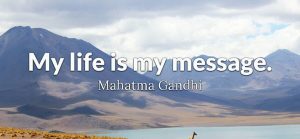 That's a wrap for today's Wisdom Unplugged. If you enjoy these quotes, I have created and published a searchable database of over 10,000 quotes that I have collected for many years. If you would like free access to my database of inspirational quotes, the link is available on the main page of Wisdom-Trek.com.
As you enjoy these nuggets of wisdom, please encourage your friends and family to join us and then come along tomorrow for another day of our Wisdom-Trek, Creating a Legacy.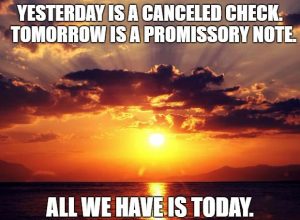 If you would like to listen to any of our past treks or read the Wisdom Journal, they are available at Wisdom-Trek.com.
Thank you for allowing me to be your guide, mentor, and most importantly I am your friend as I serve you in through this Wisdom-Trek podcast and journal each day.
As we take this trek of life together, let us always:
Live Abundantly (Fully)
Love Unconditionally
Listen Intentionally
Learn Continuously
Lend to others Generously
Lead with Integrity
Leave a Living Legacy Each Day
This is Guthrie Chamberlain reminding you to Keep Moving Forward, Enjoy Your Journey, and Create a Great Day Every Day! See you tomorrow for Philosophy Friday!