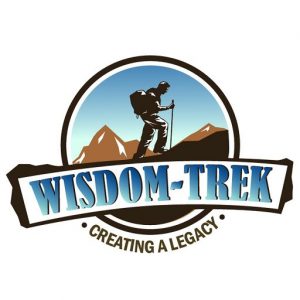 Wisdom-Trek / Creating a Legacy
Welcome to Day 713 of our Wisdom-Trek, and thank you for joining me.
This is Guthrie Chamberlain, Your Guide to Wisdom
Be of Good Courage

Thank you for joining us for our 5 days per week wisdom and legacy building podcast. This is Day 713 of our trek, and it is time for our Philosophy Friday series. Each Friday we will ponder some of the basic truths and mysteries of life and how they can impact us in creating our living legacy.
We are focusing on how to live with less fear. We are exploring the trails on our trek of life that will help us to be fearless. This does not imply that we will reach the point where we are completely without any fear, for that is not only impossible, but also not wise. There is a time and a place for an appropriate level of fear, but most fear that we experience on a daily basis has no grounding and can be eliminated as we grow in wisdom, insight, and understanding. So our objective is to experience a FearLess Friday on our trek of life.
We are broadcasting from our studio at The Big House in Marietta, Ohio. This year has been a trying time for our family and many others. With our granddaughter Hazel's leukemia, my broken femur in a fall from a ladder, employment issues, and death of close family members, it is a time when we have needed courage to get through.
With recent hurricanes, fires, and shootings impacting our country, many thousands of people need courage to carry on with their trek of life. With these thoughts in mind, today on our trek we will explore how we need to…
Be of Good Courage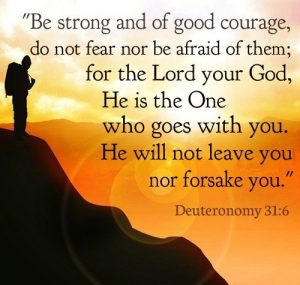 We will start out with a couple humorous stories, where fear was not as significant as what many have faced this year. I read a story about the man who bragged about how brave he was because he had cut off the tail of a ferocious man-eating lion with his pocket knife. When asked why he hadn't cut off the lion's head, the man replied, "Someone else had already done that."
There is another story of the little boy having trouble sleeping during a storm. You know what this is like; most of us have been there. After his Mother tucked him in bed, and as she was about to turn off the light, he asked with a tremor in his voice, "Mommy, will you sleep with me tonight?" The mother smiled and gave him a reassuring hug. "I can't, Dear," she said, "I have to sleep with Daddy." A long silence was broken at last by a shaken little voice saying, "The big sissy."
"Do not fear" or "Fear not" is a common phrase found throughout the Bible. In fact, we are warned about being fearful over 360 times from Genesis to Revelation! Therefore, I believe it must be important!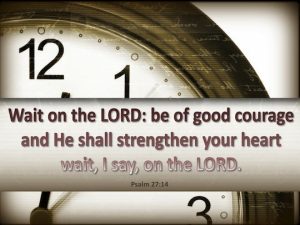 Our Scripture reference is from the Old Testament Book of Deuteronomy. Deuteronomy was written by Moses 1400 years before the birth of Jesus Christ. It is the fifth of five books penned by Moses, the first five books are known as the Pentateuch (Penta – five; Teuch – book, or vessel).
It is a wonderful book written over the span of only a month. It is a compilation of speeches from Moses who lived to be 120 years old. At the end of his life, God appointed Joshua as his successor and our specific Scriptures are words of encouragement from Moses to the Nation of Israel and words of encouragement from Moses to Joshua.
Let's read Deuteronomy 31: 6-8.
"'So be strong and courageous! Do not be afraid and do not panic before them. For the Lord your God will personally go ahead of you. He will neither fail you nor abandon you.' Then Moses called for Joshua, and as all Israel watched, he said to him, 'Be strong and courageous! For you will lead these people into the land that the Lord swore to their ancestors he would give them. You are the one who will divide it among them as their grants of land. Do not be afraid or discouraged, for the Lord will personally go ahead of you. He will be with you; he will neither fail you nor abandon you.'"
So Joshua is leading a new generation of Israelites into the land God promised their forefathers (Abraham, Isaac, and Jacob).  Joshua led them into the Promised Land, the land known as Canaan. Biblical history tells us of the covenant God made with Abraham, the father of all nations. Genesis 12:1-3 gives us these powerful words from God when He says to Abraham, "'Leave your native country, your relatives, and your father's family, and go to the land that I will show you. I will make you into a great nation. I will bless you and make you famous, and you will be a blessing to others. I will bless those who bless you and curse those who treat you with contempt. All the families on earth will be blessed through you.'" Then in 15:5-6, "Then the Lord took Abram outside and said to him, 'Look up into the sky and count the stars if you can. That's how many descendants you will have!' And Abram believed the Lord, and the Lord counted him as righteous because of his faith."
As far as we are told in the Bible, Abraham had never heard the voice of God before that first encounter. Whether God appeared in physical form during the first encounter, we do not know. It is clear that He did in the 2nd encounter we read today. Although Abraham may have initially had some doubt and fear, he followed God's instruction because he had faith. The biggest difference would be leaving an area that was the core of his family and civilization to a place that was just emerging. Abraham starts new in a place that was previously unknown to him. He goes by faith into that unknown land.
Joshua also goes by faith into an unknown land – the same Promised Land. Throughout our lives, God may lead us into places that were previously unknown to us. We too must trek through life by faith.
God spoke to Abraham and Sarah, his wife, go to a land I will show you. God told Moses to go to a place he did not know.  God speaking through Moses told Joshua to go to a place he did not know.
Where is your trek of life taking you? Abraham's, Moses's, and Joshua's journeys began with hesitation and with fear. God said, "Go, and do not be afraid." As with us, there may be first hesitation, then fear, then hope. If we follow God's precepts found in His Word, then there is always hope, no matter what we are facing.
In Joshua 1:6 he was told, "Be strong and courageous, for you are the one who will lead these people to possess all the land I swore to their ancestors I would give them."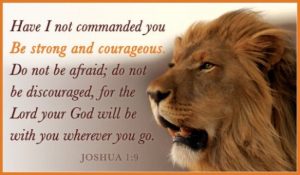 Strength and courage are the foundation we need to set out…to continue…and to ultimately complete our journeys. Be of strength and good courage. No journey's destination is completely known. Think of your own life and the decisions you are facing. Do you trust that God is directing you? Or do you feel separated for some reason? Is there a behavior that is holding you back, a sacrifice you must make if you will? God is asking each of us for our all, scripture is full of references throughout the Old and New Testaments.
Are you facing a particular challenge? Has the economy beaten you down? Are you struggling with an addiction or a relationship problem? Be of strength and good courage. Nothing is too big to bring to God, nor is anything too small. One of the things I have noticed in my own life is that we grow through adversity. When we endure, when we trust that God will lead us through the unknown, there is always a story of faith on the other side.
If there is one thing, I can do as your friend, it is to encourage you each day on your trek of life. During those times in my life where I have endured hardships, and I have, I trust that my stories may help you. I know we all will face more hardships in the future and although we may have hesitation and fear at times, ultimately we have hope. Strength and courage are the foundation we need, to set out…to continue…and to ultimately complete our journeys.
Next FearLess Friday we will explore Facing Fear in the Valley.  I know you will find these insights interesting and profitable in living a rich and satisfying life. Our next trek is Mindshift Monday where we will help you live differently by thinking differently. So encourage your friends and family to join us, and then come along on Monday for another day of our Wisdom-Trek, Creating a Legacy.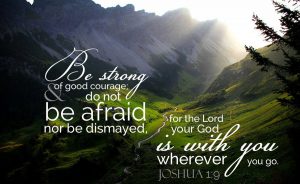 If you would like to listen to any of the past daily treks or read the associated journals, they are all available at Wisdom-Trek.com. You can also subscribe through iTunes or Google Play so that each day's trek will be downloaded automatically.
Thank you for allowing me to be your guide, mentor, and most of all your friend as I serve you through the Wisdom-Trek podcast and journal.
As we take this trek of life together, let us always:
Live Abundantly (Fully)
Love Unconditionally
Listen Intentionally
Learn Continuously
Lend to others Generously
Lead with Integrity
Leave a Living Legacy Each Day
This is Guthrie Chamberlain reminding you to Keep Moving Forward, Enjoy Your Journey, and Create a Great Day Every Day! See you on Monday!