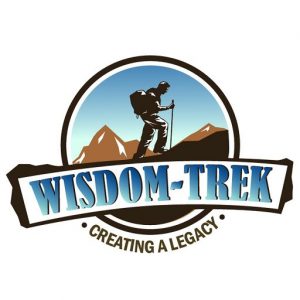 Wisdom-Trek / Creating a Legacy
Welcome to Day 703 of our Wisdom-Trek, and thank you for joining me.
This is Guthrie Chamberlain, Your Guide to Wisdom
The Power To Overcome Fear

Thank you for joining us for our 5 days per week wisdom and legacy building podcast. This is Day 703 of our trek, and it is time for our Philosophy Friday series. Each Friday we will ponder some of the basic truths and mysteries of life and how they can impact us in creating our living legacy.
We are focusing on how to live with less fear. We are exploring the trails on our trek of life that will help us to be fearless. This does not imply that we will reach the point where were are completely without any fear, for that is not only impossible, but also not wise. There is a time and a place for an appropriate level of fear, but most fear that we experience on a daily basis has no grounding and can be eliminated as we grow in wisdom, insight, and understanding. So our objective is to experience a FearLess Friday on our trek of life.
We are broadcasting from our studio at The Big House in Marietta, Ohio. This week has been extremely busy with extra projects for each of our clients. Knowing how to balance demands, or perceived demands, in every area of life can become challenging. So many times we get caught in the tyranny of the urgent where everything appears to be a priority. When this happens, it can cause inaction, paralysis, and fear. Today on our trek we will continue to explore how we need to be in a continual mindshift mode so we can have…
The Power To Overcome Fear (Part 1)
I strive to be a rational and logical person in my interactions and circumstances of life. The problem, though, is that fear is neither rational nor logical, so how do we overcome it? I have found over the years of my life that sometimes overcoming fear requires doing what seems to be impractical and illogical, which is difficult for me.
Overcoming fear and living a life of obedience to God and the precepts that are found in His Word go hand in hand. How committed are you to living a life according to His precepts? From my study of the Bible, it appears that partial obedience is not acceptable. To gain complete victory over our fear, we have to be in complete obedience to God.

There is a very interesting story found in 2 Kings 5:1-17 which tells of a man named Naaman who was the commander of the army for the king of Syria. Naaman had the terrible disease called leprosy which causes your skin to flake off and become rotten. It is similar to what we think about cancer today – a dreaded, fearful disease to have that was also contagious. Let me read the story to you so that you will see clearly the circumstances:
1 The king of Aram had great admiration for Naaman, the commander of his army, because through him the Lord had given Aram great victories. But though Naaman was a mighty warrior, he suffered from leprosy.[a]
2 At this time Aramean raiders had invaded the land of Israel, and among their captives was a young girl who had been given to Naaman's wife as a maid. 3 One day the girl said to her mistress, "I wish my master would go to see the prophet in Samaria. He would heal him of his leprosy."
4 So Naaman told the king what the young girl from Israel had said. 5 "Go and visit the prophet," the king of Aram told him. "I will send a letter of introduction for you to take to the king of Israel." So Naaman started out, carrying as gifts 750 pounds of silver, 150 pounds of gold,[b] and ten sets of clothing. 6 The letter to the king of Israel said: "With this letter I present my servant Naaman. I want you to heal him of his leprosy."
7 When the king of Israel read the letter, he tore his clothes in dismay and said, "Am I God, that I can give life and take it away? Why is this man asking me to heal someone with leprosy? I can see that he's just trying to pick a fight with me."
8 But when Elisha, the man of God, heard that the king of Israel had torn his clothes in dismay, he sent this message to him: "Why are you so upset? Send Naaman to me, and he will learn that there is a true prophet here in Israel."
9 So Naaman went with his horses and chariots and waited at the door of Elisha's house. 10 But Elisha sent a messenger out to him with this message: "Go and wash yourself seven times in the Jordan River. Then your skin will be restored, and you will be healed of your leprosy."
11 But Naaman became angry and stalked away. "I thought he would certainly come out to meet me!" he said. "I expected him to wave his hand over the leprosy and call on the name of the Lord his God and heal me! 12 Aren't the rivers of Damascus, the Abana and the Pharpar, better than any of the rivers of Israel? Why shouldn't I wash in them and be healed?" So Naaman turned and went away in a rage.
13 But his officers tried to reason with him and said, "Sir,[c] if the prophet had told you to do something very difficult, wouldn't you have done it? So you should certainly obey him when he says simply, 'Go and wash and be cured!'" 14 So Naaman went down to the Jordan River and dipped himself seven times, as the man of God had instructed him. And his skin became as healthy as the skin of a young child, and he was healed!
15 Then Naaman and his entire party went back to find the man of God. They stood before him, and Naaman said, "Now I know that there is no God in all the world except in Israel. So please accept a gift from your servant."
16 But Elisha replied, "As surely as the Lord lives, whom I serve, I will not accept any gifts." And though Naaman urged him to take the gift, Elisha refused.
17 Then Naaman said, "All right, but please allow me to load two of my mules with earth from this place, and I will take it back home with me. From now on I will never again offer burnt offerings or sacrifices to any other god except the Lord.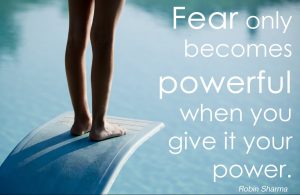 Like Naaman, we are trying to get over our sickness. His was leprosy, ours is fear in many different forms. Both can be crippling and deadly to us, at least spiritually. When Naaman comes to Elisha to be healed of his sickness, he is given very impractical and illogical advice. To overcome, he has to follow Elisha's instructions exactly. The results of his eventual obedience were immediate and miraculous. Just like we do, Naaman had to debate with the prophet and himself before he decided to obey based on the advice and encouragement of his officers, who were actually his subordinates. As a side note here, no matter what your station or standing in life is, God can use you mightily.
We will continue the story of Naaman next week. We will explore more in-depth what changed Naaman's mind and what the results were. In the same manner we will discover what we need to do to overcome our fear.
Next FearLess Friday we will explore The Power To Overcome Fear (Part 2). I know you will find these insights interesting and profitable in living a rich and satisfying life. Our next trek is Mindshift Monday where we will help you live differently by thinking differently. So encourage your friends and family to join us, and then come along on Monday for another day of our Wisdom-Trek, Creating a Legacy.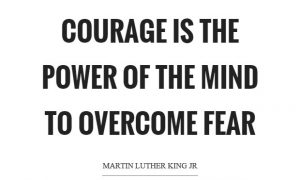 If you would like to listen to any of the past daily treks or read the associated journals, they are all available at Wisdom-Trek.com. You can also subscribe through iTunes or Google Play so that each day's trek will be downloaded automatically.
Thank you for allowing me to be your guide, mentor, and most of all your friend as I serve you through the Wisdom-Trek podcast and journal.
As we take this trek of life together, let us always:
Live Abundantly (Fully)
Love Unconditionally
Listen Intentionally
Learn Continuously
Lend to others Generously
Lead with Integrity
Leave a Living Legacy Each Day
This is Guthrie Chamberlain reminding you to Keep Moving Forward, Enjoy Your Journey, and Create a Great Day Every Day! See you on Monday!