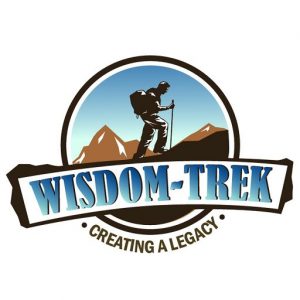 Wisdom-Trek / Creating a Legacy
Welcome to Day 698 of our Wisdom-Trek, and thank you for joining me.
This is Guthrie Chamberlain, Your Guide to Wisdom
The Power to Act In Spite Of Fear

Thank you for joining us for our 5 days per week wisdom and legacy building podcast. This is Day 698 of our trek, and it is time for our Philosophy Friday series. Each Friday we ponder some of the basic truths and mysteries of life and learn how they can impact us in creating our living legacy. We are focusing on how to live with less fear. We are exploring the trails on our trek of life that will help us to be fearless. This does not imply that we will reach the point where we are completely without any fear, for that is not only impossible, but also not wise.
There is a time and a place for an appropriate level of fear, but most fear that we experience on a daily basis has no grounding and can be eliminated as we grow in wisdom, insight, and understanding. So our objective is to experience a FearLess Friday on our trek of life.
We are broadcasting from our studio at The Big House in Marietta, Ohio. I will still be in Arizona when this trek is originally released wrapping up our week as we prepare for Phase II of our Mesa Townhome Project. Certainly, large projects such as this one bring with it a bit of concern, worry, and trepidation…which all boils down to fear. If we are not careful in situations like this, the fear can stifle us from making the progress that is needed for success. We need to learn to face fear and keep moving forward.
Today on our trek, we will continue to explore how we need to be in a continual mindshift mode so we can have…
The Power To Act In Spite Of Fear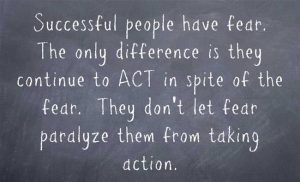 What most of us don't seem to realize or grasp is that God has given us a spirit to do what is right even when it is fearful and difficult. When it's time to move forward, time to act on our convictions, time to utilize our God-given talents and abilities, the monster of fear can raise its ugly head attempting to stifle us once again. Fear screams in our face, or whispers in our mind, that something bad will happen if we move forward. Last Fearless Friday we explored how your comfort zone gets smaller when fear tells you that you can't leave it or something bad will happen.
This sort of fear is called timidity. Timidity can paralyze you to the point of inaction. This is what happened to the Israelites when they faced the Philistine army led by the giant Goliath.
When faced with Goliath in 1 Samuel 17, the Israelites hid behind rocks instead of accepting the giant's challenge. They were timid in the face of the enemy. What if they tried and failed? What if the giant demolished them? The enemy was so huge – how could they even hope to win? For forty days Goliath continued to loudly proclaim his challenge. For forty days the Israelites trembled in fear, including King Saul.
The Israelites forgot who brought them out of Egypt and destroyed Pharaoh. The Israelites forgot all the many victories they had conquering The Promised Land. They forgot the promises that David later penned in Psalms 18:2,
The Lord is my rock, my fortress, and my savior;
my God is my rock, in whom I find protection.
He is my shield, the power that saves me,
and my place of safety.
When David, the youngest of the family, and in everyone's eye a runt of a kid, came out to the battlefield and heard the Philistine's proposition, his mind was steadfast on what to do. David knew who was in control, and it wasn't himself as he proclaimed in verse 25, "Who is this pagan Philistine anyway, that he is allowed to defy the armies of the living God?" David immediately understood that this Philistine wasn't just defying the army of people, but God himself.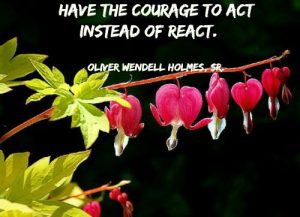 David's faith instantly became a model for others. God presented a giant problem in Goliath that was too big for the Israelites to handle on their own. It was too big for their strongest and most capable warrior to even dream of handling. Then God solved the problem with the simple faith of a young Shepherd boy.
How could this boy possibly defeat the taunting giant? So even though David declared he'd do it, King Saul was right in line with the other naysayers letting David know it was impossible. Although David had likely feared, he did not doubt. His faith in God was greater than his fear of the giant Goliath.
In the same manner when you are facing small or giant fears and are on the cusp of breaking free from your comfort zone, fear will become your greatest naysayer. It will remind you of your weaknesses and all the reasons why you can't move forward. It will come in your comfort zone and tell you how scary life is on the outside if you attempt to break free. The choice is always yours. Do you listen to the naysayers and go back to tending sheep in the field, or do you trust in God and believe that He will support you in slaying your giants.
Nelson Mandela put it this way, "I learned that courage was not the absence of fear, but the triumph over it. The brave man is not he who does not feel afraid, but he who conquers fear." You have to understand that fear is not a sin. It is our body's natural response to the unknown, that area outside your comfort zone. God expects us to trust Him in spite of that fear. Psalms 56:3 – "But when I am afraid, I will put my trust in you."
Through trusting in God, we can overcome the spirit of fear, feel the power of God, learn to love Him, and have the self-discipline to move forward in the face of fear.
2 Timothy 1:7 – "For God has not given us a spirit of fear and timidity, but of power, love, and self-discipline."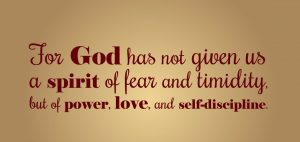 His great grace is shown to us and given to us in the times of trouble. In order to break free of your shackles and the jail cell of fear that bind you, you need to step out of your comfort zone and let God lead you to greater heights. He will give us the strength that we need each day. The Apostle Paul wrote these truths that Jesus spoke to Him when he was battling his fears in 2 Corinthians 12:9, "Each time he said, 'My grace is all you need. My power works best in weakness.' So now I am glad to boast about my weaknesses, so that the power of Christ can work through me."
Next FearLess Friday we will explore The Power To Overcome Fear. I know you will find these insights interesting and profitable in living a rich and satisfying life. Our next trek is Mindshift Monday where we will help you live differently by thinking differently. So encourage your friends and family to join us, and then come along on Monday for another day of our Wisdom-Trek, Creating a Legacy.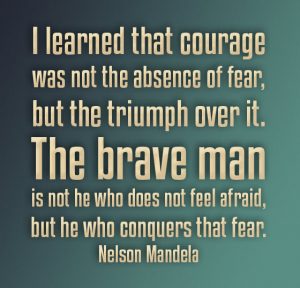 If you would like to listen to any of the past daily treks or read the associated journals, they are all available at Wisdom-Trek.com. You can also subscribe through iTunes or Google Play so that each day's trek will be downloaded automatically.
Thank you for allowing me to be your guide, mentor, and most of all your friend as I serve you through the Wisdom-Trek podcast and journal.
As we take this trek of life together, let us always:
Live Abundantly (Fully)
Love Unconditionally
Listen Intentionally
Learn Continuously
Lend to others Generously
Lead with Integrity
Leave a Living Legacy Each Day
This is Guthrie Chamberlain reminding you to Keep Moving Forward, Enjoy Your Journey, and Create a Great Day Every Day! See you on Monday!