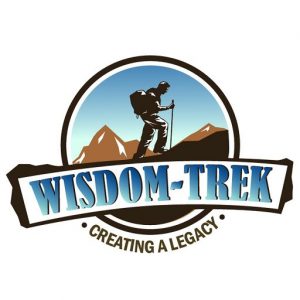 Wisdom-Trek / Creating a Legacy
Welcome to Day 693 of our Wisdom-Trek, and thank you for joining me.
This is Guthrie Chamberlain, Your Guide to Wisdom
Standing In the Face of Fear

Thank you for joining us for our 5 days per week wisdom and legacy building podcast. This is Day 693 of our trek, and it is time for our Philosophy Friday series. Each Friday we ponder some of the basic truths and mysteries of life and how they can impact us in creating our living legacy. We are focusing on how to live with less fear. We are exploring the trails on our trek of life that will help us to be fearless.
This does not imply that we will reach the point where we are completely without any fear, for that is not only impossible, but also not wise. There is a time and a place for an appropriate level of fear, but most fear that we experience on a daily basis has no grounding and can be eliminated as we grow in wisdom, insight, and understanding. So our objective is to experience a FearLess Friday on our trek of life. Today on our trek we will explore how to stand in the face of fear.
We are broadcasting from our studio at The Big House in Marietta, Ohio. Our granddaughter Hazel who is battling leukemia will have a delay in her treatments this week as her immune system count needs to rebound a bit more. Her appointment for the next round of chemo and steroids has been postponed for one week. She will have an additional blood test this week to verify where her immune system level stands.
We are praying that it rebounds sufficiently so they can proceed with her regimen. As we battle this cancer with her, if we are not careful and trust in God for effective healing, then the monsters of fear and doubt will subtly creep back into our minds and try to destroy us. Today on our trek we will continue to explore how we need to be in a continual mindshift mode so we can daily be…
Standing In the Face of Fear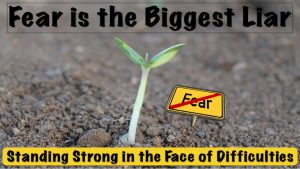 Fear ignites in us the natural response to run, which is called the flight instinct. This is especially true when we cannot control the situation. When we have no opportunity for flight, as is the case in most fearful situations, then the fight instinct needs to kick in so that we can move forward to deal with the fear. We cannot always conquer fear, but we can fight to keep it controlled. God desires for us to fight and move forward, overcoming our fear. A clear example of this was when Pharaoh and his armies were chasing after the children of Israel after the exodus and when they were hemmed in by the Red Sea.
This story is found in in Exodus 14:10-15, "As Pharaoh approached, the people of Israel looked up and panicked when they saw the Egyptians overtaking them. They cried out to the Lord, and they said to Moses, 'Why did you bring us out here to die in the wilderness? Weren't there enough graves for us in Egypt? What have you done to us? Why did you make us leave Egypt?  Didn't we tell you this would happen while we were still in Egypt? We said, 'Leave us alone! Let us be slaves to the Egyptians. It's better to be a slave in Egypt than a corpse in the wilderness!'
But Moses told the people, 'Don't be afraid. Just stand still and watch the Lord rescue you today. The Egyptians you see today will never be seen again. The Lord himself will fight for you. Just stay calm.' Then the Lord said to Moses, 'Why are you crying out to me? Tell the people to get moving!'"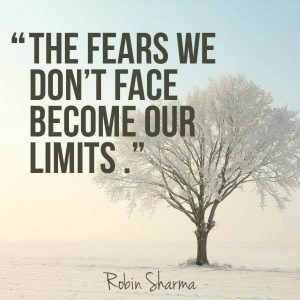 When faced with the fear of death from Pharaoh and the impossible task of crossing the Red Sea in front of them, the Israelites responded naturally. In the same way, we would, they wanted to run back to Egypt. They wished they had never left. Suddenly, the pains of slavery faded in their minds. Our minds have the uncanny ability to settle for known misery opposed to the unknown.
When we are faced with the trials of life that we must overcome in order to move forward, we feel and act the same way. We settle for second best when we realize that excelling will just be too difficult and causes us fear. We will never excel if we choose not to overcome the fear of uncertainty.
The first step to overcoming fear in the face of impossible circumstances is to realize that these feelings are in our minds, and it is time for a mindshift. It is not just self-doubt, but also the fear of the unknown. Your first step is to recognize the voice of fear when you hear it. It is that voice in your mind trying to get you to turn back to your Egypt. We need to ignore that voice that is based on fear.
It has been said, "Life begins at the end of your comfort zone." If we continue to live where just within an area of comfort, then our lives will never improve, and we will not reach our God-given potential. If you are fearful of moving out of your current situation, it will not lessen the fear, but allow it to grow into a monster that becomes more difficult to conquer. Fear is a demon that slowly entraps you, taking away your freedom a little piece at a time until you are caged in an ever shrinking jail cell. Unless you push past your comfort zone that fear creates you will find yourself in a prison that is difficult to break free from.
There is no comfort in the comfort zone. So when you are faced with the fear of things going wrong outside your comfort zone, don't panic and revert to your old habits. Recognize fear for what it is and that it wants to enslave you. Recognize that fear wants to make you turn and run. As we read in Exodus, stand your ground, trust in the Lord and ask Him for the strength to move forward. Once they stood their ground and faced their fears, God told them to "get moving."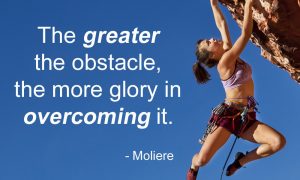 Even though they were still fearful, when the Israelites took their first step as God commanded, God opened the sea with a rush of wind and the Israelites had a Mindshift. It did require action on their part. For God to display His mighty power they had to get close to the water and Moses had to lift his rod and stretch his hand out over the water. In the same way, we must stand and face our fears and then take action and get moving.
It is through the trials on our trek of life where we need to trust God to deliver us when everything seems impossible. It is then we can hold fast to what the prophet Isaiah told us in Isaiah 41:10, "Don't be afraid, for I am with you. Don't be discouraged, for I am your God. I will strengthen you and help you. I will hold you up with my victorious right hand."
Next FearLess Friday we will explore The Power To Act In Spite Of Fear. I know you will find these insights interesting and profitable in living a rich and satisfying life. Our next trek is Mindshift Monday where we will help you live differently by thinking differently. So encourage your friends and family to join us and then come along on Monday for another day of our Wisdom-Trek, Creating a Legacy.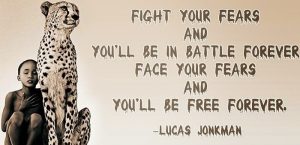 If you would like to listen to any of the past daily treks or read the associated journals, they are all available at Wisdom-Trek.com. You can also subscribe through iTunes or Google Play so that each day's trek will be downloaded automatically.
Thank you for allowing me to be your guide, mentor, and most of all your friend as I serve you through the Wisdom-Trek podcast and journal.
As we take this trek of life together, let us always:
Live Abundantly (Fully)
Love Unconditionally
Listen Intentionally
Learn Continuously
Lend to others Generously
Lead with Integrity
Leave a Living Legacy Each Day
This is Guthrie Chamberlain reminding you to Keep Moving Forward, Enjoy Your Journey, and Create a Great Day Every Day! See you on Monday!