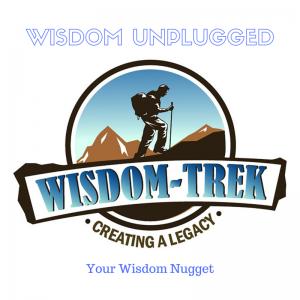 Wisdom-Trek / Creating a Legacy
Welcome to Day 692 of our Wisdom-Trek, and thank you for joining me.
This is Guthrie Chamberlain, Your Guide to Wisdom
Wisdom Comes From Grace – Wisdom Unplugged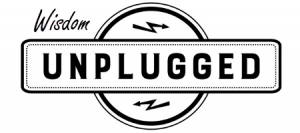 Thank you for joining us for our 5 days per week wisdom and legacy building podcast. This is Day 692 of our trek, and it is time for a 3-minute mini-trek called Wisdom Unplugged. This short nugget of wisdom includes an inspirational quote with a little additional content for today's trek. Consider this your vitamin supplement of wisdom for today. So let's jump right in with today's nugget.
Today's quote is from Chuck Sink who said, "Wisdom comes not from age and experience so much as it comes from grace."
Wisdom Comes From Grace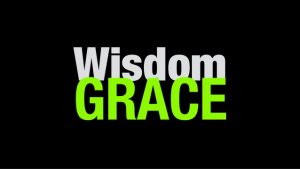 All that we are or ever hope to be is provided by God. It is because of God's grace to us that we are able to obtain it. As Acts 17:28 puts it, "For in him we live and move and exist." The dictionary definition of grace is, "The free and unmerited favor of God, as manifested in the salvation of sinners and the bestowal of blessings."
When it comes to obtaining wisdom, while age and experience should help, it is not the basis for wisdom. God provides wisdom by His grace because it is unmerited, but in His Word he clearly teaches us how to add an ever increasing supply of wisdom. The entire chapter of Proverbs 2 lays out the instruction for wisdom. Verses 2-6 are the heart of those instructions:
2 Tune your ears to wisdom,
and concentrate on understanding.
3 Cry out for insight,
and ask for understanding.
4 Search for them as you would for silver;
seek them like hidden treasures.
5 Then you will understand what it means to fear the Lord,
and you will gain knowledge of God.
6 For the Lord grants wisdom!
From his mouth come knowledge and understanding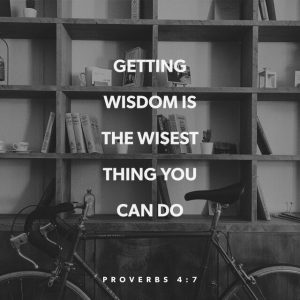 So we see that God grants wisdom…but we are to seek for it. Also James the half-brother of Jesus told us in James 1:5-6, "If you need wisdom, ask our generous God, and he will give it to you. He will not rebuke you for asking. 6 But when you ask him, be sure that your faith is in God alone. Do not waver, for a person with divided loyalty is as unsettled as a wave of the sea that is blown and tossed by the wind."
Here we also see that God provides wisdom, but we are to ask and believe. Wisdom, it is so valuable that each of us should seek it with all of our might, and then rely on God to provide it by His grace.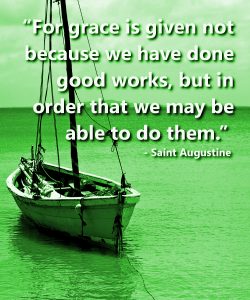 That's a wrap for today's Wisdom Unplugged. If you enjoy these quotes, I have created and published a searchable database of over 10,000 quotes that I have collected for many years. If you would like free access to my database of inspirational quotes the link is available on the main page of Wisdom-Trek.com.
Just as you enjoy these nuggets of wisdom, please encourage your friends and family to join us and then come along tomorrow for another day of our Wisdom-Trek, Creating a Legacy.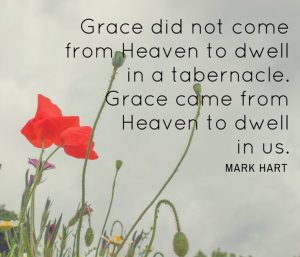 If you would like to listen to any of our past treks or read the Wisdom Journal, they are available at Wisdom-Trek.com.
Thank you for allowing me to be your guide, mentor, and most of all your friend as I serve you through the Wisdom-Trek podcast and journal.
As we take this trek of life together, let us always:
Live Abundantly (Fully)
Love Unconditionally
Listen Intentionally
Learn Continuously
Lend to others Generously
Lead with Integrity
Leave a Living Legacy Each Day
This is Guthrie Chamberlain reminding you to Keep Moving Forward, Enjoy Your Journey, and Create a Great Day Every Day! See you tomorrow for FearLess Friday!