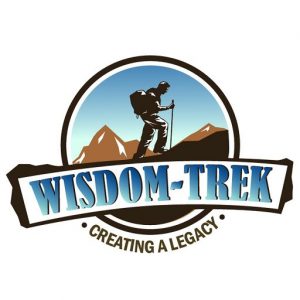 Wisdom-Trek / Creating a Legacy
Welcome to Day 688 of our Wisdom-Trek, and thank you for joining me.
This is Guthrie Chamberlain, Your Guide to Wisdom
Fear Is a Cage

Thank you for joining us for our 5 days per week wisdom and legacy building podcast. This is Day 688 of our trek, and it is time for our Philosophy Friday series. Each Friday we will ponder some of the basic truths and mysteries of life, and how they can impact us in creating our living legacy. We are focusing on how to live with less fear. We are exploring the trails on our trek of life that will help us to be fearless. This does not imply that we will reach the point where were are completely without any fear, for that is not only impossible, but also not wise.
There is a time and a place for an appropriate level of fear, but most fear that we experience on a daily basis has no grounding and can be eliminated as we grow in wisdom, insight, and understanding. So our objective for these next several Fridays is to experience a FearLess Friday on our trek of life. Today on our trek, we will explore how fear traps us in like a cage.
We are broadcasting from our studio at The Big House in Marietta, Ohio. We are experiencing cooler fall like temperatures this week which causes us to realize that within a matter of a few weeks we will begin our leaf harvest once again. With many mature oak, maple, and walnut trees on our property, the volume of leaves that we collect is overwhelming at times. As we explore the topic of fear on our trek today if we are not careful, fear can also overwhelm us because…
Fear Is a Cage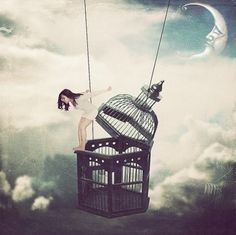 Fear entraps us in the same manner that a physical cage or jail cell would entrap us forcing us to become fearful as we lose our freedom to make rational choices. It closes us in and keeps us from living in freedom. Some people become so overwhelmed with fear that they cannot even leave their house. In today's western culture it seems that phobias of all types have become almost fashionable. We label our fears and hug them tight to us as if they are things we need to keep. In our confused mental state, we coddle fears and keep them happy, so they don't destroy us. The last thing we want to do is to provoke or stir up those fears.
That powerlessness keeps us from accomplishing great things in our lives, either personally or to advance God's kingdom. Over the next several FearLess Fridays treks, we will explore ways to increase our faith and walk in obedience, which are the keys that will set us free from our imprisonment of fear.
As a foundation to these treks, we must believe that God, through faith in Jesus can and will help us to overcome. Too often we have faith in our mind, but not in our actions. We are like the father in Mark 9:22-24 who had a son with an evil spirit and was in dialog with Jesus, "'The spirit often throws him into the fire or into water, trying to kill him. Have mercy on us and help us, if you can.'"  "What do you mean, 'If I can'?" Jesus asked. "Anything is possible if a person believes." "The father instantly cried out, 'I do believe, but help me overcome my unbelief!'"
If He can? Our faith tends to stop there because we have lost our ability to trust.   Either in our minds or verbally we cry out in our fears, "If He can, if He will, if He cares enough to even think about helping." Jesus's answer was, "Anything is possible if a person believes." So the question becomes, do we believe, and if we believe, how do we act upon that belief?
Each believer develops their own personal faith in God through Jesus Christ. They develop their own relationship with Him. He is not the friend of a friend, nor your father's friend, nor your mother's friend. He is your friend. In fact, God has made us heirs explained in Romans 8:17, "And since we are his children, we are his heirs. In fact, together with Christ we are heirs of God's glory. But if we are to share his glory, we must also share his suffering."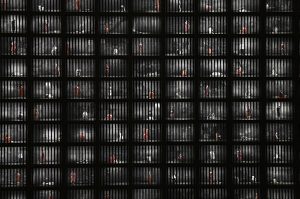 What we need is:
· Faith That Overcomes Fear
We must learn to trust Jesus in the midst of all of life's circumstances. The good, the bad, and the ugly. Faith overcomes the three main causes of fear. We fear because we don't like when things are out of our control. We feel afraid when we feel alone. In the face of our trials, we fear because we feel helpless to change our circumstances. As we explored last month about fear, even Jesus's closest friends and disciples who saw all of his wondrous signs and miracles still feared. Even when they were in the presence of Jesus, they thought they would die, as told in Mark 4:35-41, "As evening came, Jesus said to his disciples, 'Let's cross to the other side of the lake.' So they took Jesus in the boat and started out, leaving the crowds behind (although other boats followed). But soon a fierce storm came up. High waves were breaking into the boat, and it began to fill with water. Jesus was sleeping at the back of the boat with his head on a cushion. The disciples woke him up, shouting, 'Teacher, don't you care that we're going to drown?' When Jesus woke up, he rebuked the wind and said to the waves, 'Silence! Be still!' Suddenly the wind stopped, and there was a great calm. Then he asked them, 'Why are you afraid? Do you still have no faith?' The disciples were absolutely terrified. 'Who is this man?' they asked each other. 'Even the wind and waves obey him!'"
Next FearLess Friday we will begin our treks to explore the three main causes of fear, the first being the fear of being out of control. I know you will find these insights interesting and profitable in living a rich and satisfying life. Our next trek is Mindshift Monday where we will help you live differently by thinking differently. So encourage your friends and family to join us and then come along on Monday for another day of Wisdom-Trek, Creating a Legacy.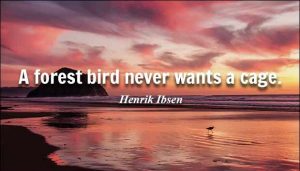 If you would like to listen to any of the past daily treks or read the associated journals, they are all available at Wisdom-Trek.com. You can also subscribe through iTunes or Google Play so that each day's trek will be downloaded automatically.
Thank you for allowing me to be your guide, mentor, and most of all your friend as I serve you through the Wisdom-Trek podcast and journal.
As we take this trek of life together, let us always:
Live Abundantly (Fully)
Love Unconditionally
Listen Intentionally
Learn Continuously
Lend to others Generously
Lead with Integrity
Leave a Living Legacy Each Day
This is Guthrie Chamberlain reminding you to Keep Moving Forward, Enjoy Your Journey, and Create a Great Day Every Day! See you on Monday!