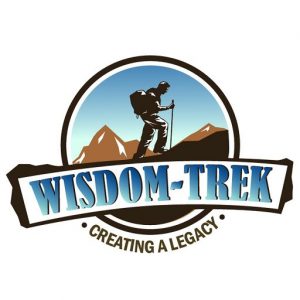 Wisdom-Trek / Creating a Legacy
Welcome to Day 673 of our Wisdom-Trek, and thank you for joining me.
This is Guthrie Chamberlain, Your Guide to Wisdom
Be Fearless – Take Chances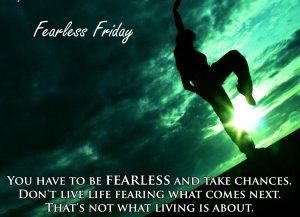 Thank you for joining us for our 5 days per week wisdom and legacy building podcast. This is Day 673 of our trek, and it is time for our Philosophy Friday series. Each Friday we ponder some of the basic truths and mysteries of life and how they can impact us in creating our living legacy.
We are focusing on how to live with less fear, but since Paula and I will be traveling for business for a little over two weeks, I will need to record all these podcasts in advance, so we will be substituting our regular podcast with short Wisdom Nugget episodes for three weeks. After that, we will return to our regular format.  
This short nugget of wisdom includes an inspirational quote with a little additional content for today's trek. Consider this your vitamin supplement of wisdom for today.  So let's jump right in with today's nugget.
Today's quote is from Wisdom-Trek, and it is, "Be fearless. Take chances. You can't live life being afraid of what comes next. That's not what living is about."

Be Fearless – Take Chances
Whenever we allow our lives to be controlled or even impacted by fear it will restrict our God-given potential. We are to live life fully, but so many times we are hindered by worry, doubts, and fears.
Most of the times our fears have no basis and are seeds that we have allowed to be planted into our minds. We then water these seeds with incorrect or impure thoughts until they sprout. We then continue to fertilize them with more incorrect thinking until they grow into monster trees that we convince ourselves they are indeed real.
Just like when you were a child walking through the woods at night and the large trees look like very scary creatures, but in the light of day, we can see them for what they really are. In the same manner, you need to shine the light of God's Word on your worries, doubts, and fears so that you can see them for what they really are. With God, no matter what we face we can move boldly forward with confidence that He will see us through because He is our loving father.
Romans 8:14-16 – For all who are led by the Spirit of God are children of God.  So you have not received a spirit that makes you fearful slaves. Instead, you received God's Spirit when he adopted you as his own children. Now we call him, "Abba, Father." For his Spirit joins with our spirit to affirm that we are God's children.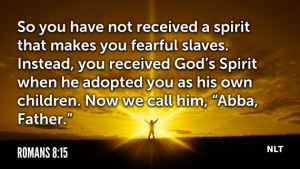 Next FearLess Friday, we will look at another Wisdom Nugget about being fearless. I know you will find these insights interesting and profitable in living a rich and satisfying life.
Our next trek is Mindshift Monday where we will help you live differently by thinking differently. So encourage your friends and family to join us and then come along on Monday for another day of our Wisdom-Trek, Creating a Legacy.

If you would like to listen to any of the past daily treks or read the associated journals, they are all available at Wisdom-Trek.com. You can also subscribe through iTunes or Google Play so that each day's trek will be downloaded automatically.
Thank you so much for allowing me to be your guide, mentor, and most of all your friend as I serve you through the Wisdom-Trek podcast and journal.
As we take this trek of life together, let us always:
Live Abundantly (Fully)
Love Unconditionally
Listen Intentionally
Learn Continuously
Lend to others Generously
Lead with Integrity
Leave a Living Legacy Each Day
This is Guthrie Chamberlain reminding you to Keep Moving Forward, Enjoy Your Journey, and Create a Great Day Every Day! See you on Monday!