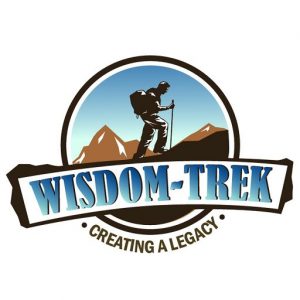 Wisdom-Trek / Creating a Legacy
Welcome to Day 658 of our Wisdom-Trek, and thank you for joining me.
This is Guthrie Chamberlain, Your Guide to Wisdom
Does God Really Care?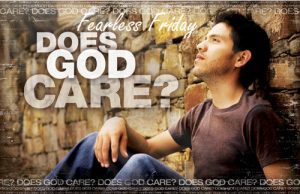 Thank you for joining us for our 5 days per week wisdom and legacy building podcast. This is Day 658 of our trek time for our Philosophy Friday series. Each Friday we will ponder some of the basic truths and mysteries of life, and how they can impact us in creating our living legacy.
For the next several weeks we will focus how to live with less fear. We will explore the trails on our trek of life that will help us to be fearless. This does not imply that we will reach the point where were are completely without any fear, for that is not only impossible, but also not wise. There is a time and a place for an appropriate level of fear, but most fear that we experience on a daily basis has no grounding and can be eliminated as we grow in wisdom, insight, and understanding. So our objective for these next several Fridays is to experience a FearLess Friday on our trek of life. Today is our third trail on our trek covering, "Imagine a Life without Fear."
We are broadcasting from our studio at The Big House in Marietta, Ohio. My leg continues to heal well, and the swelling is much less. With the pain from the swelling reduced, the pain from the actual incision sites and implants is a little more acute, although certainly not unbearable.
With a modified schedule the past three weeks, I do hope to get caught up on some of my client work this weekend. On Sunday we will be celebrating our granddaughter Aurora's sixth birthday. The years sure do fly past quickly.
It is an important part of our legacy to be involved with our children and grandchildren's lives. It shows that we love and care for them. In the same way, God desires to be involved in our lives, but fear can restrict that involvement.
Last Friday we looked at why we are afraid and that sometimes we do feel abandoned when the storms of life hit us. The focus of our trek today is…
Does God Really Care?
Last week we saw where the Disciples of Christ were in a boat in the middle of a horrible storm. Once the storm hit, his disciples were very troubled by Jesus's choice to sleep. Not only that, but He did not wake up when the storm hit. The disciples had to wake him with shouts of fear. Their urgent plea is recorded in Matthew 8:25, "Lord, save us! We're going to drown!"  Mark even questions whether He cares in 4:38, "'Teacher, don't you care that we're going to drown?'"
Many times we react in the same manner when the storms of life hit us. Fear corrodes our confidence in God's goodness. We begin to wonder if love lives in heaven. If God can sleep in our storms, if his eyes stay shut when our eyes grow wide, if he permits storms after we get on His boat, does he really care? Fear unleashes a swarm of doubts, anger-stirring doubts.
These type of thoughts that we allow to creep into and infect our minds turn us into control freaks. Subconsciously we lash out to God and demand, "Do something about the storm!" We may not verbalize it, but in the dark recesses of our mind we demand, "Fix it or…or…or else!" Fear, at its very center, is a perceived loss of control. When life spins wildly, we grab for a component of life we can manage: our diet, the tidiness of our house, the armrest of a plane, or, in many cases, other people.
The more insecure we feel, the meaner we become. We growl and bare our fangs. Why? Is it because we are bad? Well, maybe in part, but mostly because we feel cornered and don't know how to get free.

Martin Niemoller documents an extreme example of this. He was a German pastor who took a heroic stand against Adolf Hitler. When he first met the dictator in 1933, Niemoller stood at the back of the room and listened. Later, when his wife asked him what he had learned, he said, "I discovered that Herr Hitler is a terribly frightened man."  Fear releases the tyrant within each of us.
Fear also deadens our recall. The disciples had every reason to trust Jesus. By this time in His ministry, they had seen him, "teaching in the synagogues and announcing the Good News about the Kingdom. And he healed every kind of disease and illness." Matthew 4:23. They had witnessed him heal a leper with a touch and a servant with a command. Peter saw his sick mother-in-law recover from a serious illness. They all saw demons scatter like bats out of a cave. As recorded in Matthew 8:16, "That evening many demon-possessed people were brought to Jesus. He cast out the evil spirits with a simple command, and he healed all the sick." 
Is it any wonder that Jesus boldly rebuked his disciples in the middle of the storm, "Why are you afraid? You have so little faith," Matthew [8:26]. 
Just like we so quickly forget God's blessings and miracles in our everyday life, the disciples did the same. Shouldn't someone mention to the disciples Jesus' track record or review his resume? Did they so quickly forget the accomplishments of Christ? They may certainly have. Fear creates a form of spiritual amnesia. It dulls our miracle memory. It makes us forget what Jesus has already done and how good God truly is.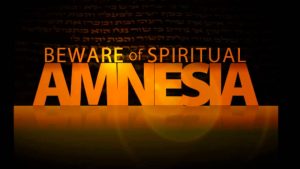 Fear grows into a monster and feels so dreadful as if we will be consumed by it. It sucks the life out of our soul, causing us to curl up into an embryonic state, it drains us dry of our contentment. We become like old abandoned barns, falling apart at the seams and blown to and fro in the prevailing winds – a place where humanity used to eat, thrive, and find warmth in days gone by.
When we allow fear to shape our lives, safety becomes our god. When safety becomes our god, we seek and worship the risk-free life. We crawl into our bubble where we can protect ourselves from storms of life.
Can we do anything great from within our bubble? Can the risk-adverse accomplish noble deeds? For God? For others? No. The fear-filled cannot love deeply because love is risky. They cannot give to the poor because benevolence has no guarantee of return. The fear-filled cannot dream boldly, because their dreams may sputter and fall from the sky. The worship of safety emasculates greatness. No wonder Jesus boldly wages such a war against fear. Fear diminishes. Fear destroys.
Christ's most common command emerges from a form of "fear not." The Gospels list some 125 Christ-issued imperatives. Of these, 21 urge us to "not be afraid" or "fear not" or "have courage" or "take heart" or "be of good cheer."  The second most common command from Christ was to love God and neighbor which only occurs on eight occasions. If quantity is any indicator, Jesus understands and takes our fears seriously. The one statement he made more than any other was this, "Don't be afraid."
Jesus doesn't want you to live in a state of fear. Fear diminishes and destroys not only yourself, but it also impacts everyone around you. Children primarily learn fear from their parents and grandparents, especially ungrounded fear. Fear extracts a very high cost in our lives spiritually, physically, and emotionally.
Jesus' rebuking question is a good one. He lifts his head from his pillow, steps out from the stern into the storm, and asks, "Why are you afraid? You have so little faith," Matthew [8:26].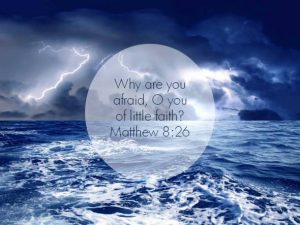 To make sure that I am not misunderstood, as I said in the introduction, fear also serves a healthy function. It is the canary in the coal mine, warning us of potential danger. A dose of fright can keep a child from running across a busy road or an adult from smoking. Fear is the appropriate reaction to a burning building or growling dog. Fear itself is not a sin, but fear will often lead to sin.
If we medicate fear through angry outbursts, drinking binges, sullen withdrawals, self-starvation, overeating, or vise-like control of others, we exclude God from the solution and exacerbate the problem. We subject ourselves to a position of fear, allowing anxiety to dominate and define our lives: joy-sapping worries, day-numbing dread, repeated bouts of insecurity that petrify and paralyze us. Hysteria is not from God. As the Apostle Paul told his timid protégé in 2 Timothy 1:7, "For God has not given us a spirit of fear and timidity, but of power, love, and self-discipline." 
To be sure, for all of us, fear will come knocking at our door. Just don't invite it in for dinner, and above all, don't offer it a bed for the night. Once fear gets its tentacles embedded into your mind, then it is hard to pry it loose. The more you know the promises found in God's Word exhorting us, "DO NOT FEAR," the more strength you have to lock it out of your mind.
Fear may fill our world, but it does not have to fill our hearts and minds. The promises of God and the purpose of this podcast and journal are simple…we can fear less tomorrow than we do today.
God knows all about the perceived typhoons that rage within our lives. He will either calm the storms or give us peace within the storm. In our passage today, Jesus slept during the storm, but he knew all about the storm and issued his rebuke to the disciples while still in his makeshift bed, but then he did something about the storm in Matthew  8:26, "Jesus responded, 'Why are you afraid? You have so little faith!' Then he got up and rebuked the wind and waves, and suddenly there was a great calm."
Jesus handled the disciples quaking with a great calming. The sea becomes as still as a frozen lake, and the disciples are left wondering, "The disciples were amazed. 'Who is this man,' they asked. 'Even the winds and waves obey him,'" Matthew [8:27].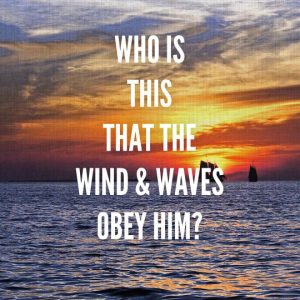 Who is this man, indeed? So secure was Jesus that Typhoon time was his nap time. He then silenced the waves with one word.  He answered the prayers of His disciples, and He will either calm our storms, or take us safely through them.
God really does care about you and loves you more than you can imagine…be not afraid.
Next Friday we will explore deeper into the subject of fear as we look at "The Ultimate Fear." I know you will find these insights interesting and profitable in living a rich and satisfying life.
Our next trek is Mindshift Monday where we will help you live differently by thinking differently. So encourage your friends and family to join us and then come along on Monday for another day of our Wisdom-Trek, Creating a Legacy.

That will finish our trek for today. If you would like to listen to any of our past treks or read the Wisdom Journal, they are available at Wisdom-Trek.com. You can also subscribe at iTunes or Google Play so that each day's trek will be downloaded automatically.
Thank you so much for allowing me to be your guide, mentor, and most of all your friend as I serve you through the Wisdom-Trek podcast and journal.
As we take this trek of life together, let us always:
Live Abundantly (Fully)
Love Unconditionally
Listen Intentionally
Learn Continuously
Lend to others Generously
Lead with Integrity
Leave a Living Legacy Each Day
This is Guthrie Chamberlain reminding you to Keep Moving Forward, Enjoy Your Journey, and Create a Great Day Every Day! See you on Monday!