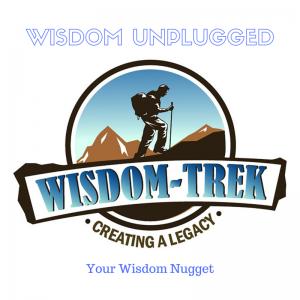 Wisdom-Trek / Creating a Legacy
Welcome to Day 657 of our Wisdom-Trek, and thank you for joining me.
This is Guthrie Chamberlain, Your Guide to Wisdom
The Doctor's Prognosis, Life Lessons Learned The Hard Way – Wisdom Unplugged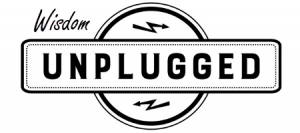 Thank you for joining us for our 5 days per week wisdom and legacy building podcast. This is Day 657 of our trek, and it is time for the 6th and final installment of a special series of stories that have chronicled my recent accident and recovery as we trek "Life Lessons Learned the Hard Way."
This accident is a major life event that will change life for me for several months to come. In fact, I would say that it will certainly impact me for the remainder of my life. It is my hope and prayer that as I share that it will also positively impact your life.
I have often said, we must accept and live life as it truly is, not as we wish it to be. We don't always know or understand what will become of the uphill climbs and treacherous downhill slopes that we encounter on life's trek. The key is to learn from these events and allow them to effectively become a part of our living legacy, which will positively impact our lives and the lives of all those whom we impact. For our final special series of Wisdom Nuggets episodes, we will look at…
The Doctor's Prognosis  – Life Lessons Learned the Hard Way
If you would like to catch the first four episodes of this series go to Day 645,  Day 647, Day 650, Day 652, or Day 655.
I ended Day-655 with my story of recovery at home with my hemoglobin still low, but on the rise and feeling a little better each day. After the positive results from my blood test, our next major event was the follow-up appointment with our surgeon on Wednesday. The incisions appeared to be healing well but were covered up since the surgery, so we really did not know what they looked like. Also, my leg between my hip and my knee was still swollen, and the bruises were working their way to the surface.  The bruises were large, dark, and covered fairly big splotches of my leg.
Since I had primarily been using the walker at home, we decided to take it to the appointment although I was not heavily relying on it for walking. Since the surgery, we were instructed to put no more than 50% of my body weight on the leg that had been broken. We did not have a lot of details on exactly what the surgery entailed, so we were very interested in getting more information.
We first had to get four X-Rays of my leg, and then we met with the surgeon. He said I looked remarkably well and indicated that the leg appeared to be healing rapidly. He showed us the x-rays, and we discovered that he had inserted a rod the entire length of my femur from the hip ball joint down to my knee. On the upper end was a large screw going through my femur and the rod and attaching it to the hip ball joint. The primary fracture of the femur bone was right below the ball.
On the bottom end of the femur right above my knee was another, slightly smaller screw securing the rod in place. There were a couple of smaller fragments on the upper end, but the surgeon indicated that God would fuse those back where they belonged. I have inserted a couple of x-rays picture in today's wisdom journal below.


Dr. Krivchenia told us that we could have the rod and screws removed after two years, if we chose to, but they could stay in place the remainder of my life without complications. Next came the removal of the bandages from the three incisions on my legs. Since they had become quite uncomfortable, this was a relief.
The roughness I had previously felt under the bandages turned out to be metal staples holding the incisions closed. The top incision above my hip socket where he inserted the rod was about two inches in length and contained 14 staples. The middle incision where he inserted the upper screw was about 1 ½ inches in length and contained 8 staples. The lower incision right above my knee where he inserted the lower screw was about an inch long and contained 5 staples.
I will not be placing those pictures in today's journal as they are not pretty at all. They placed small sani-strips over the incisions, and we were told when they fell off we did not need to apply any type of dressings. One big positive was that now I could take full showers, so that was great.
We were instructed that there were no limits on the weight that I could put on the leg now, as long as I was comfortable with it. We discussed exercise routines and the ability to travel with no real restrictions. The surgeon was very pleased with the healing and the progress I had made. He felt that since I was in such great shape physically, that my recovery would be much quicker than with most patients. We scheduled one additional follow up appointment for three weeks out.
After seeing the x-rays, understanding the surgery better, having the dressing and staples removed,  and seeing the good progress of the healing was a great psychological boost for both of us. I felt much more confident and mobile.
The next week was very positive, and we made great strides on the use of my injured leg. Nights were and still are a bit rough, but even they are improving.
Our next appointment was this past Tuesday with our family physician. I was very comfortable with crutches by that point since I was going up and down the stairs at least once each day and using the crutches downstairs. When the doctor saw me walking into the exam room putting most of my weight on my legs and only using the crutches for additional stability, she told us that she had to recheck her chart to make sure that indeed I had a serious fracture and surgery barely two weeks ago.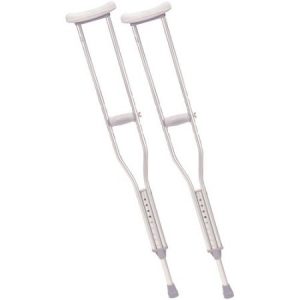 We invested a good amount of time with the doctor, and she was amazed at the healing that had taken place so quickly as well as my ability to be so mobile. Once again, my physical condition before the accident played a big role in this. But we especially thank God and the many people who are praying for us, and know that He is in control of everything and is knitting my body back together physically, emotionally, and spiritually so that I am stronger in all areas than I was before.
She encouraged me to build my activity level up as quickly as I feel comfortable, which will not be an issue for me. She also gave us some good tips on our upcoming travel to ensure it does not impact the healing process. We will have some follow up blood work in a couple of weeks, just to ensure that the hemoglobin levels have returned to normal and that all other markers are in line.
Well, I think that is enough of a recap of my accident, surgery, and recovery. Thank you for coming along with me on this unexpected trail of life. As part of my living legacy, I think it is crucial that I document these major events of life that they may help me to grow and to make a positive impact on the lives that I influence.
My life lesson learned the hard way in this final segment is that we should give glory to God for all circumstances in life. He can and will use them for His purpose if we allow Him to work through us.  Jude 1:25  – All glory to him who alone is God, our Savior through Jesus Christ our Lord. All glory, majesty, power, and authority are his before all time, and in the present, and beyond all time! Amen.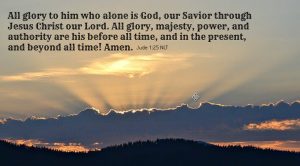 Also, the verse that is often used, and sometimes abused, but still holds true is Romans 8:28, "And we know that God causes everything to work together for the good of those who love God and are called according to his purpose for them."
That's a wrap for today's Wisdom Unplugged. Next week we will return to our regular inspirational quotes on Tuesday and Thursday.
As you enjoy these nuggets of wisdom, please encourage your friends and family to join us and then come along tomorrow for another day of our Wisdom-Trek, Creating a Legacy.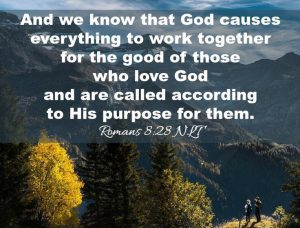 If you would like to listen to any of our past treks or read the Wisdom Journal, they are available at Wisdom-Trek.com. You can also subscribe at iTunes or Google Play so that each day's trek will be downloaded automatically.
Thank you so much for allowing me to be your guide, mentor, and most of all your friend as I serve you through the Wisdom-Trek podcast and journal.
As we take this trek of life together, let us always:
Live Abundantly (Fully)
Love Unconditionally
Listen Intentionally
Learn Continuously
Lend to others Generously
Lead with Integrity
Leave a Living Legacy Each Day
This is Guthrie Chamberlain reminding you to Keep Moving Forward, Enjoy Your Journey, and Create a Great Day Every Day! See you tomorrow for Fearless Friday!