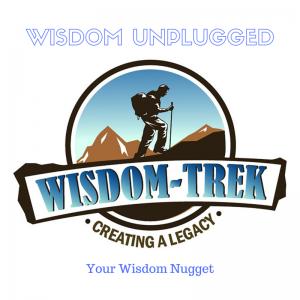 Wisdom-Trek / Creating a Legacy
Welcome to Day 655 of our Wisdom-Trek, and thank you for joining me.
This is Guthrie Chamberlain, Your Guide to Wisdom
Home Recovery, Life Lessons Learned The Hard Way – Wisdom Unplugged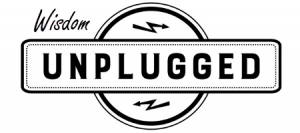 Thank you for joining us for our 5 days per week wisdom and legacy building podcast. This is Day 655 of our trek, and it is time for the 5th installment of a special series of stories that will chronicle my recent accident and recovery as we trek "Life Lessons Learned the Hard Way." This accident is a major life event that will change life for me for several months to come.
In fact, I would say that it will certainly impact me for the remainder of my life. It is my hope and prayer that as I share that it will also positively impact your life as well.  I have often said, we must accept and live life as it truly is, not as we wished it to be.
We don't always know or understand what will become of the uphill climbs and treacherous downhill slopes that we encounter on life's trek. The key is to learn from these events and allow them to effectively become part of our living legacy, which will positively impact our lives and the lives of all of those whom we impact. So for the next couple of Wisdom Nuggets episodes, we will look at…
Home Recovery  – Life Lessons Learned the Hard Way
If you would like to catch the first four episode of this series go to Day 645,  Day 647, Day 650, or Day 652.
I ended Day-652, which was my story of recovery in the hospital, at the time of my discharge Tuesday afternoon. The life lesson learned through my recovery at the hospital was that if I desire a speedy and complete recovery, I need to follow the instructions and guidelines – something that I have not always done well in the past. I realized that this time it had to be different and committed myself to this lesson learned.
I have to admit, although I am not a fearful person, this was new territory for me.  With my hemoglobin levels lower than expected, and the two episodes where my pulse dropped basically to zero, there was a little bit of trepidation. Overriding that concern was knowing that God is in control of every breath that we take, and I knew that if he brought me through the fall, surgery, and recovery that He would see me through the recovery process at home.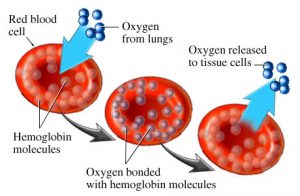 On the trip home, the pain of the injury was evident with every bump in the road and slow down in traffic. Paula went through Wendy's drive through, and we each got a ½ pound hamburger for our dinner. The additional iron in the red meat is just what I needed, in addition to the grease that tasted so good.
Since we were released earlier than expected, my brother Jack was not home from work yet to assist me getting inside. Paula and I were able to navigate the steps into the house and had decided not to attempt going upstairs until Jack did arrive.
I settled in my Lazy Boy chair, and Paula and I consumed our dinner while we rested and waited. Once Jack and Ann arrived about an hour later, we decided that it would be best for Paula to pick up the prescriptions and a few other items. As we talked I realized that Jack was the only person who truly witnessed the fall from a third-person perspective, and he admitted the night of the accident was a fitful one for him as he kept revisiting the images of the fall. I assured him, that it was completely my responsibility and was glad that he was there to assist.
Once Paula returned, we decided it was time to head to my 2nd story sanctuary where I would invest the majority of my time during recovery. The first time up I used both crutches and Jack stood immediately behind me to assure that I did not fall backward. We scaled the 18 steps without too much difficulty, and then I used the walker to proceed to the front Birdseye maple bedroom that we designated for my recovery.
Paula and I have slept in a full wave waterbed for over 30 years, which would have been more comfortable to lay in, but it is too low to the ground and would be nearly impossible to get back out of. A higher bed with a firm mattress was much more suitable for my recovery.
I settled in for the night and quickly fell asleep. Paula insisted that she be with me anytime I had to get up during the night. Little did either of us realize that it would be every hour that I would need to use the bathroom and make the 50-foot trek down the hallway.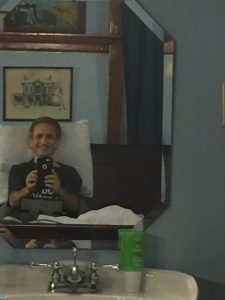 After that first night, I assured Paula that I would be fine making the hourly trek myself so she could get some semblance of a good night sleep. Even after being home for two weeks now, nights are still rough, but the days are getting much better. The lack of moving at night, swelling in the leg, wearing very tight compression hose, and the majority of cell regeneration occurring at night may all be contributing factors to more discomfort at night.
Friday morning we were scheduled for a return trip to the lab for a blood draw to check and see if my hemoglobin was recovering. Jack came over once again to stand in front of me since this is the first time I was attempting to go down the stairs since returning home. We determined that going both up and down on the stairs is much easier using one crutch and the hand rail than two crutches. We were able to navigate the stairs and headed off to the hospital to give up a little more blood.
It was still fairly painful to travel, so we headed back home immediately afterward. We thought it would be best if I remained downstairs until we heard back from the doctor, just in case we needed to go in for a blood transfusion.
I was resting in my Lazy Boy and fell into a deep sleep when the phone woke me up with a bit of a start. It was our family physician with the blood results. The threshold for a blood transfusion is Hemoglobin less than 7.0. My results came in at 6.9.
She had consulted with the hospital doctor that I had previously discussed my levels with, and they both agreed that although it was lower than before, and below the threshold that they did not want to treat a number. They asked if I was okay waiting until the following Monday for one more test. Since I was not dizzy, lightheaded, and felt fairly good, we all agreed that would be best.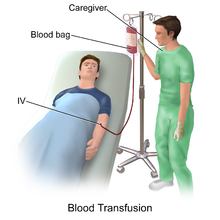 After a weekend of eating iron rich foods, taking iron supplements, and regaining some strength, Monday's blood test showed that my hemoglobin had increased to 8.2 and my palette count was higher than it has ever been. This was a big relief as we did desire to allow my own body to regenerate itself if at all possible.
Our next big events on our road to recovery were the follow-up visit with the surgeon on Wednesday and then to our family doctor the following Tuesday. Since we had not had a chance to talk with the surgeon at length, had not seen the X-rays, and did not know what the incisions looked like under the bandages, we had several questions that needed to be answered. We will save the remainder of the home recovery story for Thursday's trek, which will be our final chapter in this special saga covering my fall.
My life lesson learned the hard way for today is to be patient and allow God and time to heal. This brings to mind Psalm 139:14, "Thank you for making me so wonderfully complex! Your workmanship is marvelous—how well I know it."
That's a wrap for today's Wisdom Unplugged, join us on Thursday for one more life lesson learned the hard way as I share some recovery stories.
As you enjoy these nuggets of wisdom, please encourage your friends and family to join us and then come along tomorrow for another day of our Wisdom-Trek, Creating a Legacy.

If you would like to listen to any of our past treks or read the Wisdom Journal, they are available at Wisdom-Trek.com.
Thank you so much for allowing me to be your guide, mentor, and most of all your friend as I serve you through the Wisdom-Trek podcast and journal.
As we take this trek of life together, let us always:
Live Abundantly (Fully)
Love Unconditionally
Listen Intentionally
Learn Continuously
Lend to others Generously
Lead with Integrity
Leave a Living Legacy Each Day
This is Guthrie Chamberlain reminding you to Keep Moving Forward, Enjoy Your Journey, and Create a Great Day Every Day! See you tomorrow!